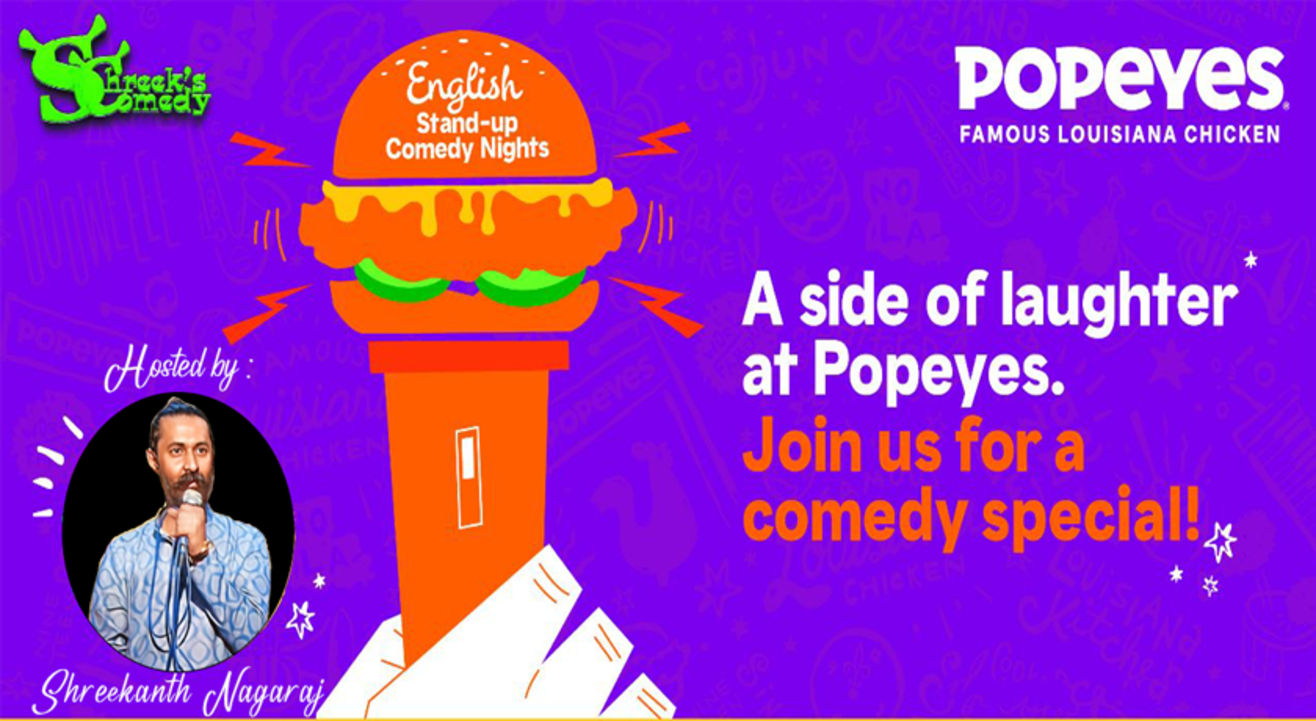 Standup Comedy nights @ Popeyes Basaveshwara Nagar
3rd Stage 4th Block, Bengaluru
Invite your friends
and enjoy a shared experience
Standup Comedy nights @ Popeyes Basaveshwara Nagar
3rd Stage 4th Block, Bengaluru
Invite your friends
and enjoy a shared experience
Invite your friends
and enjoy a shared experience
First English standup comedy show in Bsaaveshwara Nagar happening at Popeyes Its a lineup show consisting of 4 comics and a host to entertain you and to make you laugh hard.
Four different comics from different backgrounds come together to a common cause that is to make you laugh Laugh your guts out ! Each comics brings in a specific flavour of comedy that they chose to present before you making this a must attend show !
A female flight attendant & Trainer An HR A Copywriter A Biotech Engineer and a Host who`s is a jack of all trades form formidable team to entertain you for two hours and keep you hooked. They don`t have anything in common but for one thing Their love for comedy and the zeal to leave the audience in splits.
Popeyes has been synonymous with great food and excellent ambience for their patrons to enjoy their takeaway or dine-in choices With Popeyes being the international brand it obviously knows how to make food lovers drool over their menu.
With the above choices of fantastic food and ambience Popeyes now adds one more flavour Standup comedy to their offering making things even more irresistible for food lovers and comedy aficionados alike.
Come be a part of this and enjoy to the max.
3rd Stage 4th Block
3rd Stage 4th Block, SBI Staff Colony, Basaveshwar Nagar, Bengaluru, Karnataka 560079, India
GET DIRECTIONS
Standup Comedy nights @ Popeyes Basaveshwara Nagar
3rd Stage 4th Block, Bengaluru
Invite your friends
and enjoy a shared experience