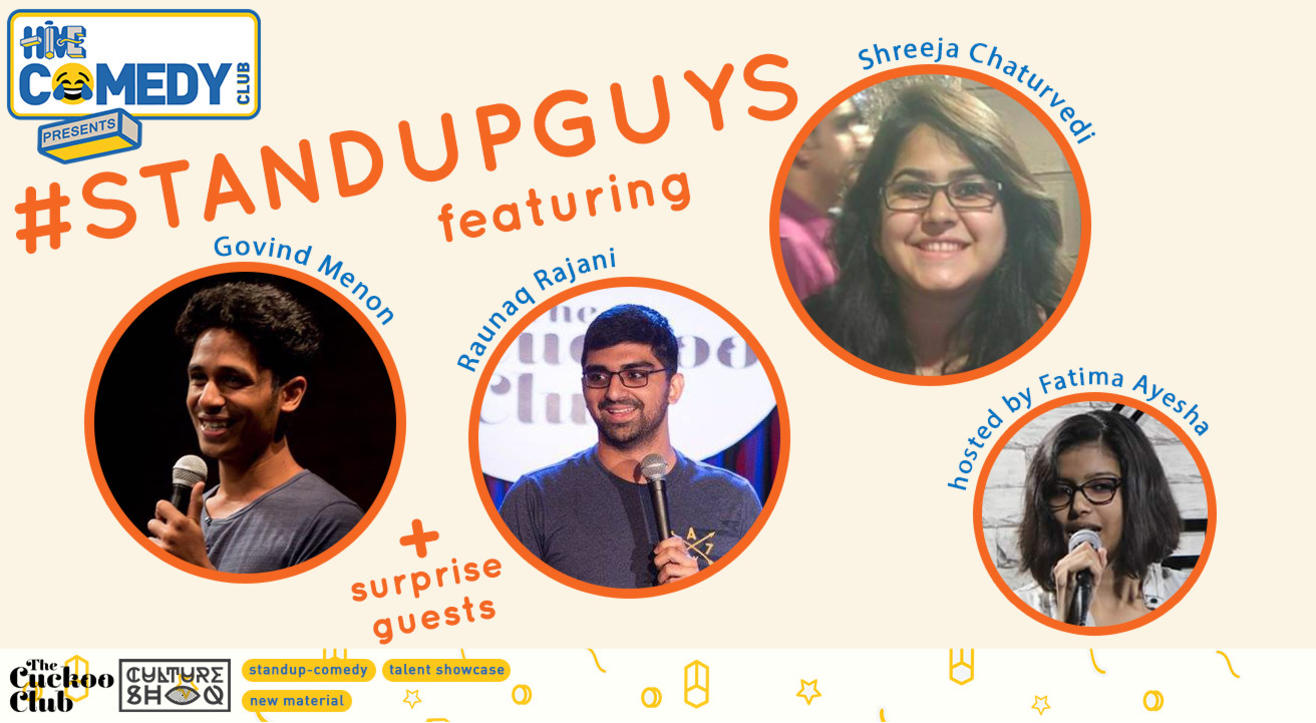 Comedy
Standup Guys feat Raunaq Rajani, Govind Menon & Shreeja Chaturvedi
About
This week's Standup Guys features Govind Menon, Raunaq Rajani & Shreeja Chaturvedi. Hosted by Fatima Ayesha.. Standup Guys is the HIVE showcase lineup of some of the funniest up and coming standup comedians in the country. Every weekend catch a lineup of some of the freshest new voices in the Stand-Up comedy scene from around the country with new jokes + surprise acts always drop in to test out new material for you. Your choice pick for a weekend standup comedy night out. #TrueStory
Raunaq Rajani: A pure bred Bombay boy, Raunaq Rajani has been in the comedy scene for a little more than half a decade. . He has appeared on Cyrus Broacha's: The Week That Wasn't and Rising stars of comedy on NDTV prime. Some insightful perspective, honest observations and sarcastic wit make Raunaq an act that you shoudn't miss!

Govind Menon: Govind Menon, like most Stand up artists, had a troubled childhood. Growing up in the mean streets of Mumbai, the only thing he had going for him is his curly hair. Having recently hit puberty, not much has changed except that, instead of his diary, Menon now uses a mic to document the ridiculous events that make up his life. Some of these events also happen to be funny..

Shreeja Chaturvedi: Shreeja Chaturvedi is a soft-spoken comic with hard-hitting punchlines. She is one of the funniest comics and follows a dead-pan style of performance

Fatima Ayesha: A teacher by profession, Fatima ironically talks about how pointless education is. A dedicated Crime Patrol fan, Fatima lives in the fear of being killed by her students one day. Coming from the faraway land of Kalwa, Fatimashamelessly uses the hashtag travelgram for local train pictures. She is half Muslim, half Hindu, and totally racist. Come watch her 'bomb' on stage.
Venue
The Cuckoo Cafe, Mumbai
First floor, above The Cuckoo Club Black Box Theatre | 5AA, Pali Hill Road, Next to Candies, Bandra West, Mumbai, India 400050