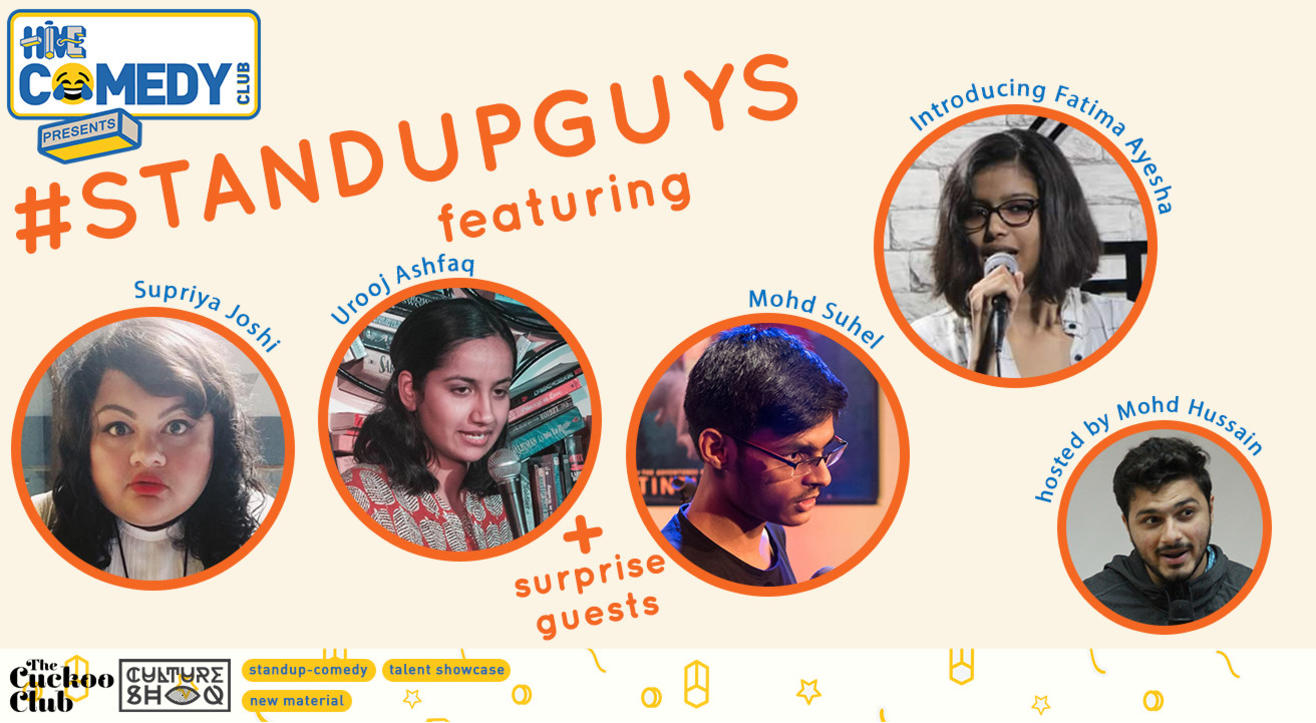 Comedy
Standup Guys feat Urooj Ashfaq, Supriya Joshi & Mohd Suhel
About
This week's Standup Guys features Supriya Joshi, Urooj Ashfaq & Mohd Suhel. Introducing Fatima Ayesha and hosted by Mohd Hussain... Standup Guys is the HIVE showcase lineup of some of the funniest up and coming standup comedians in the country. Every weekend catch a lineup of some of the freshest new voices in the Stand-Up comedy scene from around the country with new jokes + surprise acts always drop in to test out new material for you. Your choice pick for a weekend standup comedy night out. #TrueStory
Urooj Ashfaq: Urooj Ashfaq is one of the most sought after young talent, among the new generation of comics taking the scene by the storm. Urooj is a 22 year old girl from Bombay, who found her first claim to fame through the TLC show, Queens of Comedy, where she was one of the finalists and a comedy force to reckon with. After the success of the show, Urooj has travelled across the country with her stand up act and performed along side some of the stalwarts, like Kanan Gill, Kenny Sebastian & Biswa Kalyan Rath. Apart from stand up comdey, Urooj has also worked on numerous projects as a comedy writer and put her wits to best use, in both fiction & non-fiction formats. She has also acted in multiple comedy properties (AIB's If Apps were people, When some is sick sketches)

Supriya Joshi: Supriya Joshi aka Supaarwoman is a writer, comic and caped crusader battling the pointlessness of life, one meme at a time. Supaar covers a wide variety of topics from PCOD to why Govinda might actually be the second coming of Christ. After killing is on Facebook, Twitter and Instagram, Supriya has found a new weapon of choice in the microphone and she is coming to a stage near you.

Mohd Suhel: Mohd suhel is an engineering student and a comedian. He has a YouTube channel with over 4 million views Has performed at venues like canvas laugh club, habitat, cuckoo club and kalaghoda festival.

Fatima Ayesha: A teacher by profession, Fatima ironically talks about how pointless education is. A dedicated Crime Patrol fan, Fatima lives in the fear of being killed by her students one day. Coming from the faraway land of Kalwa, Fatimashamelessly uses the hashtag travelgram for local train pictures. She is half Muslim, half Hindu, and totally racist. Come watch her 'bomb' on stage.

Mohd Hussain: South Indian by birth and Kachi by blood, he's an upcoming stand up comedian exceptionally good at eating and going to the gym from tomorrow, he is very talented at all things that cant earn him a decent living.
Venue
The Cuckoo Cafe, Mumbai
First floor, above The Cuckoo Club Black Box Theatre | 5AA, Pali Hill Road, Next to Candies, Bandra West, Mumbai, India 400050