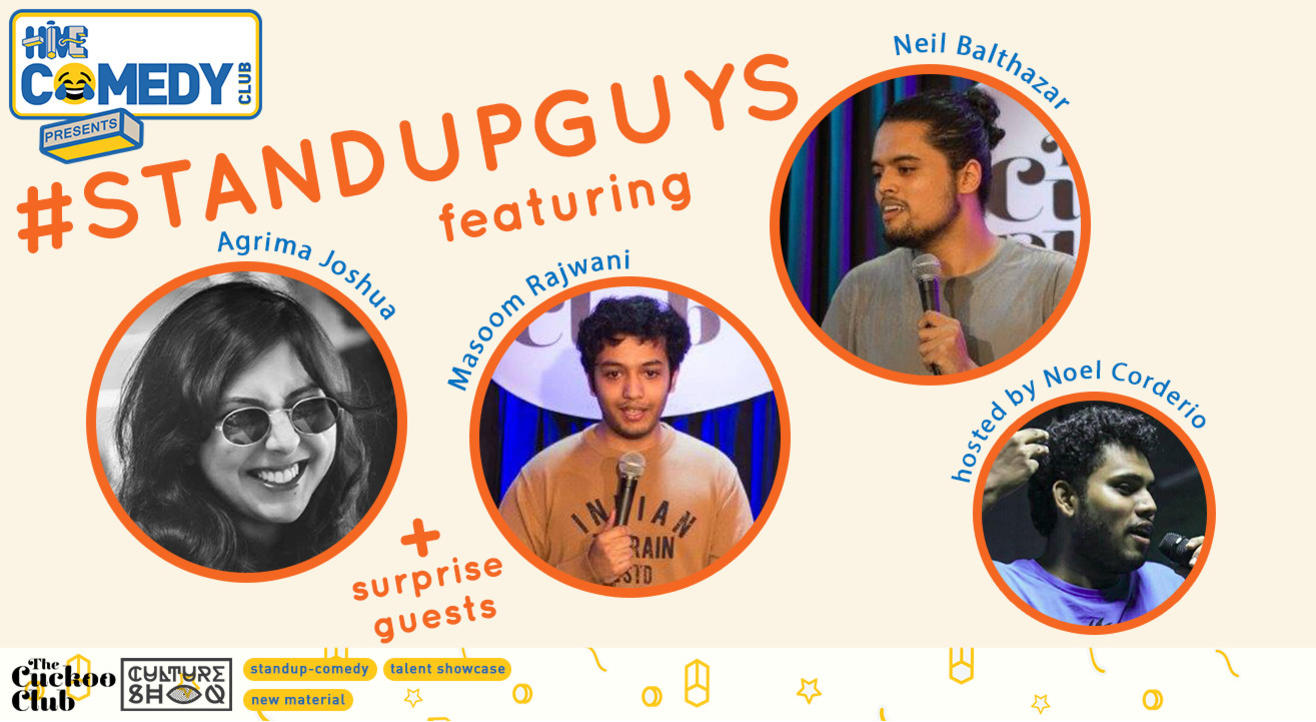 Standup Guys featuring Agrima, Masoom and Neil
The Cuckoo Cafe, Mumbai, Mumbai
Step out and enjoy this event
Invite your friends
and enjoy a shared experience
Standup Guys featuring Agrima, Masoom and Neil
The Cuckoo Cafe, Mumbai, Mumbai
Step out and enjoy this event
Invite your friends
and enjoy a shared experience
Invite your friends
and enjoy a shared experience
This week's Standup Guys features Agrima Joshua, Masoom Rajwani and Neil Balthazar. This event is hosted by Noel Corderio. Standup Guys is the HIVE showcase lineup of some of the funniest up and coming standup comedians in the country. Every weekend catch a lineup of some of the freshest new voices in the Stand-Up comedy scene from around the country with new jokes + surprise acts always drop in to test out new material for you. Your choice pick for a weekend standup comedy night out. #TrueStory
About the Artists
Agrima Joshua
Agrima Joshua is an upcoming standup comedian and has featured in several shows
Masoom Rajwani
One the youngest and most promising stand-up acts on the scene, Masoom Rajwani is one of the few Sindhis who refuses to do Sindhi joke. His humour surpasses his young. An apologetic human, mainly because of his jokes, his unique views on Issues makes it difficult for him to go unnoticed. His humour will leave you in splits!
Neil Balthazar
Neil Balthazar is still coming to terms with the poor decisions that led him to stand up comedy. When he is not on stage, he's struggling to come up with lines for bios like this one.
Noel Corderio
Noel Cordeiro is Catholic and hasn't recovered from it. He has recently converted to comedy and is an ardent worshiper of the man who slipped on the banana peel.
The Cuckoo Cafe, Mumbai
First floor, above The Cuckoo Club Black Box Theatre | 5AA, Pali Hill Road, Next to Candies, Bandra West, Mumbai, India 400050
GET DIRECTIONS
Standup Guys featuring Agrima, Masoom and Neil
The Cuckoo Cafe, Mumbai, Mumbai
Step out and enjoy this event
Invite your friends
and enjoy a shared experience