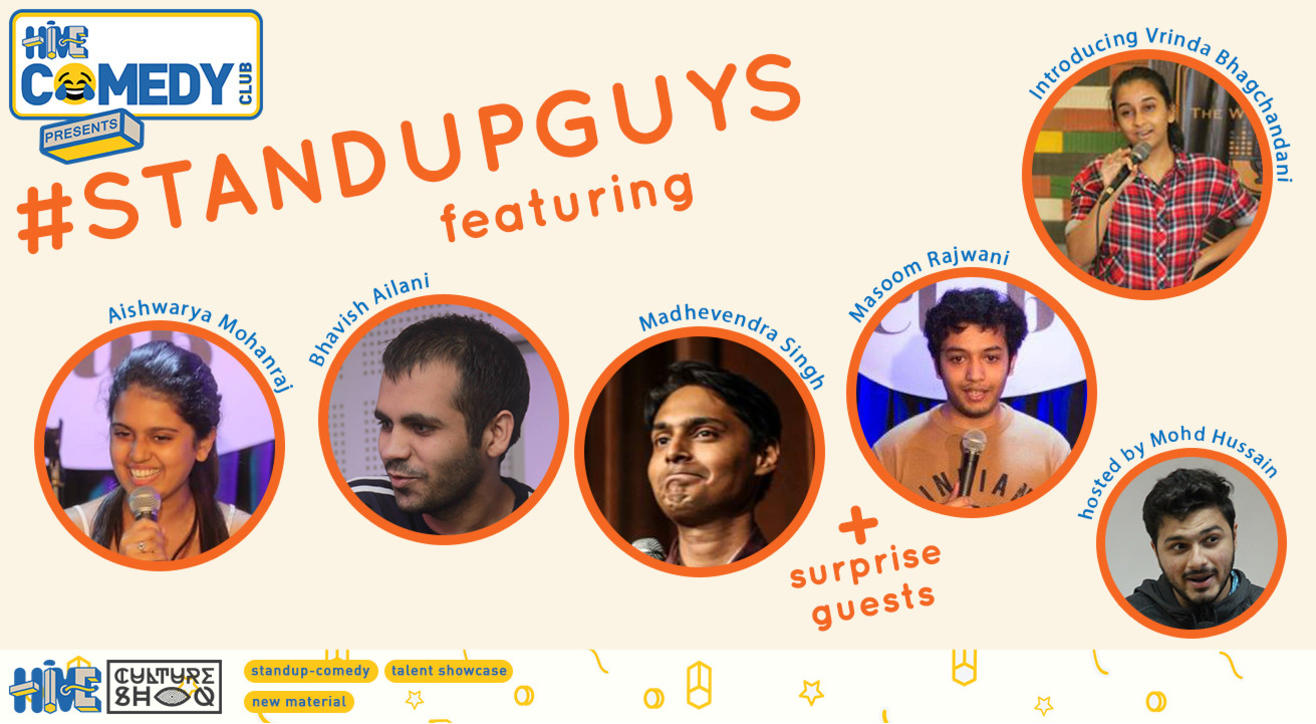 Comedy
Standup Guys featuring Aishwarya, Bhavish, Madhevendra and Masoom
Hive at Linking Road, Bandra
About
This weeks Standup Guys features Aishwarya Mohanraj, Bhavish Ailani, Madhevendra Singh and Masoom Rajwani. The event is hosted by Mohd Hussain and also features up and coming standup comedian Vrinda Bhagchandani. Standup Guys is the HIVE showcase lineup of some of the funniest up and coming standup comedians in the country. Every weekend catch a lineup of some of the freshest new voices in the Stand-Up comedy scene from around the country with new jokes + surprise acts always drop in to test out new material for you. Your choice pick for a weekend standup comedy night out. #TrueStory
About the Artists
Aishwarya Mohanraj
Aishwarya Mohanraj is a standup comedian and writer. Aishwarya was one of the top 10 contestants in Comicstaan and since then has written for shows like Son of Abish, Behti Naak and On Air with AIB. She has performed in various comedy venues such as Canvas Laugh Club and NCPA. Also, she can recite the alphabet backwards. You've seen her most recently seen in Amazon Prime Video's Comicstaan.
Bhavish Ailani
Bhavish Ailani is Sindhi by birth and funny by profession. Being an MBA like almost everyone else, Bhavish does not rely too much on his education to make a living. Instead he uses observational comedy and self-deprecating humor to make life bearable. Veteran of over one hundred ridiculous shows, most of which he has hosted himself, this is pretty much the only thing he is good at. Like most comics on the circuit, Bhavish has recently gone through a break-up. So please show him some love and assume everything we've said here is true.
Madhevendra Singh
Madhvendra's comedy is a comment on our contemporary society and its politics. He is known for his funny one-liners, witty opinions and his awesome charm. His forte is his brevity.
Masoom Rajwani
One the youngest and most promising stand-up acts on the scene, Masoom Rajwani is one of the few Sindhis who refuses to do Sindhi joke. His humour surpasses his young. An apologetic human, mainly because of his jokes, his unique views on Issues makes it difficult for him to go unnoticed. His humour will leave you in splits!
Mohd Hussain
Mohd Hussain is a South Indian by birth and Kachi by blood, he's an upcoming stand up comedian exceptionally good at eating and going to the gym from tomorrow, he is very talented at all things that cant earn him a decent living.
Vrinda Bhagchandani
She is the average homosapien and is average at being average but loves doing shit jokes and doesn't know why bios exist.
Venue
Hive at Linking Road, Bandra
Hive at Linking Road, Shop No. 2, Ground Floor, Parbhat Kunj, 25th Road lane behind KFC, Linking Rd, Bandra West, Mumbai, Maharashtra 400052