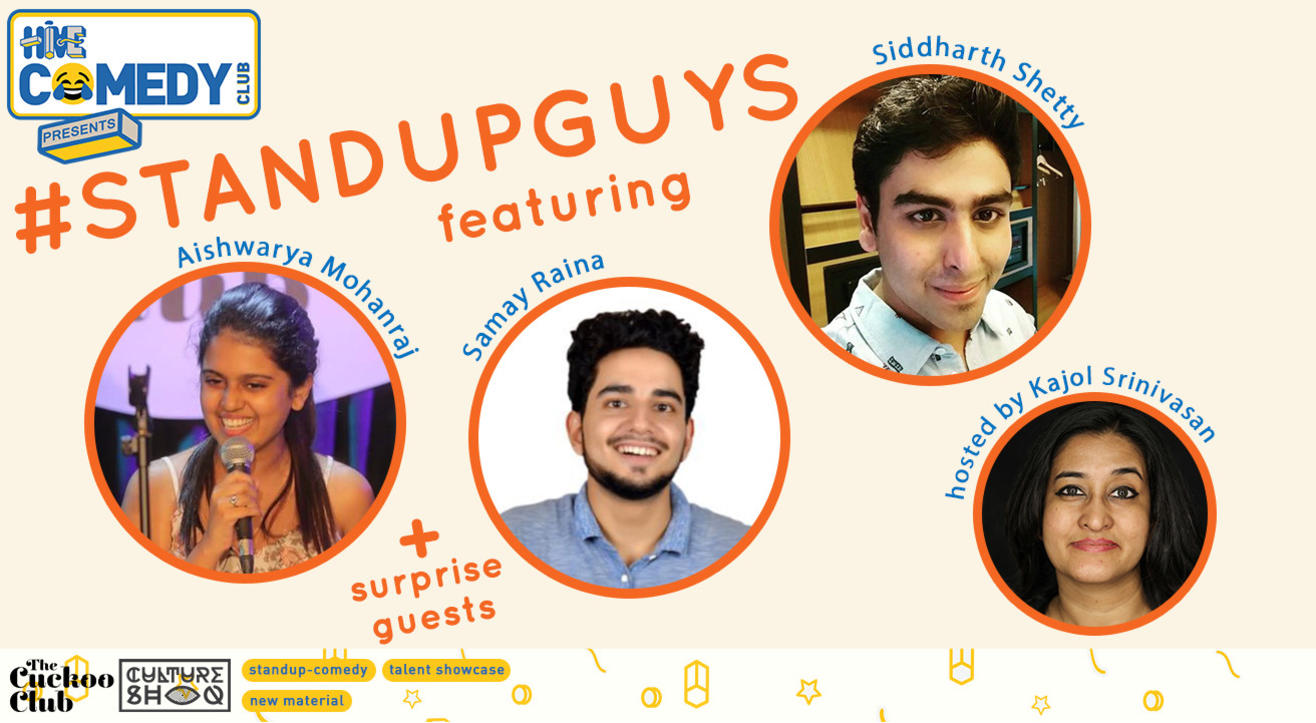 Comedy
Standup Guys featuring Aishwarya Mohanraj, Samay Raina and Siddhartha Shetty
About
This week's Standup Guys features Aishwarya Mohanraj, Samay Raina & Siddharth Shetty hosted by Kajol Srinivasan .Standup Guys is the HIVE showcase lineup of some of the funniest up and coming stand up comedians in the country. Every weekend catch a lineup of some of the freshest new voices in the Stand-Up comedy scene from around the country with new jokes + surprise acts always drop in to test out new material for you. Your choice pick for a weekend standup comedy night out. #TrueStory
Aishwarya Mohanraj: Aishwarya Mohanraj is a standup comedian and writer. Aishwarya was one of the top 10 contestants in Comicstaan and since then has written for shows like Son of Abish, Behti Naak and On Air with AIB. She has performed in various comedy venues such as Canvas Laugh Club and NCPA. Also, she can recite the alphabet backwards. You've seen her most recently seen in Amazon Prime Video's Comicstaan.

Samay Raina: Samay Raina is a very secular Kashmiri Pandit born in Jammu, living in Pune having studied in Hyderabad after moving from Delhi. He is hilarious and his idiosyncratic style of delivery makes him even funnier.

Siddhartha Shetty: Siddhartha is an upcoming stand-up comedian. He puts an incredible amount of hard work and brings in energetic performances with a variety of characters. It is a delight to watch him and fun to listen to his stories.

Kajol Srinivasan: A comedian who is half tamilian half Bengali and double patriot. Every year on independence day she calls up two random English guys and instigates them against each other. She is an alumna of the first ever artists' residency organized by Akshara and the US consulate on women's empowerment. Kajol has performed widely at venues like IIT Bombay, the Kala Ghoda Arts Festival, BITS Pilani, Canvas Laugh Club and others.
Venue
The Cuckoo Cafe, Mumbai
First floor, above The Cuckoo Club Black Box Theatre | 5AA, Pali Hill Road, Next to Candies, Bandra West, Mumbai, India 400050