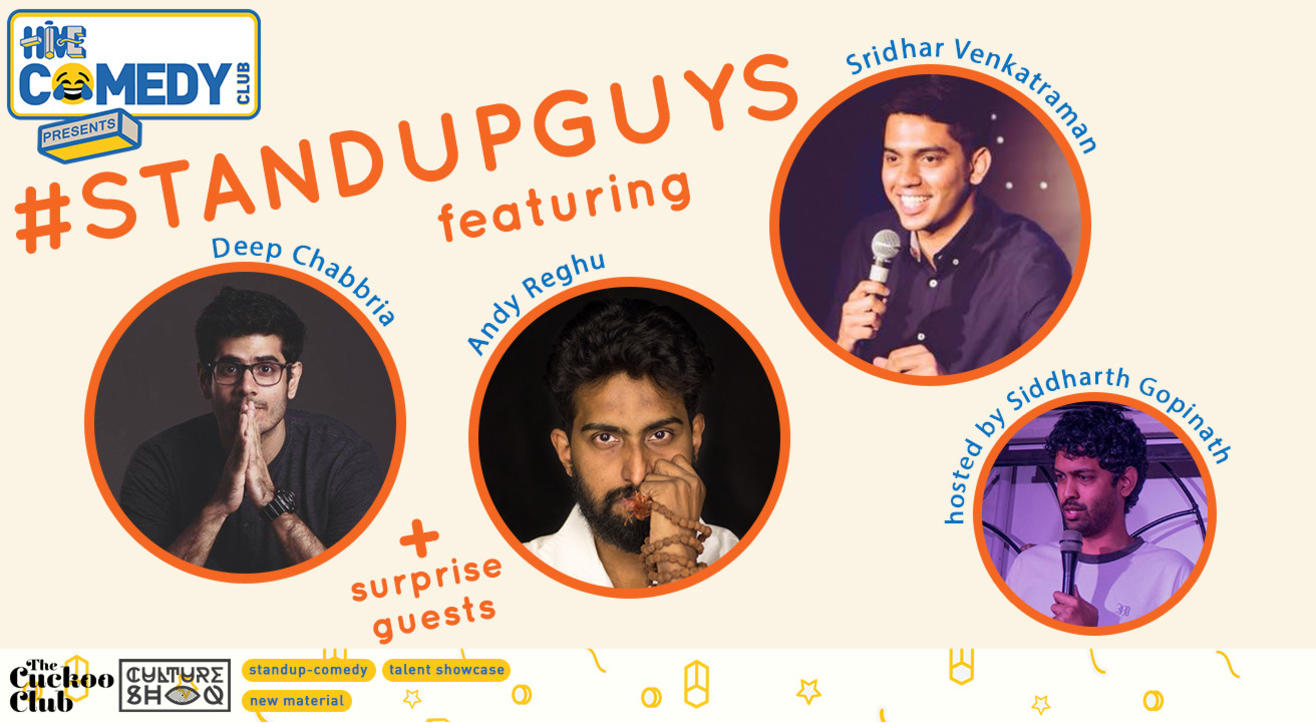 Comedy
Standup Guys featuring Deep Chabbria, Andy Reghu & Sridhar Venkatraman
About
This week's Standup Guys features Deep Chabbria, Andy Reghu & Sridhar Venkatraman hosted by Siddharth Gopinath. Standup Guys is the HIVE showcase lineup of some of the funniest up and coming stand up comedians in the country. Every weekend catch a lineup of some of the freshest new voices in the Stand-Up comedy scene from around the country with new jokes + surprise acts always drop in to test out new material for you. Your choice pick for a weekend standup comedy night out. #TrueStory
Deep Chabbria: One of India's youngest professional comedians, Deep was born and brought up in the bustle of Mumbai. Like that information made a difference to your life. It's ok read on. He majored in advertising to become a copywriter and happened to on the way start his own comedy collective called Comic Kaun? (What a pun! Oh yeah!) At a tender age of 21, he became a regular at premium comedy venues across the country. The downfall of his self-esteem began when he realised that after years of growing up he turned out to become a Jacky Bhagnani look-alike.

Andy Reghu: A writer, a professor and a spiritual leader - Andy Reghu wears multiple hats. He is from Kurla so he automatically has a criminal past. His hobbies include substance abuse and some more substance abuse. He also claims to be a TV writer and producer and he is wondering why the hell are you reading this.

Sridhar Venkatraman: "Famous for his viral tweets as @iimcomic, Shridhar is one of the only few comedians in India who perform one liners extensively as a part of the stand up comedy act. A regular performer across the country, his comedy is about current affairs, politics and startups among many other interesting topics. Watch him as he entertains you with his engaging, intelligent & thought provoking content which is extremely hilarious"

Siddharth Gopinath: Siddharth Gopinath is a former radio jockey and now standup comedian who is currently on a sabatical from chennai on account of his height being the but of all jokes in Chennai. Things havent changed for him in Mumbai as well.
Venue
The Cuckoo Cafe, Mumbai
First floor, above The Cuckoo Club Black Box Theatre | 5AA, Pali Hill Road, Next to Candies, Bandra West, Mumbai, India 400050