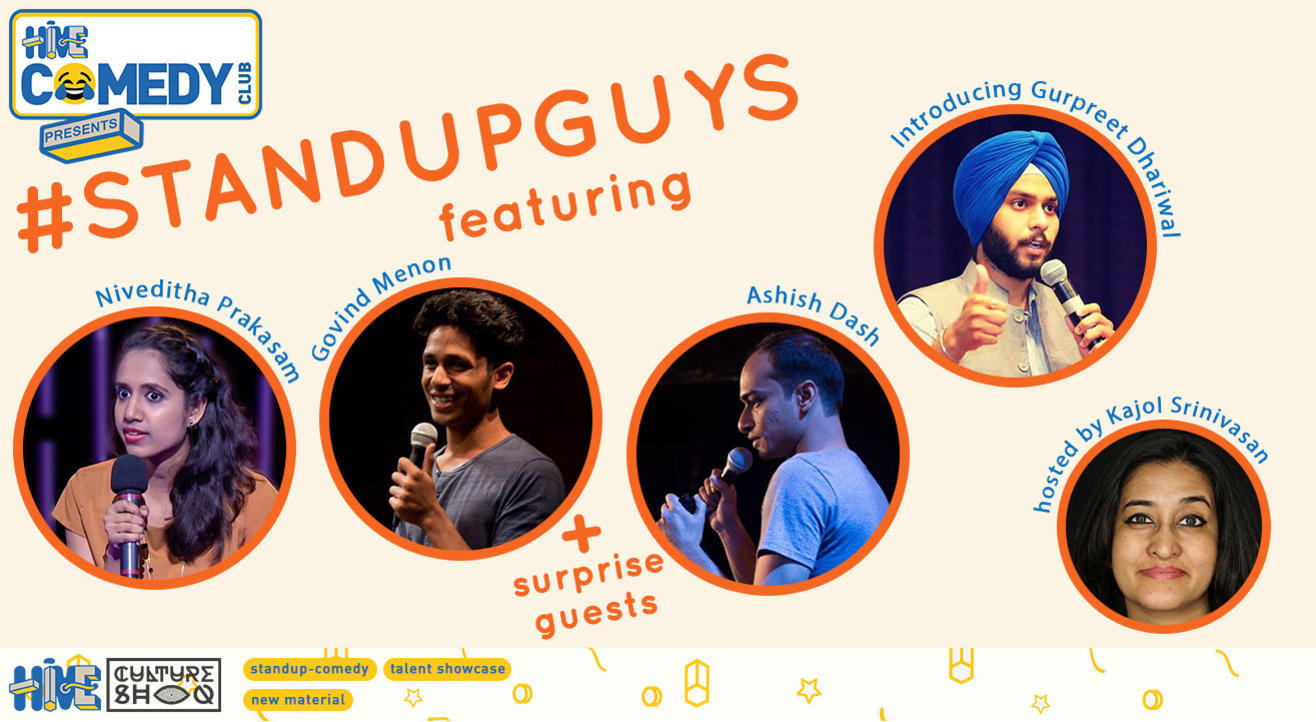 Comedy
Standup Guys featuring Niveditha, Govind, Ashish & Gurpreet
Hive at Linking Road, Bandra
About
This week's Standup Guys features Niveditha Prakash, Govind Menon, Ashish Dash and Gurpreet. This edition is also hosted by Kajol Srinivasan. Standup Guys is the HIVE showcase lineup of some of the funniest up and coming standup comedians in the country. Every weekend catch a lineup of some of the freshest new voices in the Stand-Up comedy scene from around the country with new jokes + surprise acts always drop in to test out new material for you. Your choice pick for a weekend standup comedy night out. #TrueStory


About the artists
Niveditha Prakasam
Niveditha, the winner of the reality show Queens of Comedy, is from Tamil Nadu and is here in Bombay to steal all your jobs.
Govind Menon
Govind Menon, like most Stand up artists, had a troubled childhood. Growing up in the mean streets of Mumbai, the only thing he had going for him is his curly hair. Having recently hit puberty, not much has changed except that, instead of his diary, Menon now uses a mic to document the ridiculous events that make up his life. Some of these events also happen to be funny..
Ashish Dash
Amongst the few things we know about Ashish Dash is the fact that he is from the great state of Odisha and that he is fond of monkeys. Sometimes, Facebook profiles can be more revealing than Police records but in the case of Mr. Dash, all we could find out was that he has been caught smiling on camera only once and even that may have been under influence. On stage, Dash's act is more confession than comedy and can be memorably disturbing. Which is why he is not popular at house parties. He may remind you of a crocodile lurking in the swamp. Known as the Indian Dexter Morgan, his dark comedy will make you laugh out of fear. A very jolly fellow, Ashish plans to make friends in the future.
Gurpreet
Gurpreet talks about vague stories of his life which somehow are stories of everybody's life. Relationships, Jobs, Society, Pressure from society, Weddings, you name it and he has jokes on it.
Kajol Srinivasan
A comedian who is half tamilian half Bengali and double patriot. Every year on independence day she calls up two random English guys and instigates them against each other. She is an alumna of the first ever artists' residency organized by Akshara and the US consulate on women's empowerment. Kajol has performed widely at venues like IIT Bombay, the Kala Ghoda Arts Festival, BITS Pilani, Canvas Laugh Club and others.
Venue
Hive at Linking Road, Bandra
Hive at Linking Road, Shop No. 2, Ground Floor, Parbhat Kunj, 25th Road lane behind KFC, Linking Rd, Bandra West, Mumbai, Maharashtra 400052