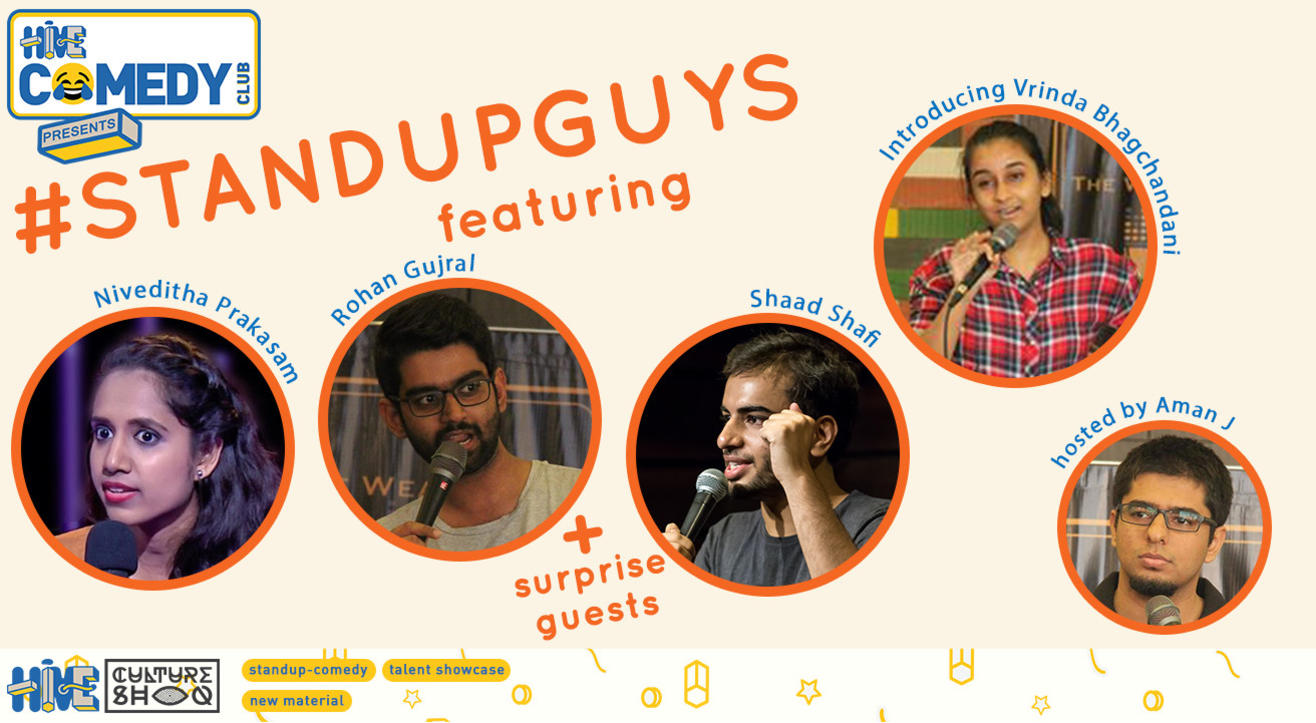 Comedy
Standup Guys featuring Niveditha Prakasam, Rohan Gujral & Shaad Shafi
Hive at Linking Road, Bandra
About
This week's Standup Guys features Niveditha Prakasam, Rohan Gujral & Shaad Shafi. Introducing Vrinda Bhagchandani and hosted by Aman C. Standup Guys is the HIVE showcase lineup of some of the funniest up and coming standup comedians in the country. Every weekend catch a lineup of some of the freshest new voices in the Stand-Up comedy scene from around the country with new jokes + surprise acts always drop in to test out new material for you. Your choice pick for a weekend standup comedy night out. #TrueStory
Niveditha Prakasam: Niveditha, the winner of the reality show Queens of Comedy, is from Tamil Nadu and is here in Bombay to steal all your jobs.

Rohan Gujral: Rohan Gujral is an upcoming standup comedian from Mumbai. He performs regularly in Bandra, Andheri and other cheaper suburbs. He travels in trains, taxis and other cheaper transport. His jokes revolve around daily life observations. He has performed at the Pune Comedy Festival 3.0, his aunty's house in Jabalpur and other cheaper venues.

Shaad Shafi: A comedian with a weird point of view, maybe it's because he is shy, maybe because he is secretly an alien sent to kill us all. His one liners are either going to leave you laughing or thinking 'WTF!' Either way, he is going to leave an impression on you.

Vrinda Bhagchandani: She is the average homosapien and is average at being average but loves doing shit jokes and doesn't know why bios exist.
Venue
Hive at Linking Road, Bandra
Hive at Linking Road, Shop No. 2, Ground Floor, Parbhat Kunj, 25th Road lane behind KFC, Linking Rd, Bandra West, Mumbai, Maharashtra 400052