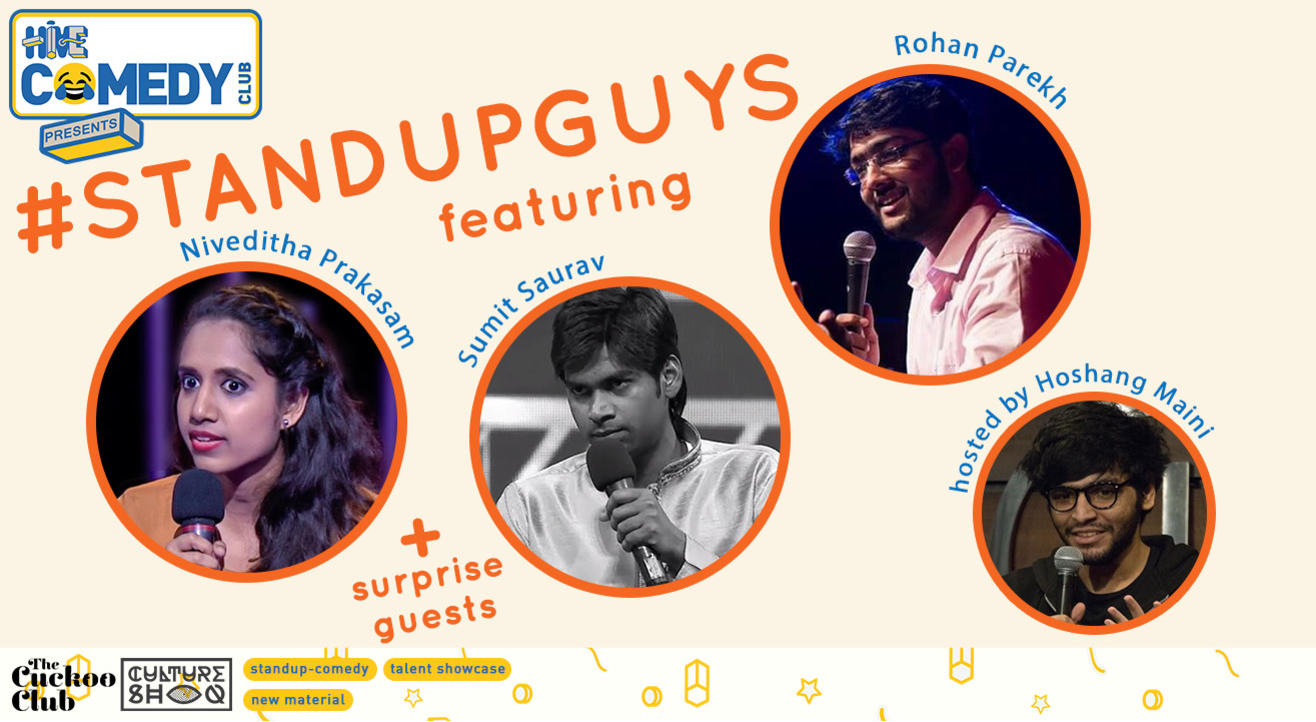 Comedy
Standup Guys featuring Niveditha, Sumit and Rohan
About
This weeks Standup Guys features Niveditha Prakasam, Sumit Saurav and Rohan Parekh. The event is hosted by Hoshang Maini. Standup Guys is the HIVE showcase lineup of some of the funniest up and coming standup comedians in the country. Every weekend catch a lineup of some of the freshest new voices in the Stand-Up comedy scene from around the country with new jokes + surprise acts always drop in to test out new material for you. Your choice pick for a weekend standup comedy night out. #TrueStory
About the Artists
Niveditha Prakasam
Niveditha, the winner of the reality show Queens of Comedy, is from Tamil Nadu and is here in Bombay to steal all your jobs.
Sumit Saurav
Sumit Sourav aka 'Comedy ka Noor from Jamshedpur' has performed and proved his excellence in all the four comedy-friendly cities Delhi, Mumbai, Kolkata, and Bangalore. Not just the people, but with passing time, he has become one of the favorites among the comedians of India also. His unusual take on usual things of daily life leaves the audience in splits.
Rohan Parekh
Rohan Parekh is an engineer because a good degree will ensure a good dowry. His jokes don't seem to become the topic of national debate, but he's getting there. He has been performing at premier venues like The Cuckoo Club, Canvas and NCPA and has also done shows in Singapore. His uncanny preferences in life mean that everything he likes is either fattening, illegal or doesn't text back.
Hoshang Maini.
Hoshang is religious hoodie wearer and almost a graduate. He is still in the process of growing up in life and in stand-up.
Venue
The Cuckoo Cafe, Mumbai
First floor, above The Cuckoo Club Black Box Theatre | 5AA, Pali Hill Road, Next to Candies, Bandra West, Mumbai, India 400050