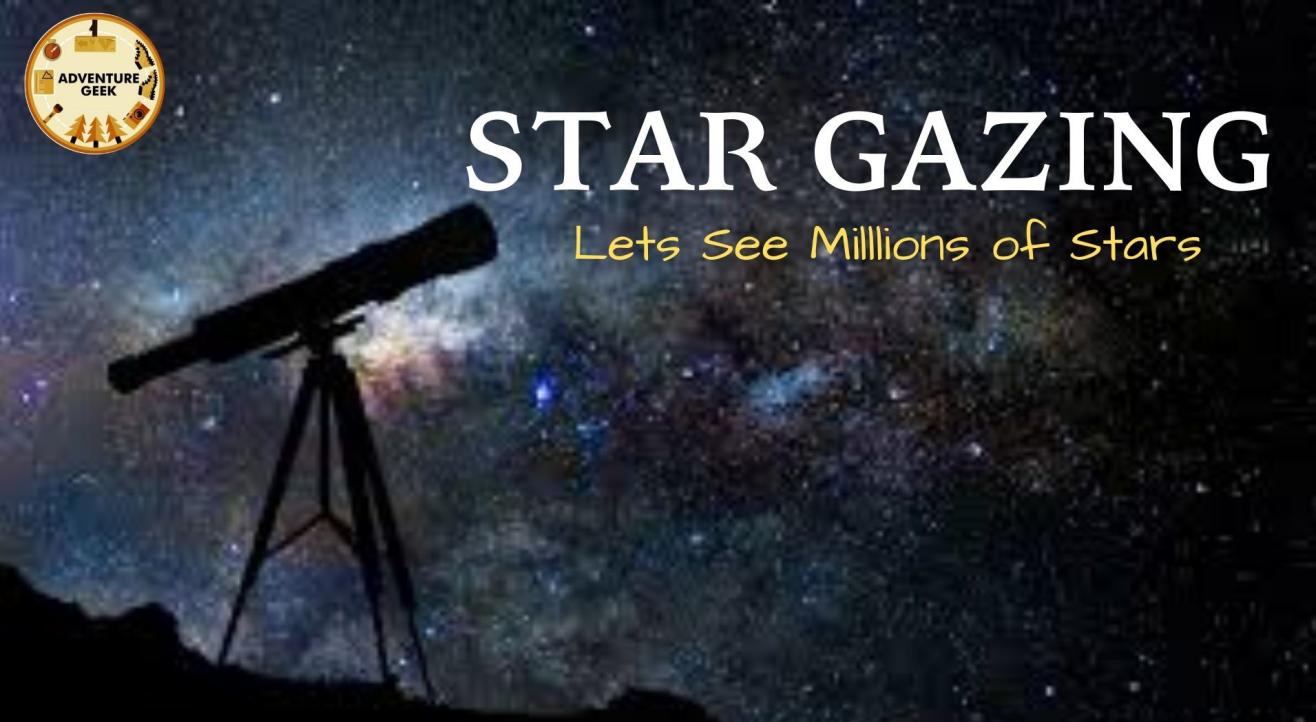 Camping
Star Gazing + Camping
November 23 | 5PM - February 2 | 10AM
About
Best time to See the Milk Way Galaxy (Akash Ganga) & Return of the Planets - Venus (The Evening Star), Jupiters with 4 Moons, Mars The Red Planet and Saturn with Rings. NIGHT SKY GAZING Event organised by Adventure Geek at Saphale, Tandulwadi Village.
Event Date: 18-19th Jan'2020(Saturday Night)
Amateur & Novice Users can also join and take opportunity to know the Night Sky and observe some of the deep sky objects like Planets, Nebulae's, Galaxies, Globular Cluster, Open Clusters, Double Stars and off course our Milky Way Galaxy etc.. no prior knowledge of astronomy is necessary for them. Night Sky Orientation will be provided during the Event.
Event Schedule:
Participants are requested to reach the campsite by 5:30 pm.
Train Timings:-
03.22pm – Churchgate
03.32pm – Mumbai Central
03.45pm – Bandra
03.54pm – Andheri
04.08pm – Borivali
04.35pm – Virar
04.53pm – Saphale
(Missing the train means Missing the Event)
05.30 pm Reaching the Campsite by Private/public vehicle.
6:00 - 6:30 pm – Event Registration, Selfie,Group Photo Session
06.30pm - Sunset
7:00 - 7:30 pm – Session 1 – Introduction, Observe West Sky Objects (Before Setting), Satellite Tracking
7:30 – 8:00 pm – Night Sky Orientation - Finding the North Star - Cassiopeia & Ursa Major
8:00 – 9:00 pm – Session 2 – Astronomy Awareness Video Program
9:30 – 10:30 pm – Dinner Time (Delicious BBQ, Veg Dinner)
10:30 – 11:30pm – Session 3 – Night Sky Observation - Constellations, Star Clusters, Andromeda Galaxy, Orion Nebula and Double Stars
11:30pm – 12:30am – General Observation and Basic Astrophotography (Star Trails & Constellations)
1:00 – 3:30 am – Power Nap – Charge Yourself and Camera/Tablet/Mobile Batteries
3:30am - 4:00 am – Tea Break
4:00 – 5:30 am – Session 4 – Early Morning Sky
5:30 – 6:30 am – Session 5 – ISS, Satellite, & Iridium Flares
6:30 am - Sunrise
7:00 – 7:30 am – Breakfast / Tea and Group Photo
8:00 am - Event Closure
Participants can depart from the camp-site, or hang around with us from informal discussion / talk/contact sharing
Participants are free to observe all night or retire for a short sleep and join us again for observations.
We greatly encourage informal interactions/ discussion with us at any time during the night. We will answer (or try to be as close to your satisfaction as possible) all your questions. WE WILL BE AWAKE ALL NIGHT TO FACILITATE THOSE WHO WISH TO STAY AWAKE AND OBSERVE THE NIGHT SKY WITH US.
Our Equipment's:
1) 10 Inch Dobsonian Reflectors (2 Qty) – Antares GSO & SKY Watcher
2. Binoculars 10 x 50 (2 Qty)
3. Celestron Automated Mount (100mm Refractor)
4. Celestron Automated Mount for Astrophotography
4. EQ1 Manual - 75mm & 80mm Scope.
**Advance Booking required for TENT Reservation.
Inclusion:-
• Tent Charges
• Night Sky Gazing Event and On-Site Charge
• Evening Snacks, Delicious Veg Dinner, Morning Breakfast
• Tea & Drinking Water available.
* Stay in Tent with soft bedding and pullover
* Soft Music & Guitarist (Optional)
* Free WiFi (Subject to GSM Network)
• Adventure Geek Expertise
Exclusion:-
• Anything not mentioned in the included list.
• Travel Cost to-fro from Saphale Station to Site (If required 150/- PP Extra)
Note: In case of the Cloudy Sky, Event will not be cancelled, Singing Songs with Guitarist and Campfire will be Continued with Delicious BBQ veg food.
Special Note:
** Observation depends on subject to availability of object & weather condition.
** No refund on cancellation & postponed of shows.
Rules :
- Camp leader's decision will be final and binding.
- Adventure Geek reserves all the right to change/deviate/cancel the plans without prior notice.
- Please do not carry or wear any valuables, ornaments, jewellery, etc. If carried, then we Do Not take any liability for the same.
- The campsite has a strict NO Smoking/Drug/Alcohol Policy.
- All timings mentioned above are tentative.
Cancellation and Refund applicable on the whole tour cost :
• If cancellation done prior to 6 days of outing 75% will be refunded.
• If done prior to 3 days of outing 50% will be refunded
• After that no refund will be provided.
Happy Camping,
Adventure Geek