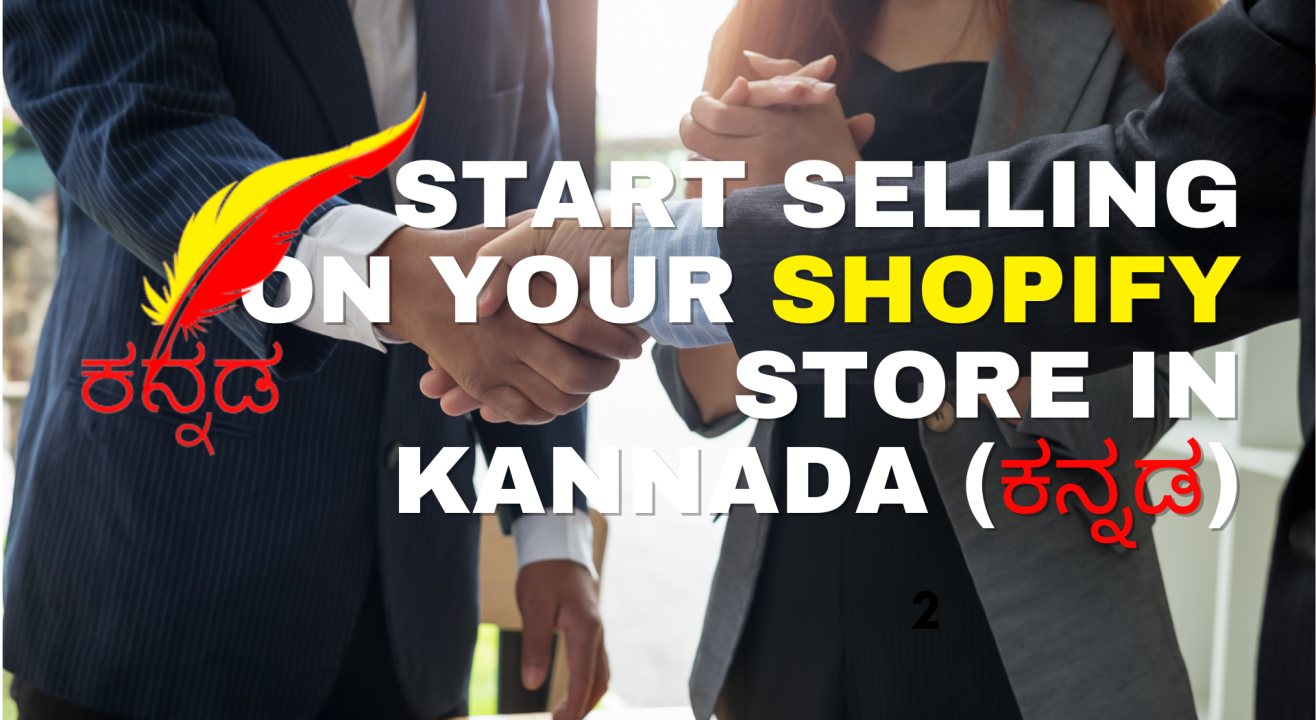 Start Selling on your Shopify Store in Kannada (ಕನ್ನಡ)
Enjoy this event from your home
Invite your friends
and enjoy a shared experience
Start Selling on your Shopify Store in Kannada (ಕನ್ನಡ)
Enjoy this event from your home
Invite your friends
and enjoy a shared experience
Invite your friends
and enjoy a shared experience
ಹಲೋ ಕನ್ನಡಿಗರೆ!!
ಪ್ರಪಂಚವು ಚಲಿಸುತ್ತಿದೆ ಮತ್ತು ವಿಕಸನಗೊಳ್ಳುತ್ತಿದೆ, ಸಾಮಾನ್ಯ ವೇಗದಲ್ಲಿ ಅಲ್ಲ. ಎಲ್ಲವೂ ಮತ್ತು ಎಲ್ಲರೂ ಬದಲಾಗುತ್ತಿದ್ದಾರೆ ಮತ್ತು ಬದಲಾವಣೆಗೆ ಹೊಂದಿಕೊಳ್ಳುತ್ತಿದ್ದಾರೆ. ಎಲ್ಲರೂ ಆನ್‌ಲೈನ್ ಜಗತ್ತಿಗೆ ಹೋಗುತ್ತಿದ್ದಾರೆ. ಸಾಂಕ್ರಾಮಿಕವು ಈ ಬದಲಾವಣೆಯನ್ನು ಇನ್ನಷ್ಟು ವೇಗವಾಗಿ ಮಾಡಿದೆ. ಪ್ರತಿ ವ್ಯಾಪಾರವು ತನ್ನ ಸರಕು ಮತ್ತು ಸೇವೆಗಳನ್ನು ಆನ್‌ಲೈನ್ ಮೋಡ್ ಮೂಲಕ ನೀಡುವುದು ಹೊಸ ಸಾಮಾನ್ಯವಾಗಿದೆ. ಇದು ವ್ಯಾಪಾರಗಳು ಪ್ರಬಲವಾಗಿ ಉಳಿಯುವುದಲ್ಲದೆ ವಿಶ್ವದಾದ್ಯಂತ ತಲುಪುವ ಅವಕಾಶಗಳನ್ನು ಅನ್ವೇಷಿಸುತ್ತದೆ.
ಅಲ್ಲದೆ, ಕೋರ್ಸ್ ಇಲ್ಲದೆ ನೀವೇ ಕಲಿಯುವುದು ಯಾವಾಗಲೂ ಸುಲಭದ ಕೆಲಸವಲ್ಲ ಏಕೆಂದರೆ ಆನ್‌ಲೈನ್‌ನಲ್ಲಿ ಕೆಟ್ಟ ಮಾಹಿತಿಯಿಂದ ಉತ್ತಮ ಮಾಹಿತಿಯನ್ನು ಫಿಲ್ಟರ್ ಮಾಡುವುದು ಯಾವಾಗಲೂ ಸುಲಭವಲ್ಲ. ಈ ಕೋರ್ಸ್‌ನಿಂದ, ನೀವು ನಿಮ್ಮ ಸ್ವಂತ Shopify ಅಂಗಡಿಯನ್ನು ತೆರೆಯಲು ಮತ್ತು Shopify ನೀಡುವ ಆಯ್ಕೆಗಳು ಮತ್ತು ವೈಶಿಷ್ಟ್ಯಗಳೊಂದಿಗೆ ಪರಿಚಿತರಾಗಲು ಸಾಧ್ಯವಾಗುತ್ತದೆ. ಈ ಕೋರ್ಸ್‌ಗೆ ಸೇರಿಕೊಳ್ಳಿ ಮತ್ತು ಸ್ಪರ್ಧೆಯ ಮುಂದೆ ಹೆಜ್ಜೆ ಹಾಕಿ. ನೀವು ಹರಿಕಾರರಾಗಿದ್ದರೂ ಸಹ ಕೆಲವೇ ನಿಮಿಷಗಳಲ್ಲಿ ನಿಮ್ಮ ಅಂಗಡಿಯನ್ನು ಸುಲಭ ಹಂತಗಳಲ್ಲಿ ಕಾನ್ಫಿಗರ್ ಮಾಡಲು ನಿಮಗೆ ಸಾಧ್ಯವಾಗುತ್ತದೆ. ಕೊನೆಯದಾಗಿ, ಹಣ ಸಂಪಾದಿಸಲು ಪ್ರಾರಂಭಿಸಿ :)
ತಿಳಿಯಬೇಕಾದ ಇನ್ನೊಂದು ಮುಖ್ಯ ವಿಷಯವೆಂದರೆ ನನ್ನ ಎಲ್ಲಾ ಕೋರ್ಸ್‌ಗಳಂತೆ ಈ ಕೋರ್ಸ್ ಅನ್ನು ಅಭ್ಯಾಸದ ಮಾದರಿಯಲ್ಲಿ ರಚಿಸಲಾಗಿದೆ. ಬೇರೆ ರೀತಿಯಲ್ಲಿ ಹೇಳುವುದಾದರೆ, ನೀವು ಕಲಿಯುವ ಎಲ್ಲವನ್ನೂ ನೀವು ಅಭ್ಯಾಸ ಮಾಡಲು ಅವಕಾಶವಿರುತ್ತದೆ. ಈ ಕೋರ್ಸ್‌ನ ಅಂತ್ಯದ ವೇಳೆಗೆ ನೀವು ರಚಿಸಿದ ನಿಮ್ಮ ಸ್ವಂತ ಆನ್‌ಲೈನ್ ವ್ಯಾಪಾರವನ್ನು ಸಹ ನೀವು ಹೊಂದಿರುತ್ತೀರಿ.
Hello Kannadigarey!!
The world is moving and evolving, not at an ordinary pace. Everything and everyone is changing and adapting to change. Everyone is moving to the online world. The pandemic made this shift even quicker. It has become the new normal for every business to offer its goods and services through online mode. This not only makes businesses stay strong but also explores opportunities for worldwide reach.
Also, learning by yourself without a course is not always an easy task because it's not always easy to filter good information from bad information online. From this course, you will be able to open your own Shopify store and get familiar with the options and features that Shopify offers. Join this course, and step ahead of the competition. You will be able to configure your store in easy steps within a few minutes even if you are a beginner. Lastly, start making money:)
Another important thing to know is that this course like all my other courses is created on a learn-by-practice model. In other words, everything you will learn you will have the opportunity to practice it. This way, not only you will have a solid theoretical understanding of the online business world but you will also have your own online business that you will have created by the end of this course.
Event partner: vepapu.com where you can start your international business.
Start Selling on your Shopify Store in Kannada (ಕನ್ನಡ)
Enjoy this event from your home
Invite your friends
and enjoy a shared experience