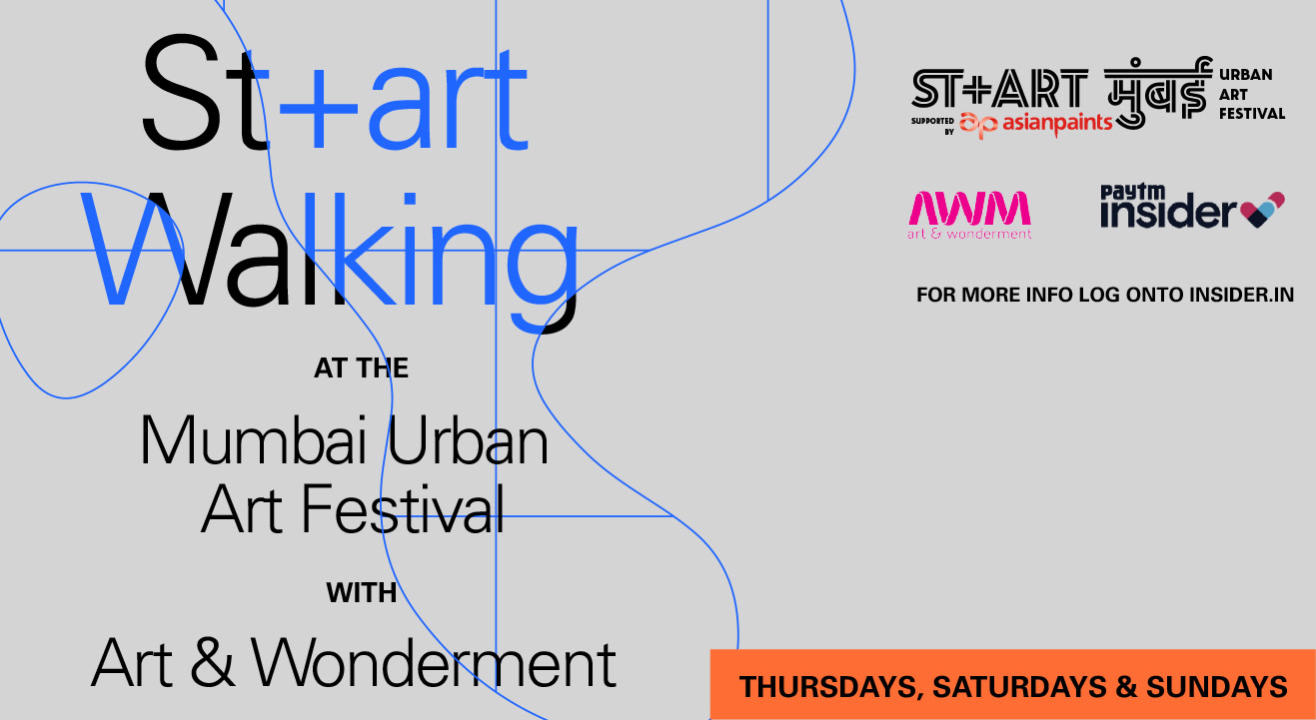 St+art Walking at Mumbai Urban Arts Festival with Art & Wonderment
December 22 - February 23 | Multiple Slots
Registration Desk, Sassoon Dock, Mumbai
Step out and enjoy this event
Invite your friends
and enjoy a shared experience
St+art Walking at Mumbai Urban Arts Festival with Art & Wonderment
December 22 - February 23 | Multiple Slots
Registration Desk, Sassoon Dock, Mumbai
Step out and enjoy this event
Invite your friends
and enjoy a shared experience
Invite your friends
and enjoy a shared experience
Explore Mumbai's newest and coolest public art on fun, friendly art walks led by Art & Wonderment (AWM). As an extension of the Mumbai Urban Art Festival (MUAF), AWM's open-to-public walks will be held every week from December 22, 2022 - February 2023!
Sassoon Docks
Join AWM's walk leaders as they chart a course through the exhilarating new art on view at Sassoon Dock, home to the Mumbai Urban Art Festival 2022-23! Together, explore Mumbai's coolest public art installations spread across the living fishing site and inspired by the Festival's key themes of water, community and hyper- local history!
Meeting point: Registration Desk, MNC Shed, Sassoon Docks
The Sassoon Docks Art Project is divided into three venues, Intuitions, Illusions and the Asian Paints Art House and so are the walks, as follows:
Intuitions: Thursdays at 7pm, Saturdays at 11am and 5pm, Sundays at 11am
Illusions and Asian Paints Art House: Thursdays at 7:15pm, Saturdays at 11:15am and 5:15pm, Sundays at 11:15am
All participants ages 5 and up need a ticket.
Follow us at @startindia and @artandwonderment for updates on walks of all your favourite Mumbai Urban Art Festival venues.
About Art and Wonderment
Art & Wonderment aims to broaden, and deepen, art conversations in the city. Our walks foster new ways of seeing, sharing, and thinking about the art on view in Mumbai. With over 10 years of experience working together to build public audiences for art, we design and lead walks for absolutely everyone. In addition to gallery visits, we offer behind the scenes tours of notable collections, artists studio visits, young collectors events for audiences in Mumbai, as well as virtual art 'walks' and young-artist spotlights, so you can join us from anywhere! Follow @artandwonderment on Instagram, to find art events near you!
FAQs
What is Sassoon Dock?
It's an active fishing dock at the end of Colaba, where the daily catch is unloaded, processed and packed out for sale across Mumbai and beyond. Expect to find the freshest fish heading out, as you head in to catch Mumbai's coolest public art.
Why Sassoon Dock?
It's a space teeming with stories and inspiration, and offers wonderful insight into the life of the Kolis, the city's original inhabitants. It also perfectly brings together the MUAF themes of 'water' and 'city as bazaar'.
What will you cover in an hour?
With so many art installations to see and conversations to have, AWM's walk leaders will pick 5 works per walk and talk you through those. You may explore the rest of the exhibition on your own, or join another walk where we cover the others :)
Do I have to be fully vaccinated (2 doses) to attend the walks?
Yes, you need to be fully vaccinated to attend the walks and access the exhibitions. Please keep your vaccine certificate handy (both doses).
What kind of ID do I need?
Please carry any valid, government-issued ID, such as a passport, Aadhar Card, PAN Card, or driver's license to present at the Registration Desk.
Will you check my bag at the entry?
We will check bags at entry to ensure that there are no dangerous and illegal elements in your bag. The safety of our patrons is of the utmost importance to us.
What should I wear?
We'll mostly be indoors, but comfortable shoes are recommended.
Is parking available at the Festival?
No, there is no parking available at the venue, however drops off at the entry are allowed.
Can I sign up for the walk at the venue?
Yes you can, subject to availability of spots. However we encourage pre booking online to avoid disappointment! Online booking equals pre-registration to enter the Festival.
Does the venue accept cashless payments?
No:( Most walks are running full so it's best to preregister! Online booking equals pre-registration to enter the Festival.
What if I'm late/can't make it to the walk?
If you're late, ask for directions at the Registration Desk and catch up. If you can't make it, send a friend instead. They'll thank you for the gift!
What are the social media handles and is there an official hashtag?
Yes! Don't forget to tag us at @startindia and @artandwonderment and be sure to use #MUAF when posting!
Registration Desk, Sassoon Dock
Azad Nagar, Colaba, Mumbai, Maharashtra 400005, India
GET DIRECTIONS
St+art Walking at Mumbai Urban Arts Festival with Art & Wonderment
December 22 - February 23 | Multiple Slots
Registration Desk, Sassoon Dock, Mumbai
Step out and enjoy this event
Invite your friends
and enjoy a shared experience