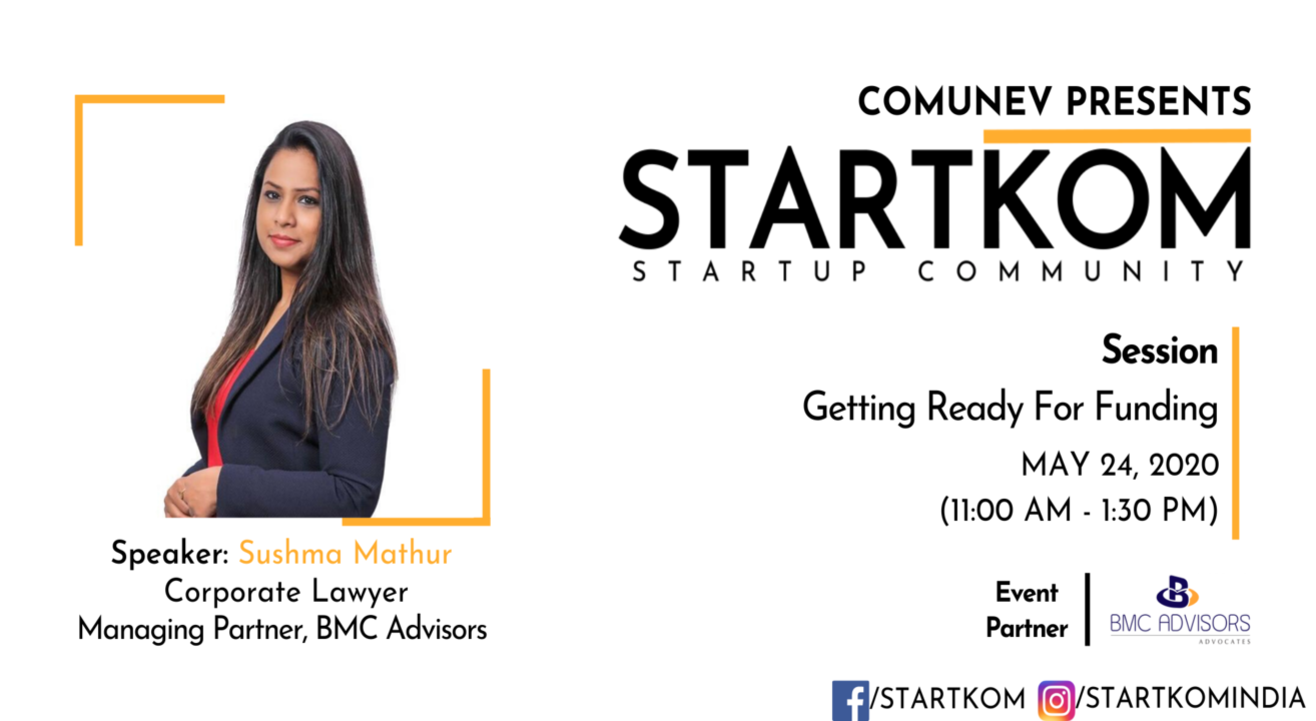 Startkom Virtual Networking Event
Enjoy this event from your home
Invite your friends
and enjoy a shared experience
Invite your friends
and enjoy a shared experience
About the Event
Startkom is a startup community by Comunev that organizes regular startup events physically and virtually.
40+ Events | 800+ Event Attendees | 300+ Followers | 1000+ Community Members
Are you?
Entrepreneur?
Business Person?
Startup Consultant?
Corporate Professional?
Mentor?
Investor?
Student?
Then this is the right place for you. Connect with the right people on a single platform for everyone who loves to build products and companies. We organize regular startup events and virtual business networking events.
Our Story:
We are entrepreneurs who love to build innovative products and ground-breaking companies but an entrepreneur's success story, at first and throughout, is filled with many obstacles.
The only way to overcome these obstacles is to have great connections, watch what an entrepreneur does right and continuously learn from them. Having the right network of people helps you to create sustainable businesses that stand the test of the competitive market, especially from the current surge of entrepreneur growth in India.
Hence we started Startkom- Startup Meetup to solve this issue. It is the ultimate platform for entrepreneurs to expand their network rapidly and in an efficient manner.
What happens in the event?
Startkom event has the following sessions:
Session 1: "Getting ready for funding"- By Sushma Mathur
A lot of startups miss some crucial steps during the funding process which causes them a lot of problems later on. And being prepared for investment is a positive sign that many investors look for. This session would give you practical knowledge and tips to take care of the legal aspects of funding and how to be ready for your next or even the first funding round.
Session 2: Introduction Session
Every entrepreneur who joins the event will get to introduce them to all other attendees. This is a great way to know who is attending and who you would like to talk to in the next networking session.
Session 3: Networking
In this session, you get to make meaningful business connections that will be highly valuable for you. With an opportunity to meet other startup companies in India, you'll be able to expand your network way beyond your company or office or home (currently).
Speaker:
Sushma Mathur is a corporate lawyer and is managing partner of BMC Advisors. She brings in over 15 years of unmatched experience in the field of corporate and commercial laws. She also advises startups on financial and legal aspects and is also serving as a legal advisor to Student Incubation Cell, IIT Delhi.
Who attends the event?
50% - Entrepreneurs
18.4% - Professionals
13.2% - Students
8.8% - Consultants/Mentors
7% - Wantrepreneurs (Someone thinking about starting a startup)
2.6% - Investors


What do you get?
By joining Startkom event, you can
Find a Co-Founder
Get Investments
Get startup mentorship
Find new clients and grow
Get solutions to your problems
See how an entrepreneur thinks
Discuss new business ideas/opportunities
Expand your network


What Startkom members are saying?
"It was awesome visiting there. Met some really talented guys."
-Deepesh Sangar
-Parth Mukhi
"Love the concept. Great Networking. Really cost-effective!"
-Raj Yadav
"I met all the right people for my startup here."
-Ayush
We are inspired by the best startups in the world, but the truth is building a startup is a difficult thing. Most people fail before they even set foot in the market. Yet, the rising entrepreneur growth in India, means every day thousands of entrepreneurs begin this difficult journey and the only way they can succeed is by having the right kind of people next to them. Help us in making Startkom the biggest startup event in India.
Join us right now to be a part of the Startkom Community!!
(40 Seats Only)
"Stay Hungry, Stay Foolish."
Social Media:
Facebook- https://www.facebook.com/startkom
Instagram- https://www.instagram.com/startkomindia
Twitter- https://twitter.com/startkomindia
LinkedIn- https://www.linkedin.com/showcase/startkom


FAQs:
-Is it a workshop or will there be any presentation?
Startkom has different formats for different events. This virtual event will have a speaker presentation and a networking session both. We organize workshops and interviews in this speaker session as well.
-Is this a Network Marketing/MLM event?
No, Startkom is only a networking event where you get to meet other people. Our event is not for MLM or Network Marketing.
For Queries- support@comunev.com
Contact- 8595473072