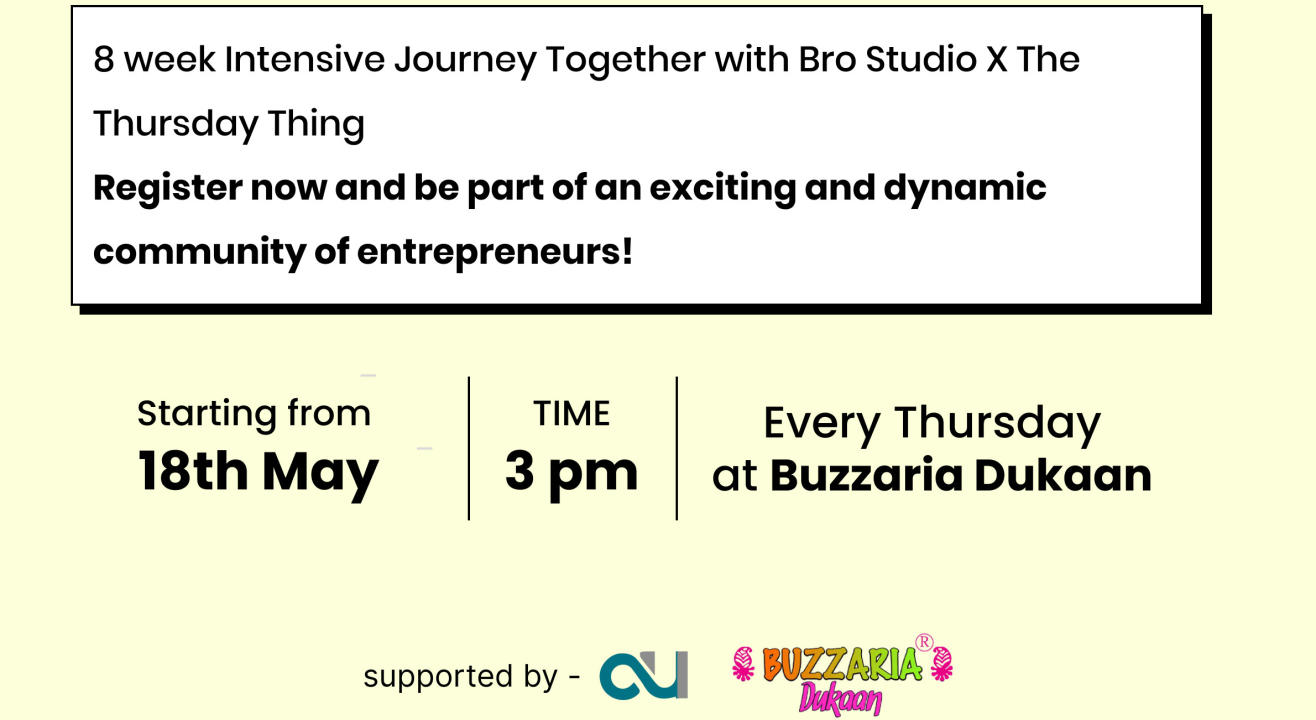 Startup Bootcamp - Entrepreneurship Alchemy
May 18 | 3PM - June 29 | 6PM
Event Guide
For Age(s)
Family Friendly
Invite your friends
and enjoy a shared experience
Startup Bootcamp - Entrepreneurship Alchemy
May 18 | 3PM - June 29 | 6PM
Event Guide
For Age(s)
Family Friendly
Invite your friends
and enjoy a shared experience
Event Guide
For Age(s)
Family Friendly
Invite your friends
and enjoy a shared experience
Transforming Ideas into Gold: Learn The Entrepreneurship Alchemy"
"Let's make an awesome Bro-totype together"
Attention all aspiring entrepreneurs!
Are you ready to take your startup idea to the next level? Do you want to learn from successful entrepreneurs and gain practical knowledge on how to launch and grow a successful startup? If so, then join us for an 8-week startup Bootcamp event organized by Bro studio and The Thursday Thing!
During the Bootcamp, you will learn the essentials of starting and scaling a business, including market research, product development, branding, marketing, and fundraising. You will hear from experienced entrepreneurs who have successfully launched and grown their startups, and gain practical insights on how to overcome challenges and achieve success.
The Bootcamp will feature interactive workshops, group discussions, and one-on-one mentoring sessions, providing you with personalized support and guidance. You will also have the opportunity to network with other like-minded entrepreneurs, and pitch your startup idea to a panel of experts for feedback.
Whether you're a first-time entrepreneur or a seasoned business owner, this Bootcamp is designed to give you the tools and resources you need to succeed. So, don't miss out on this unique opportunity to accelerate your startup journey and turn your vision into a reality.
Register now for the 8-week startup Bootcamp event by Bro Studio and The Thursday Thing, and take the first step towards building a successful business!


Mentorship from Industry Experts: You'll have access to a network of experienced entrepreneurs, investors, and industry professionals who will provide you with invaluable guidance, insights, and feedback to refine your business strategy.
Actionable Workshops and Training Sessions: Our curriculum covers all aspects of building a successful startup, including ideation, market research, business model development, customer acquisition, product development, branding, fundraising, and more. You'll learn from experts who have successfully built and scaled their own startups.
Hands-on Learning: This is not your typical lecture-style program. You'll be engaged in interactive workshops, group exercises, and real-world simulations that will challenge you to apply what you've learned to your own startup.
Peer-to-Peer Collaboration: You'll have the opportunity to connect and collaborate with other like-minded founders and build a supportive community. You'll learn from each other's experiences, share insights, and form valuable connections that may last a lifetime.
Pitch Preparation: You'll receive expert guidance on how to effectively pitch your startup to investors and other stakeholders. You'll have the chance to refine your pitch through practice sessions and feedback from mentors and peers.
Resources and Tools: You'll gain access to a wealth of resources and tools to help you build and scale your startup, including templates, frameworks, case studies, and other practical resources that you can continue to use even after the Bootcamp.
Networking Opportunities: You'll have the chance to network with successful entrepreneurs, investors, and other industry professionals during our events, workshops, and social gatherings. This will be a great opportunity to expand your network and create meaningful connections.
Demo Day: The Bootcamp will culminate with a Demo Day, where you'll have the opportunity to showcase your startup in front of a panel of judges, potential investors, and fellow participants. This will be a chance to pitch your startup and receive feedback and potentially secure investment or partnerships.
Buzzaria Dukaan
253 Westend Marg Kohinoor Enclave, Saiyad ul Ajaib, Sainik Farm, New Delhi, Delhi 110030, India
GET DIRECTIONS
Startup Bootcamp - Entrepreneurship Alchemy
May 18 | 3PM - June 29 | 6PM
Event Guide
For Age(s)
Family Friendly
Invite your friends
and enjoy a shared experience