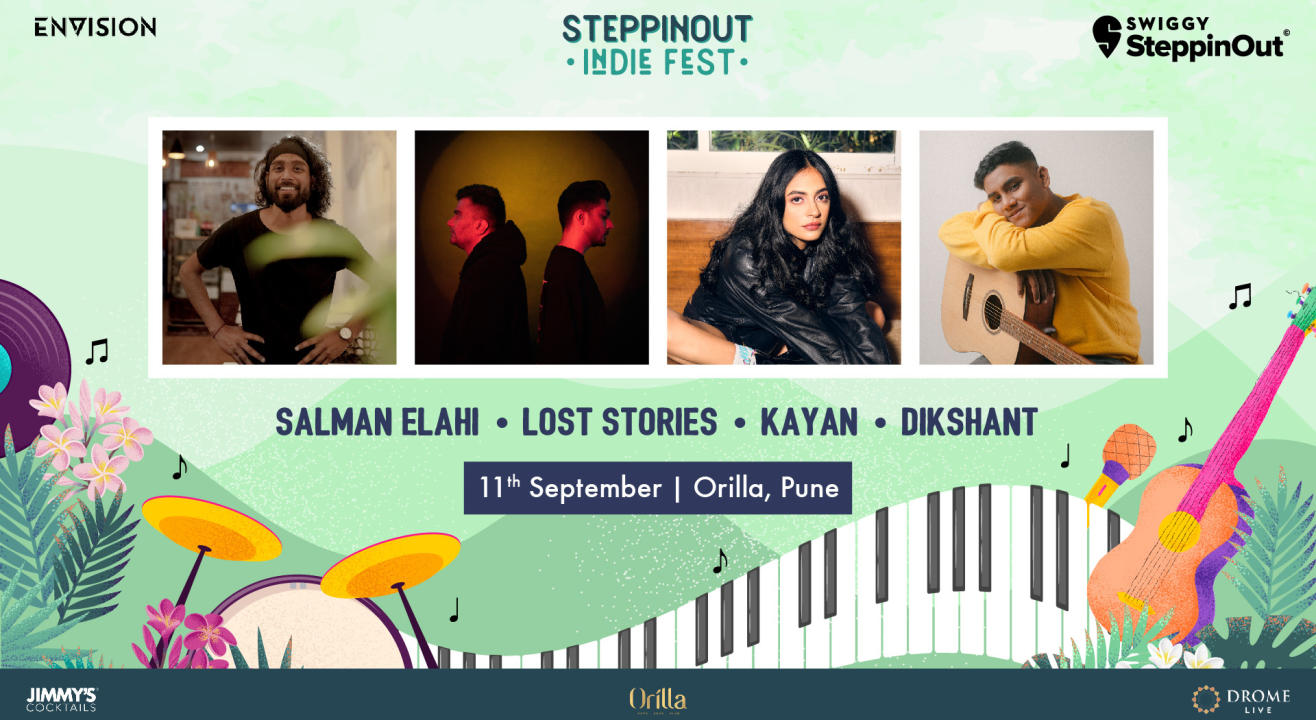 SteppinOut Indie Fest | Pune
September 11 | 6PM to September 12 | 12:30AM
Step out and enjoy this event
Event Guide
Live Performance
Enjoy a unique experience
Invite your friends
and enjoy a shared experience
SteppinOut Indie Fest | Pune
September 11 | 6PM to September 12 | 12:30AM
Step out and enjoy this event
Event Guide
Live Performance
Enjoy a unique experience
Invite your friends
and enjoy a shared experience
Event Guide
Live Performance
Enjoy a unique experience
Invite your friends
and enjoy a shared experience
A Surge of Indie Upcoming!
SteppinOut is out and about for its first-ever Indie Fest featuring the best of Indie Artists pan India. It's time to unravel the intricate indie artist network, jam with your favorites, or simply sip on some fun and groove to your heart's delight.
Soak in the beauty of musical transcendence and immerse yourself in the joy of pure music. The SteppinOut Indie fest is all set to be a mixed bag of entertainment with music, food, and an interesting line-up of budding indie artists who'd take you on a journey to your soul.
From unlimited jam sessions, enriching musical banter, groovy tunes, soulful melody, and all that jazz- The Indie fest is about to be epic. So get ready to meet your favorite artists, or simply find one.
Line-up:
Kayaan
Singer, producer, DJ, model, actor, and voiceover artist, the young maverick is now manifesting everything she wanted to be growing up. Amongst her developing personas is Kayan. A clever flip of her last name, read with a sense of mystique and curiosity, it just stuck birthing Kayan, who seeks solace by inhabiting soul, electronic, pop and R&B terrains.
Salman Elahi
The soothing voice of the popular song 'Pahadon Mein', Salman Elahi is a Mumbai-based singer-songwriter who primarily sings and writes in Urdu/Hindi language. This song has been loved by over 20Mn people in the world. He released his first EP called 'Shaan' which has 3 songs. He believes in expressing his thoughts about life and self-discovery through his music.
Lost Stories
Lost stories are a name synonymous to Dance Music in India and South Asia. Ranked #52 on Dj mag 2016 and labeled the "Scene Starters" by DJ Mag, Rishab and Prayag began their journey in dance music in 2008 earlier producing Trance and Progressive House and garnering support from heavyweights like Tiesto, Armin van Buuren, BT, Markus Schulz, etc. They then evolved their sound with their debut album – Music for the # Generation (Universal Music) in 2012 which was the no 3 Album on the Top 100 Dance Albums iTunes Charts
Dikshant
With a soulful voice, 6 strings, and a revolutionary mindset, he plans to make his mark in the Indian music industry. Dikshant is a 21-year-old singer, songwriter, composer, and producer from Mumbai. His keen eye for detail helps him narrate his personal feelings, making his music relatable. "When words fail, music speaks", hence he believes that creating an emotional impact is important, because what is
music if not a short-hand for emotions? The true beauty of music is that it connects people through the commonality of their experiences and feelings.
Book your tickets now!
An additional fully redeemable cover charge of INR 300 per person to be payable at the venue.
Alcohol will be served to audiences above 21 years of age.
ARTIST SCHEDULE:
8:30 - 9:30 Dikshant
9:30 - 10:30 Salman
10:30 - 12:00 Kayan
12:00 - Closing Lost Stories
Orilla
Pyramid Complex, 81/82, East Main Road, next to Raga Lawns, Koregaon Park Annexe, Koregaon Park, Pune, Maharashtra 411036
GET DIRECTIONS
SteppinOut Indie Fest | Pune
September 11 | 6PM to September 12 | 12:30AM
Step out and enjoy this event
Event Guide
Live Performance
Enjoy a unique experience
Invite your friends
and enjoy a shared experience