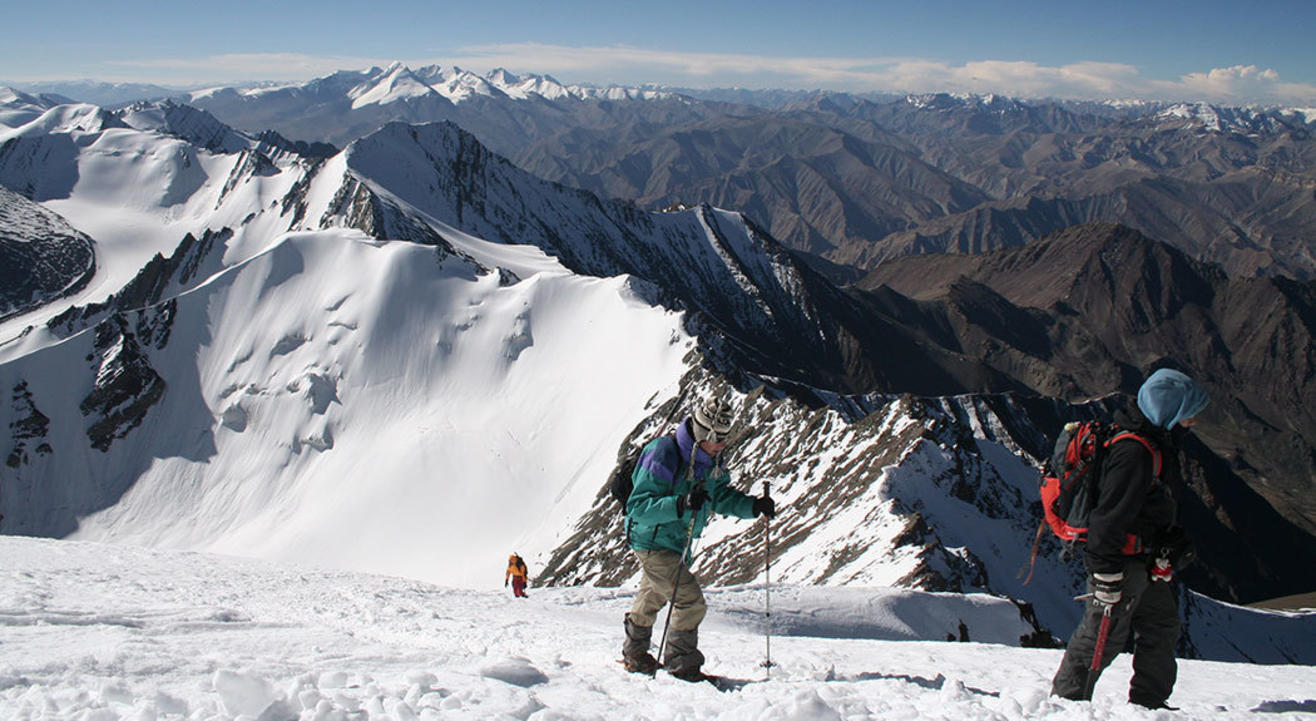 Stok Kangri Trek | Wandertrails
Step out and enjoy this event
Invite your friends
and enjoy a shared experience
Stok Kangri Trek | Wandertrails
Step out and enjoy this event
Invite your friends
and enjoy a shared experience
Invite your friends
and enjoy a shared experience
Stok Kangri trek is the best trek in Ladakh which takes you above 6000 mts. Stok Kangri is the highest peak in Stok range clearly visible from Leh and surrounding areas.
Kangri is the highest mountain in the Stok Range of the Himalayas in the Ladakh region of north India. The peak is located in Hemis National Park, 12 km southwest of the trailhead in the village of Stok and around 15 km southwest of the city of Leh, the capital of Ladakh.
Nine days of challenging and exciting trek through the Ladakh Mountains will push you to the limit.
A drive through winding mountain roads lined with birch trees will take you to the old village of stok and scenic beauty of Zanskar and Karakoram ranges will take your breath away.
Difficulty level: Difficult
Duration: : 9D/8N
Itinerary:
Day 1: Arrival at Leh (11,480 ft)
Arrive at Leh and check into the guest house and take complete rest for acclimatization. You will landing at 3400 Meters above sea level so acclimatization is very important. We suggest our trekkers to consult their Physician before taking any high altitude medicines. Proper rest and hydration is very important for acclimatization and to avoid AMS. Please make sure that you do not exert yourself too much. Have good sleep, good food and avoid smoking and alcohol completely.
Day 2: Acclimatization day in Leh (11,480 ft)
Leh is situated at an altitude of 11,480 ft. The entire day is for you to relax and acclimatize to the high altitude of Leh. In the evening go for a stroll in the Leh market and enjoy the cultural and natural beauty of Leh city's barren landscape. Make most of your acclimatization day by visiting Shanti Stupa, Leh Palace and Leh Monastery.
Places you can visit in Leh Ladakh:
Shanti Stupa
Shanti Stupa is a Buddhist monument which dominates the Leh City landscape high on a rocky ridge was built around 1190 by Japanese Buddhist monk to promote world peace and it's today one of the most visited place in Leh Ladakh.
Leh Palace
Leh Palace over looking the Leh City is the Palace of former ruler of Ladakh region you can reach here by short trek beside the Leh City mosque. Leh Palace is now under Archaeological Survey of India. Leh Palace overlook the Leh City and can be identified from the long distance resembles Potala Palace in Lhasa Tibet.
Leh Monastery
Leh Monastery is situated in the main market you can visit here and feel the calmness in the atmosphere or the Buddhist chants
Day 3: Drive from Leh to Stok Village (11,750 ft, 1 Hrs) and Trek to Chang Ma (13,080 ft, 4 Hrs)
Visit Leh Market and have breakfast at one of the famous restaurant of Leh and then we will start our drive to Stok Village (11,750 ft), the starting point of Stok Kangri Trek. The drive from Leh to Stok Village is a short one but a scenic one. We drive towards Manali Leh Highway and then take a right turn from Choglamsar towards Stok Village. Meet our trekking team at Stok Village. After the briefing session, start the trek to Chang Ma (13,080 ft). It is a fairly easy trek crossing the Stok village and the hydro powered Buddhist prayer wheel.
Day 4: Trek from Chang Ma (13,080 ft) to Manokarma (14,200 ft, 3-4 Hrs)
Ladakh's barren landscape is out of the world and it is called as the cold desert. During today's trek you will be crossing various water streams and if lucky you can also see blue sheep "Bharal" which come down to drink water from these streams. This part of the trekking to Stok Kangri base camp helps you the acclimatize to the high altitude.
Day 5: Trek from Manokarma (14,200 ft) to Stok Kangri Base Camp (16,300 ft, 3-4 Hrs)
After breakfast we will start the next level of Stok Kangri trek, the trek to base camp. Trek to Stok Kangri base camp is a nice place but because of the popularity of Stok Kangri trek, it's always full house. Stok Kangri Base camp is surrounded by numerous peaks few of them are Gulap Kangri, Parcha Kangri etc.
Day 6: Training Day at Base Camp
Today is fairly relaxed day. After breakfast we will go for training to nearby glacier and we will learn how to use crampons. Climbing mountains involves lot of uncertainties. Our Trek Leader will let you know about the different situations which might occur and how to deal with them. This is also the day of relaxation, So that you gain all your strength for next days summit push.
Day 7: Trek from Base Camp (16,300 ft) to Stok Kangri Summit (20,080 ft) and back to Base Camp (16,300 ft, 12-15 Hrs up and down)
Today is the D day of Stok Kangri Trek , we will start early in the morning in two batches, the early movers and the Pushers at 12 AM and 1 AM respectively. The Stok Kangri trek route passes the advance basecamp, moraine, and glaciers and then comes the steep slope of the summit ridge full of snow. At the start of this slope wear your crampons and start the long climb. When you will be climbing this you will feel that nobody is moving from their place for hours. This climb is the test of your physical as well as mental strength. For an average trekker it takes around 9 hours to reach the Stok Kangri Summit and if you are a slow trekker then add another 3 hours. The Stok Kangri Summit gives you spectacular views the Himalayas to Karakoram.
There will be a turnaround point which you have to cross with in stipulated time to proceed further which will be communicated to you during briefing session.
Day 8: Trek from Stok Kangri Base Camp (16,300 ft) to Stok Village (11,750 ft, 5 Hrs) and Drive to Leh (11,480 ft) (1 Hrs). Overnight in Leh Guest House
The Stok Kangri trek includes high altitude trekking and mountaineering is ultimate experience would finally come to an end today at Stok Village. We will be starting early from base camp and trekking downhill all the way till Stok Village where our vehicles will be waiting for us you to transfer to guest house in Leh.
Day 9: Departure from Leh
Fly back from Leh for onward journey.
Inclusions:
03 Night Guest House/ Hotel/ Home stay accommodation in Leh.
05 Nights tented accommodation while on trek.
All Veg Meals from Lunch on Day 3rd to Lunch on Day 8th.
Tea/Coffee served with light snacks during the trek.
Camping logistics (Tents, Sleeping Bags, Sleeping mats, utensils, kitchen tent, dinning tent, toilet tent etc)
All Technical Equipment as the requirements and depending upon the snow conditions.
Basic First Aid Medical Kits with Oxygen Cylinder and Oxi Meter.
Qualified and experienced Trek Leader and support staff.
Surface Transfer from Leh Guest House to Stok village and return as per the itinerary.
Exclusions:
Mineral Water & other Beverages.
Airport transfer.
Meals during transit and in Leh.
Any necessary fees and permits.
Porter/mule charges to offload the backpack.
Any Kind Of Expenses For Loss / Misplaced / Theft On Personal Belonging.
Cost Incidental to Any Change in the Itinerary- Stay On Account Of Train Cancellation / Ill Health / Road Blocks or any Factors beyond Control.
Cost Escalation due to "Force Majeure" and evacuation charges.
Stok Kangri Trek | Wandertrails
Step out and enjoy this event
Invite your friends
and enjoy a shared experience