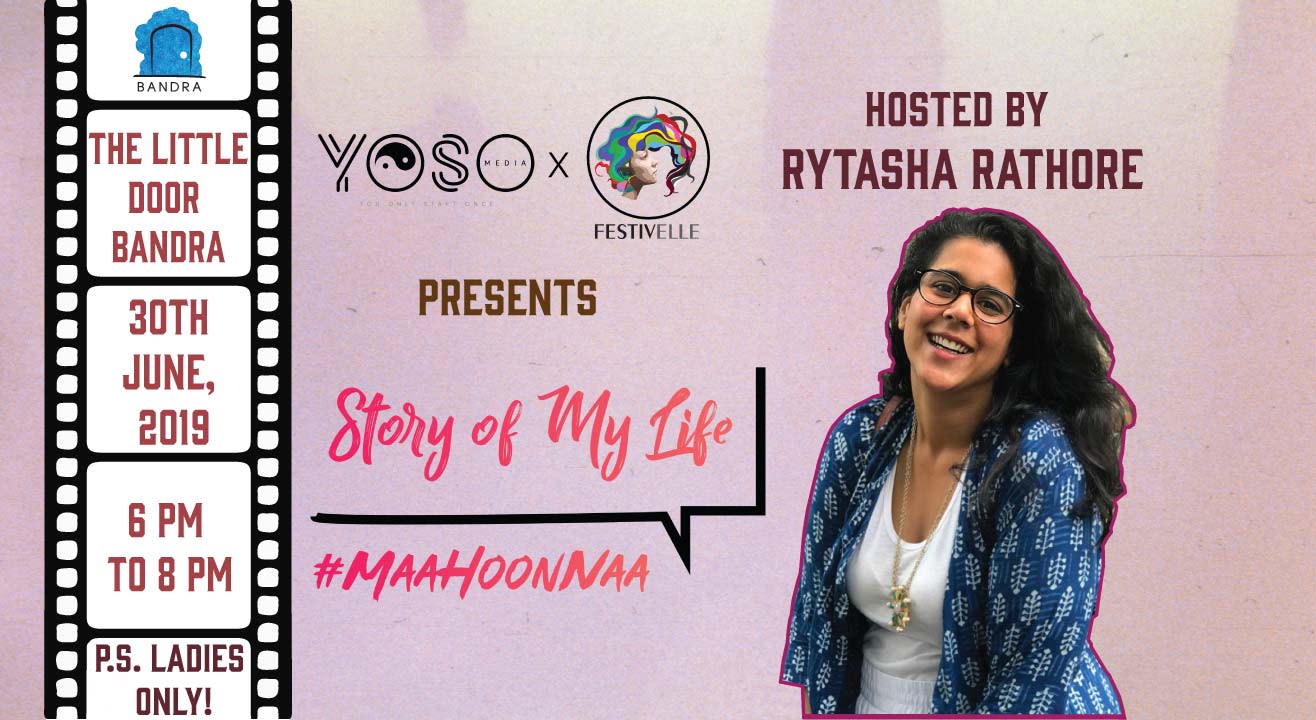 Storytelling
Story of my Life #MaaHooNaa 2.0
About
"I'm a mother. What's your superpower?"
As YOSO & Festivelle, we are constantly looking out for means to empower women. And so we're back with the second edition of #MaaHoonNaa, a storytelling event especially for our brave mothers, who go on for years multitasking like a boss without us even noticing.
We want to showcase stories from women who have taken charge of their lives as mothers and as child bearers. Together, let's try and change the narrative/rules that are imposed upon the modern woman, which make them believe that they 'must' wait for the right time to be able to have a child. We know that there are stories out there of mothers who went against all odds to have their child without giving up on their life and dreams. We want to hear them all!
These stories would be related to any positive experience in one's emotional or actual journey - from wanting to be a mother to actually being one. This event is for all the mothers out there, who have done it all and continue to win everyday with their children.
We would like to think of ourselves as a medium between these kickass ladies and a number of women who shall attend the event and watch their stories online in order to empower them to take their life choices in their own hands.
If you have that story you want to tell in front of the most amazing live audience of Mumbai, send it to us quickly. Send your written or audio story to kahaani@startonce.in or festivelle2016@gmail.com . You can also use this link to submit your story - https://www.akkarbakkar.com/write-your-story/ , please make sure you write your email and name on the form.
8 stories will get the spotlight on the 30th June and all the stories will stay with us for life regardless!
Rules to send in your story
1. You should be a MOTHER and your story should be a non-fictional story ONLY, told in first-person.
2. The length of the story should not exceed 6 minutes. Please time the story before you send it in.
3. The subject of your email or audio note should be 'Story of my life #MaaHoonNaa'.
4. The story should be in English or Hindi or Marathi language (a bit of Urdu would do too!).
5. Stories ending on a positive note will get preference.
6. Selected entries that meet all the above requirements will get the spotlight.
7. The deadline to submit your stories is June 25th, 2019.
8. Strictly NO plagiarism, please. Only original stories invited!
9. Please DON'T send in submissions that have been published online or performed offline before.
Host - Rytasha Rathore.
Lineup for storytellers:
1. Jasmine Khurana
2. Neha Kashyap
3. Poornima Toprani
4. Phudang Togbipi
5. Khyati Soneji
6. Prerna Butalia
7. Madhavi Patil
Why is the event happening?
To celebrate motherhood! We believe that there's a lot that we can learn from all the mothers out there.

What is YOSO?
YOSO means 'you only start once'. Get the drift? At least we should assume that there's one and only one lifetime to do everything we really want to do.

Festivelle
Festivelle is India's 1st women-only festival since 2016. Created by Gul Panag & Shruti Seth. It is aimed at setting up a platform of women, for women and by women. We create content, conversations and events around women.

What if I want to tell a story?
You should stop reading this and immediately send us your written or audio story to kahaani@startonce.in or festivelle2016@gmail.com. We believe in the freedom of speech!

You can also use this link to submit your story - https://www.akkarbakkar.com/write-your-story/, please make sure you write your email and name.

Just follow the terms and conditions:
1. You should be a MOTHER and your story should be a non-fictional story ONLY, told in first-person.
2. The length of the story should not exceed 6 minutes. Please time the story before you send it in.
3. The subject of your email or audio note should be 'Story of my life #MaaHoonNaa'.
4. The story should be in English or Hindi or Marathi language (a bit of Urdu would do too!).
5. Selected entries that meet all the above requirements will get the spotlight.
6. The deadline to submit your stories is June 25th, 2019.
7. Strictly NO plagiarism, please. Only original stories invited!
8. Please DON'T send in submissions that have been published online or performed offline before.

Can I record an audio note of my story and send it?
Yes, of course, just send it to the correct email, which is kahaani@startonce.in, and with the correct email subject, that is, "Story of my life #MaaHoonNaa". Please note that if your story is selected, we will ask you to also submit the transcript of the story because we will need it later.

Will the stories be recorded on video?
Yes! But do let us know if that's a problem and we will find a way to resolve your problem.

How many storytellers will get to tell their stories on stage?
6

Where may I find the inspiration to send my story now?
Here - https://www.youtube.com/watch?v=69mSSjOazkw&t=13s

Why is this a women-only event?
Because when women unite, GREAT THINGS happen! :)
'Box of Laddoos' by Ashima Chibber / Story of My Life #MaaHoonNaa
'Motherhood Empowers You' by Manasi Scott / Story of My Life #MaaHoonNaa
'No Mountain Is Too High' by Ranjana Patil / Story of My Life #MaaHoonNaa
Venue
The Little Door Bandra
Ground Floor, Ganga Jamuna Sangam, 14th Rd, Bandra West, Mumbai, Maharashtra 400052
GET DIRECTIONS