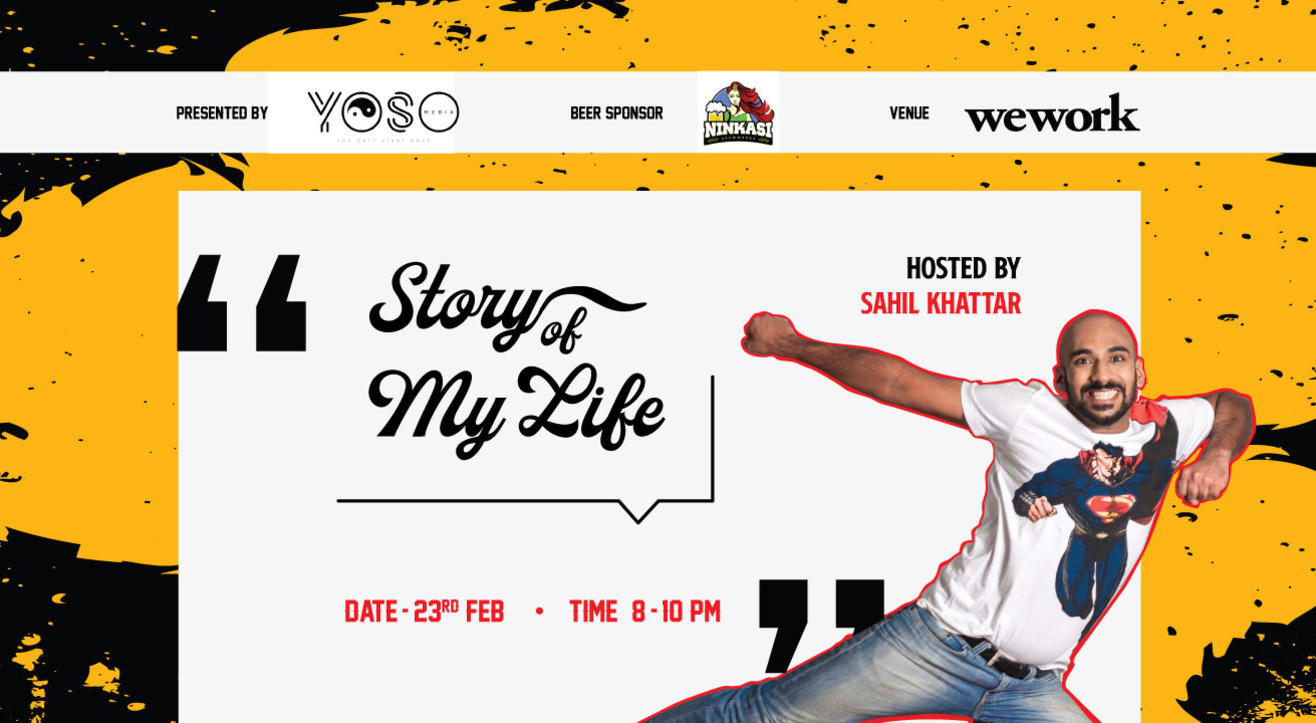 Storytelling
Story of my Life #MainKaunHoon
WeWork @Enam Sambhav, BKC
About
When was the last time you took a moment in your life and asked yourself, "Main kaun hoon?" (Read: Who am I?) It's 2019 and a lot of things have changed, the most important one being that the fate of the 2019 general elections in India is in our hands, the youth. We couldn't have dreamt of a better time to be alive and an adult in this country, and I'm sure you couldn't have either.
It's February already and that time is coming when we will have to take some of the most important decisions of our lives this year but before that, let's take a moment, keep the responsibilities aside and remember who we really are - a product of our imagination or you're basically just yourself and you are your favorite person. Whatever it is, we want to know that story.
If you have that story you want to tell in front of the most amazing live audience of Mumbai, send it to us quickly. Send your written or audio story to kahaani@startonce.in . 8 stories will get the spotlight on the 23rd of Feb and all of them will stay with us for life regardless!
Rules
1. The story should be a non-fictional story ONLY, told in first-person.
2. The length of the story should not exceed 5 minutes.
3. The subject of your email or audio note should be 'Story of my life #mainkaunhoon'.
4. The story should be in English or Hindi language (a bit of Urdu would do too!).
5. Selected entries that meet all the above requirements will get the spotlight.
6. The deadline to submit your stories is Feb 15th, 2019.
7. Strictly NO plagiarism, please. Only original stories invited!
8. Please DON'T send in submissions that have been published online or performed offline before.
Satyajit OnionKnight Roy, a serial entrepreneur
Harsh Kedia, a diabetic chef
Nishtha Nishant, a glorious transwoman
Sonam C Chhabra, a celebrity emcee but much more than that
Aditi Gandhi, an entrepreneur you'd love to hang out with
Vineet Nair, aka Trap Poju (look him up immediately!)
Siddesh Jammi, a member of 7Bantai'Z
Armaan Agrawal, developing Sleepy Owl Coffee right now
Shivangi Ranjan, a woman of substance
Tanvi Lehr Sonigra, who has a voice that needs to reach a million people immediately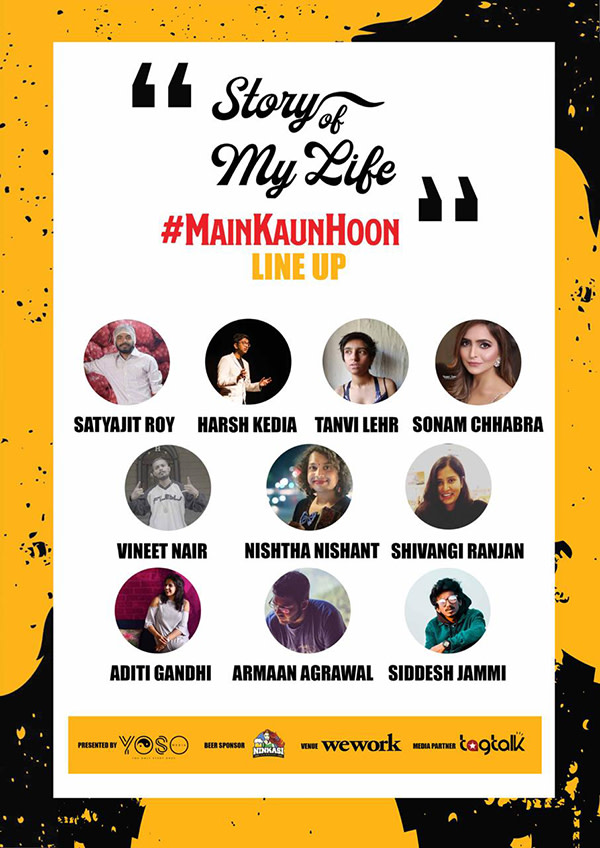 Why is the event happening?
Because we believe storytelling helps people find themselves and everyone deserves an evening of truly engaging stories!

What is YOSO?
YOSO means 'you only start once'. Get the drift? At least we should assume that there's one and only one lifetime to do everything we really want to do.

What if I want to tell a story?
You should stop reading this and immediately send us your written or audio story to kahaani@startonce.in. We believe in the freedom of speech!

Can I record an audio note of my story and send it?
Yes, of course, just send it to the correct email, which is kahaani@startonce.in, and with the correct email subject, that is, "Story of my life #mainkaunhoon". Please note that if your story is selected, we will ask you to also submit the transcript of the story because we will need it later.

Will the stories be recorded on video?
Yes! But do let us know if that's a problem and we will find a way to resolve your problem.

How many storytellers will get to tell their stories on stage?
8

Where may I find the inspiration to send my story now?
Here - https://www.youtube.com/watch?v=wntWtRUJsTI&t=4s
Venue
WeWork @Enam Sambhav, BKC
C - 20, G Block, Bandra Kurla Complex, G Block BKC, Bandra Kurla Complex, Bandra East, Mumbai, Maharashtra 400051