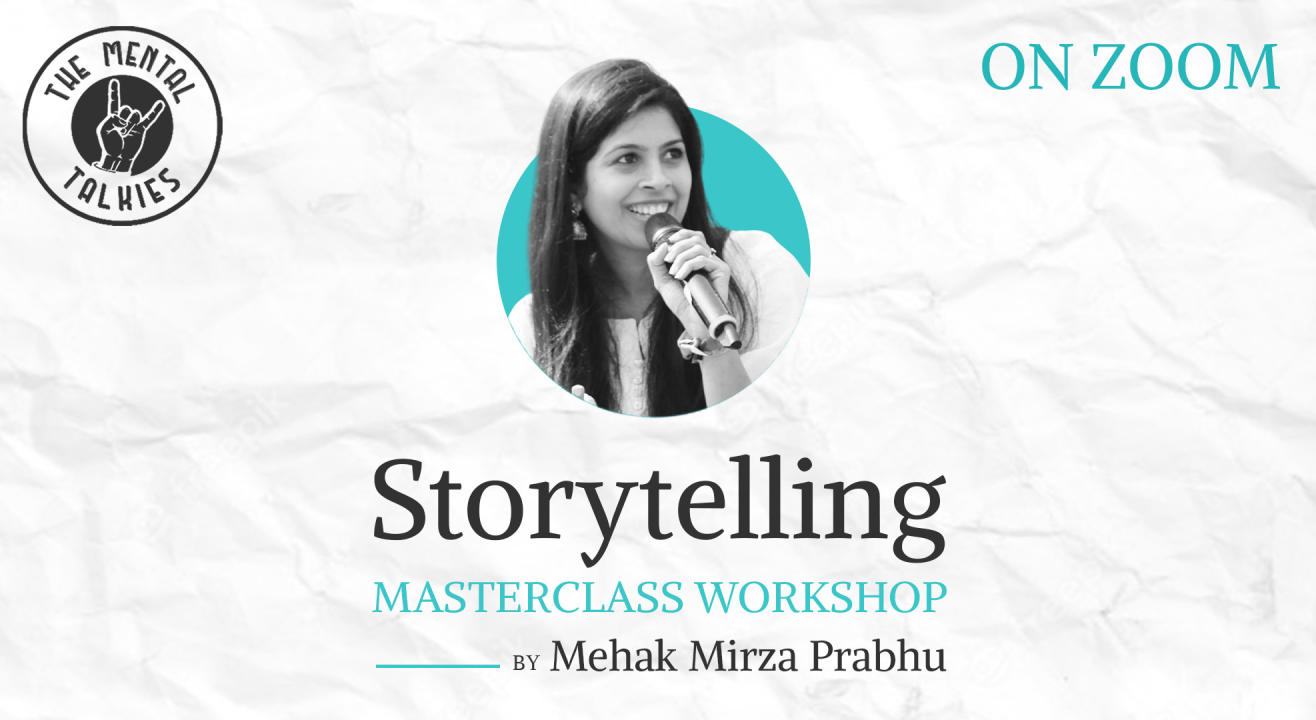 Storytelling Masterclass-Workshop
Event Guide
Masterclass
Learn from an expert
Invite your friends
and enjoy a shared experience
Storytelling Masterclass-Workshop
Event Guide
Masterclass
Learn from an expert
Invite your friends
and enjoy a shared experience
Event Guide
Masterclass
Learn from an expert
Invite your friends
and enjoy a shared experience
MODULE of Fictional Storytelling Workshop


This workshop of oral fictional storytelling will be divided into four parts of thirty minutes each


1) Character Creation
Changing yourself from within to naturally transform from outside.


2) Writing Fictional Story
The 7 step guide to fool proof writing of crisp short fiction stories


3) Performance
Utilization your voice to its full extend to create various characters. Using body, props,
gimmicks, language, to enhance performance, but staying the line of storytelling.


4) Storytelling
Participants will perform the story they have created during the workshop


With group activities and exercises each segment will work towards the one end goal of
creating one original story, ready to be performed, for each and every person present.
And if time permits if can have a Q&A session.


After completion of workshop every Particapates will get Certificate and Free E-Voucher for DiGi Open Mic Poetry and Storytelling


About Mehak Mirza Prabhu: She is a storyteller, writer, performer, tutor, based in Mumbai, who is
passionate about creating and narrating stories in various. She has also founded Jhumritalaiya,
a one-on-one online/offline storytelling pathshala. Voice modulations and original stories of
today's times are her unique strengths. Her stories online have reached over 25 Million listeners
over various social media handles. She has been featured in various media publications and also
on TEDx and Josh Talks for her contribution into making storytelling - a passion, into career
Important Guidelines
1. This show is on Zoom. Please download the Zoom Web Meetings app and register.
2. Make sure you're in Good room with internet.
3. Use earphone/headphone for better experience.
4. Also get hold of strong internet connection to avoid any interruption or disturbance during the event.
5. Sound check paramount before starting the session. Conduct a test event prior to the actual event.
6. Once booked cannot be exchanged or refunded.
7. Don't blame, attack, or engage in put-downs, and ask questions only for the purpose of gaining clarity and understanding.
8. Off-target discussions are limited.
9. All members are expected to participate in all phases of the process
10. Everyone must be on time throughout the workshop.
11. Each Participates will get certificate and free E-Voucher to participate in Any DiGi Open Mic of Poetry and Storytelling
Storytelling Masterclass-Workshop
Event Guide
Masterclass
Learn from an expert
Invite your friends
and enjoy a shared experience