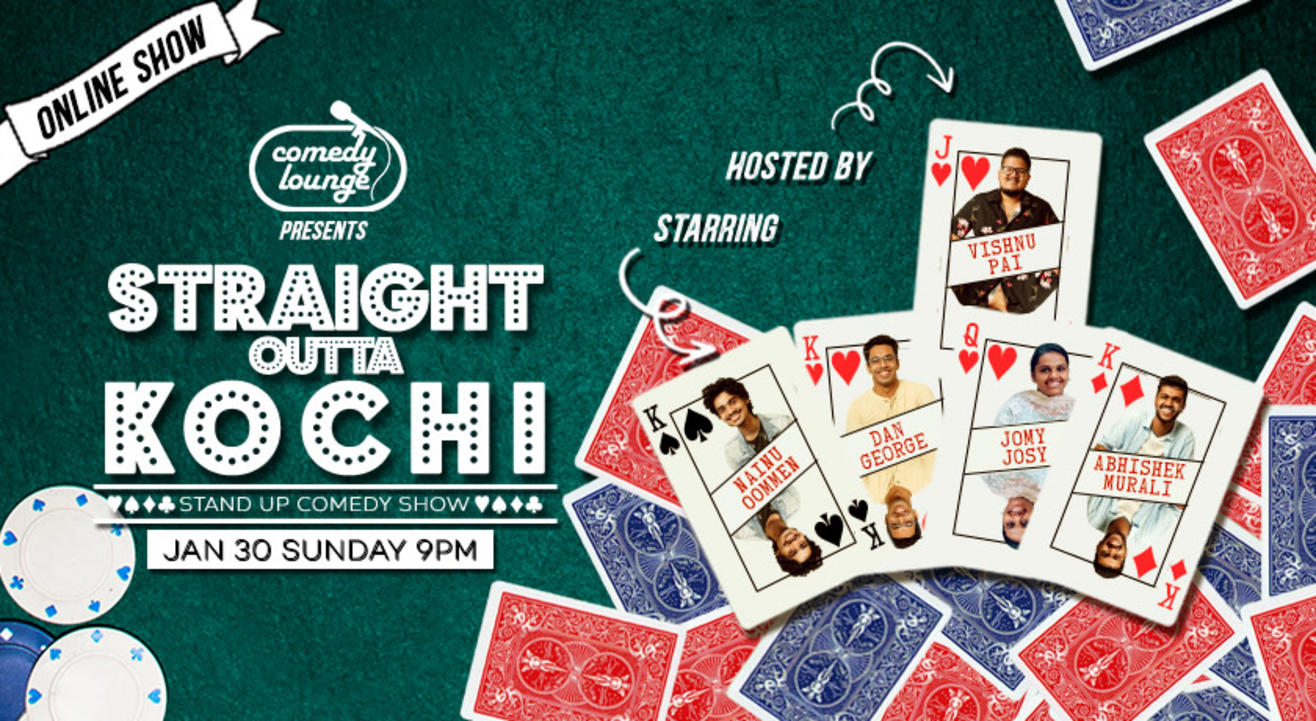 Straight Outta Kochi by Comedy Lounge
Enjoy this event from your home
Event Guide
Live Performance
Enjoy a unique experience
Invite your friends
and enjoy a shared experience
Straight Outta Kochi by Comedy Lounge
Enjoy this event from your home
Event Guide
Live Performance
Enjoy a unique experience
Invite your friends
and enjoy a shared experience
Event Guide
Live Performance
Enjoy a unique experience
Invite your friends
and enjoy a shared experience
New year, new jokes. Join us at 'Straight Outta Kochi' by Comedy Lounge – The third edition of the curated stand-up comedy show by the top comedians from Kerala. This month, we have Vishnu Pai on hosting duties and hilarious performances by Dan George, Abhishek Murali, Jomy Josy, and Nainu Oommen. Gather your friends and enjoy the best standup comedy from Kerala in the comfort of your own home!
About The Performers
Vishnu Pai – Vishnu Pai is the highest-rated English-speaking comedian from Kerala who has achieved the herculean feat of making people laugh in three different countries – OMAN, UAE, and INDIA (Oman and UAE still count as Kerala, but they are different countries!)
Vishnu has performed alongside world-renowned artists such as Ian Coppinger (UK) & Brian Aylward (Canada), and have also shared stages with national heavyweights such as Sorabh Pant, Zakir Khan, Kannan Gil, Kunal Rao, Sapan Varma, Sahil Shah, Azeem Banatwalla, Angad Singh Ranyal, Jeveeshu Ahluwalia, Maheep Sing, and Suman Sekar.
Nainu Oommen - As a 20 yr old introvert and student of literature, the only thing Nainu hates more than hecklers is correcting people on how to pronounce his name. As a regular performer at open mics in and around the city, Nainu has already tasted the ultimate success in his comedy career - when he made the cute girl in the red top laugh.
Dan George - This is Dan. He started comedy because of a dare and immediately got hooked. So it's no surprise that his comedy is very daring in the subjects it tackles (mostly science, because he's an engineer). He really likes showing off his HUGE… vocabulary.
Jomy Josy - This is Jomy, who is studying to be a lawyer by profession. She aspires to one day attend court and use comedy to make the judge ROFL and force criminals to confess 🤷🏻‍♂️. But on a good note, Jomy Josy is the first of her kind in stand up comedy scene of Kerala
Abhishek Murali - An Electrical Engineer by degree, an artist at heart, and a confused fellow for no reason - Abhishek is often obliged towards attending family gatherings and get-togethers as that's where all his content comes from. Having lived in 5 different cities, he carries with himself five different versions of weirdness that he intends to sell on the stage. When not telling jokes, Abhishek is writing screenplays, developing code, or overthinking.
Get to know our comedians in Comedians Assemble (part 1) by Comedy Lounge
Straight Outta Kochi by Comedy Lounge
Enjoy this event from your home
Event Guide
Live Performance
Enjoy a unique experience
Invite your friends
and enjoy a shared experience