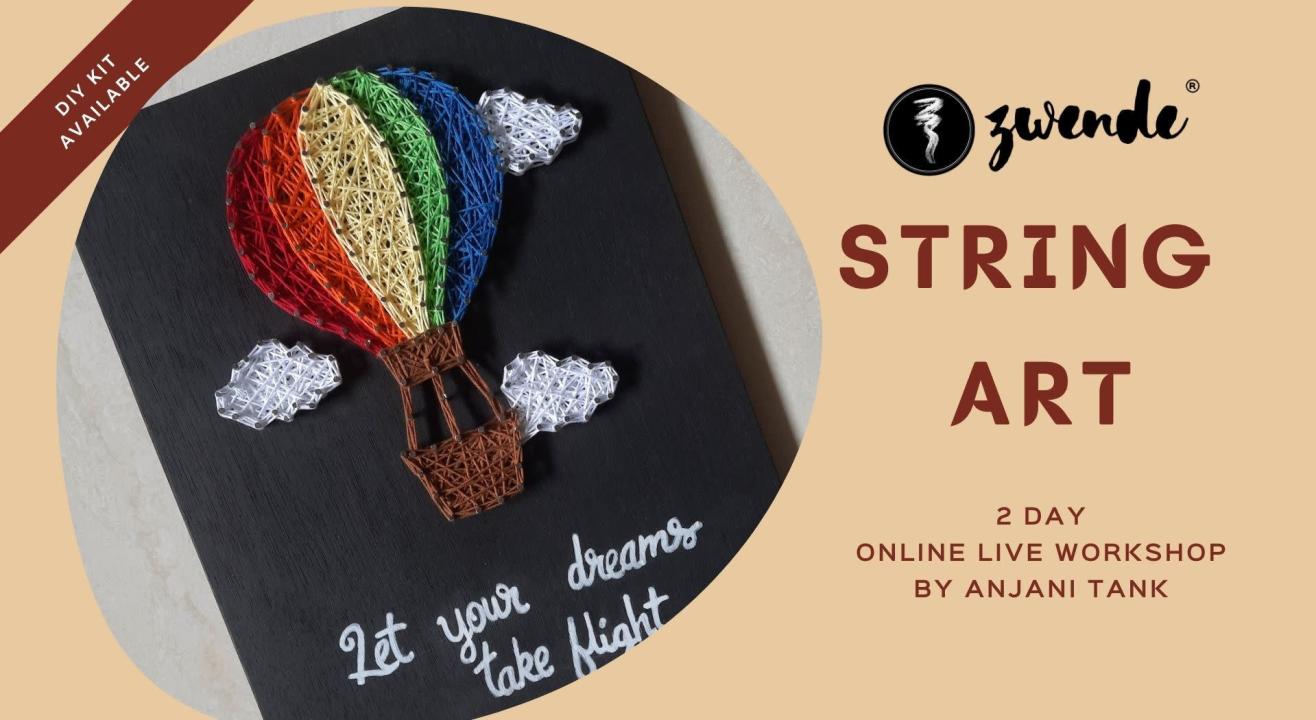 String Art [Online Live Workshop - Material Kit Available]
Event Guide
Masterclass
Learn from an expert
Invite your friends
and enjoy a shared experience
String Art [Online Live Workshop - Material Kit Available]
Event Guide
Masterclass
Learn from an expert
Invite your friends
and enjoy a shared experience
Event Guide
Masterclass
Learn from an expert
Invite your friends
and enjoy a shared experience
About the Artform
String art is characterized by an arrangement of coloured thread strung between points to form geometric patterns or representational designs such as a ship's sails. This art form is not a new fad; its origins go back to the 19th century. It is the brainchild of Mary Everest Boole who was in search of a way to introduce children to mathematical ideas. String art came back in the late 1960s as a decorative craft in the form of books and kits. This retro craft requires very few materials and is an inexpensive way to add some personality to your space around. It's an excellent project for beginners. Today, string art is utilized by art lovers young and old as a pastime, DIY project, and much more.
About the workshop
The Canvas
Overall Details
In this two-day workshop, you will learn basic to advanced levels of String art. You will start with learning how to nail and string with creating layers which will involve a lot more details and techniques. This workshop is ideal for art lovers who want to try a new art form.
The process of creating this art is not hard; in fact, it can be somewhat therapeutic. But the result is a personalized string art design that you are going to love. For this particular workshop, you will end up by making Hot air balloon which can be used as a part of home décor.
Flow of the Workshop
Day 1
Know about what type of base is being used in string art
Stencil alignment on the base
Learn how to symmetrically arrange nails at their place
Learn how to hammer the nails
Day2
Learn how to use different patterns and fill in with strings.
Get to know about layers and the tricks of changing colours.
Learn to give a finishing look to the final string art and enhance the whole design.
Learn to get the curves right.
The colours in the palette
Elements you will learn
During the workshop, you will learn about the arrangement of colored thread strung between points to form geometric patterns.
The following topics will be covered during the workshop:
A brief introduction to hammering nails to create the pattern
Different techniques to create patterns with strings
One will also learn its applications on various materials to create beautiful wall decor.
All the participants will be asked to share their final work at the end of the workshop.
tips and tricks of creating various compositions.
Who is this workshop "just right" for?
This workshop is ideal for people who love the concept of DIY craft.
It is a beginner-friendly workshop. (Age 12+)


Materials provided in the kit
Wooden base
Stencil /design
Strings
Nails
Hooks and screws
Instruction Sheet
Other Materials Required:
Scissor/cutter
Hammer
Tape
Plyer
The scope of creativity
Further prospects and application of what you will be learning
Go the extra mile by gifting your loved ones with a string art creation! There are string art kits big and small that you can choose from to craft as a unique gift. Your creation can serve as your piece of art, and the walls of your home can be your exhibit. The handcrafted wood accompanied with a detailed design can complement any room in your home and serve as a distinct talking piece.


String Art [Online Live Workshop - Material Kit Available]
Event Guide
Masterclass
Learn from an expert
Invite your friends
and enjoy a shared experience