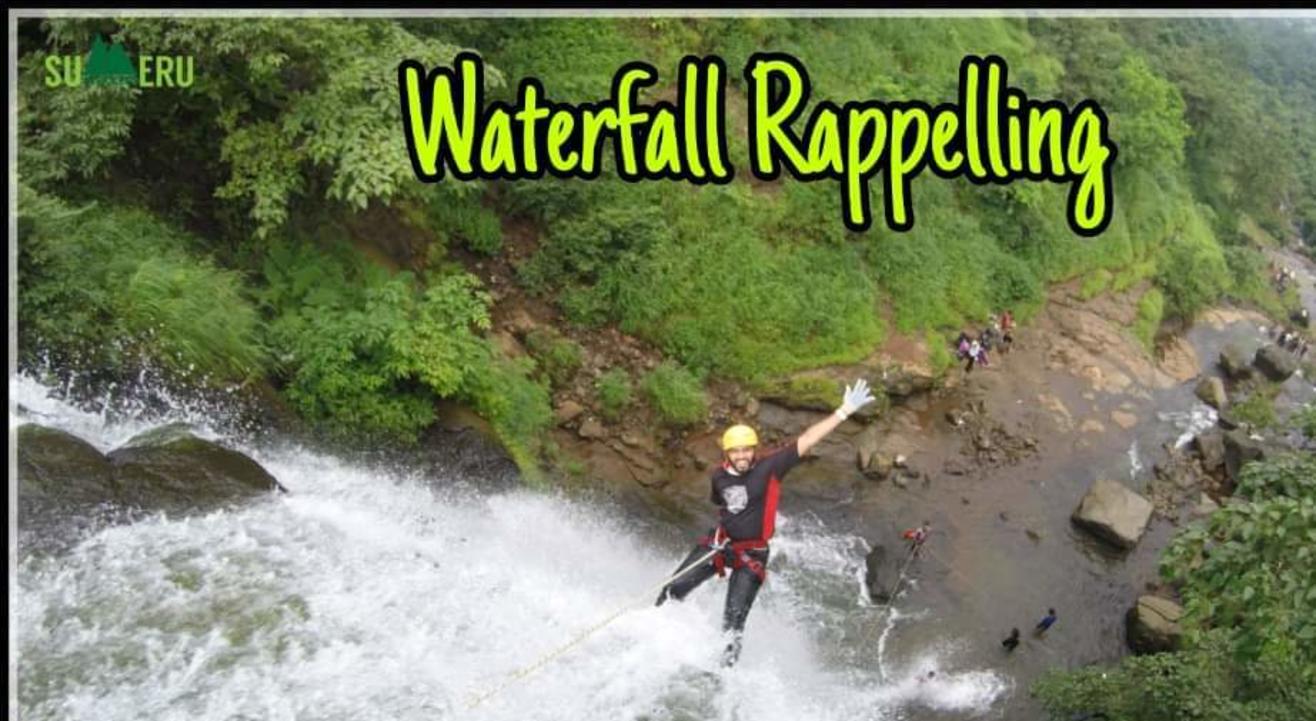 Adventure
SUMERU TREKKERS invites you for Waterfall Rappelling at Bekare Waterfall
About
SUMERU TREKKERS invites you for Waterfall Rappelling at Bekare Waterfall on 18 Aug 2019
Waterfall Rappelling also technically known as canyoning are more often associated with technical descents those that require rappels (abseils) and rope work, down-climbing. Waterfall rappelling adventure sport is where you get down from a cliff/patch amidst the gushing waterfall with the help of safety equipment's.
Short Info:
BATCH 1: 14th July 2019
BATCH 2: 21st July 2019
BATCH 3: 04th Aug 2019
BATCH 4: 18th Aug 2019
Destination: Bhivpuri-Bekare Waterfall.
Height: Approx 90 ft.
Cost: 1250/- Per Person
Includes:
Includes breakfast, Lunch, Rappelling Charges & local Travelling from bhivpuri to bhivpuri.
Excludes:
Insurance, Medical coverage, anything other than mentioned above.
Extra Rappelling will cost INR 600/- Per Person , and will be permitted only after every person has done with his first chance.
Itinerary:
Train Time: Karjat (S) Slow Local
05:20 am CST
05:30 am Byculla
05:40 am Dadar
05:50 am Kurla
05:56 am Ghatkopar
06:17 am Thane
06:39 am Dombivali
06:48 am Kalyan
07.30 am Bhivpuri
Meeting Point: 7.30 am at Bhivpuri Railway Station.
07.40 am: Will move towards bhekhre village by rikshaw.
08.00 am: With b/f & T will start moving towards waterfall patch & get ready for adventure.
09.00 am: with info & small session on waterfall rappelling session will start the event.
04.30 pm: will complete Session with our lunch.
05.30 pm: Back to Bhivpuri station.
Things to carry :
1. Scarf for Ladies (Must).
2. A proper two sided haversack to put all the things, So that one has hands free
3. ID proof,
4. Approx 3 ltr water (Must)
5. Some snacks, Should wear good trekking shoes,
6. Full sleeve shirt/T-shirt & Full Pant,
7. If you have any medical issue please carry your own medicine as we carry only First aid, carry some extra cloths.
8. Extra pair of clothes.
9. Rains showers are expected, so pack your bags accordingly
Optional things to Carry : Cap, Sunglasses, Woolen Jacket, Camera , Avoid wearing Gold and other jewelry mosquito's repellent, Electoral / Energy powder, 2 Lemon, & 2 plastic bags for weight distribution.
(It's totally self responsibility to take care of things.)
Note:
Please buy your return tickets and board 1st compartment from ahead Bhivpuri side. Missing train would mean missing the trek.
We would be returning to Mumbai by 19:00 hrs approx depending on rains.
Sumeru trekkers Rules :
1. Smoking and drinking alcohol is strictly prohibited.
2. Trek leader's decision will be final and binding. **Participation confirmation only via confirmed bank transfer. **
3. Sumeru Trekkers reserves all the right to change/deviate/cancel the plans without prior notice.
4. Telephonic confirmation is mandatory, if unable to contact send us a text message.
5. Sleeveless, low neck, figure hugging shirts/tops, short pants, hot pants not allowed.
6. Payment made is nonrefundable and non-transferable.
7. Please do not carry handbags or Jolas or Sling bags. Morning breakfast for Sunday
For more details and Registration, Please contact on the nos. given below:
For more details and Registration, Please contact on the nos. given below:
Vijay Vanker : 97734 83465 / 86919 02227
Tushar Kedar : 97736 78366 / 90295 87600
Onkar Joshi : 9773412472 / 8433953614
Priyanka shelar : 9156572238
Web site : www.sumerutrekkers.com
Facebook Page : https://web.facebook.com/sumeru.trekkers
Facebook Group : https://web.facebook.com/groups/sumerutrekkers/
Email id : contactus@sumerutrekkers.com / sumerutrek@gmail.com
Payment options:
1) Bank Name: ICICI Bank
Name: Sumerian Trekkers Private Limited
Type: Current Acc
Account no.:001805013413
IFSC code: ICIC0000018
Branch: Borivali
Cancellation Policy :
After Booking - 30% of total cost
30-15 Days - 60% of total cost
15-07 Days - 80% of total cost
07 Days or less - 100% of total cost
1) Once the payment is done, please message your UTR number and your name on above contact numbers).
2) Cash payment - Please feel free to call on above numbers and we will arrange for collection of cash.