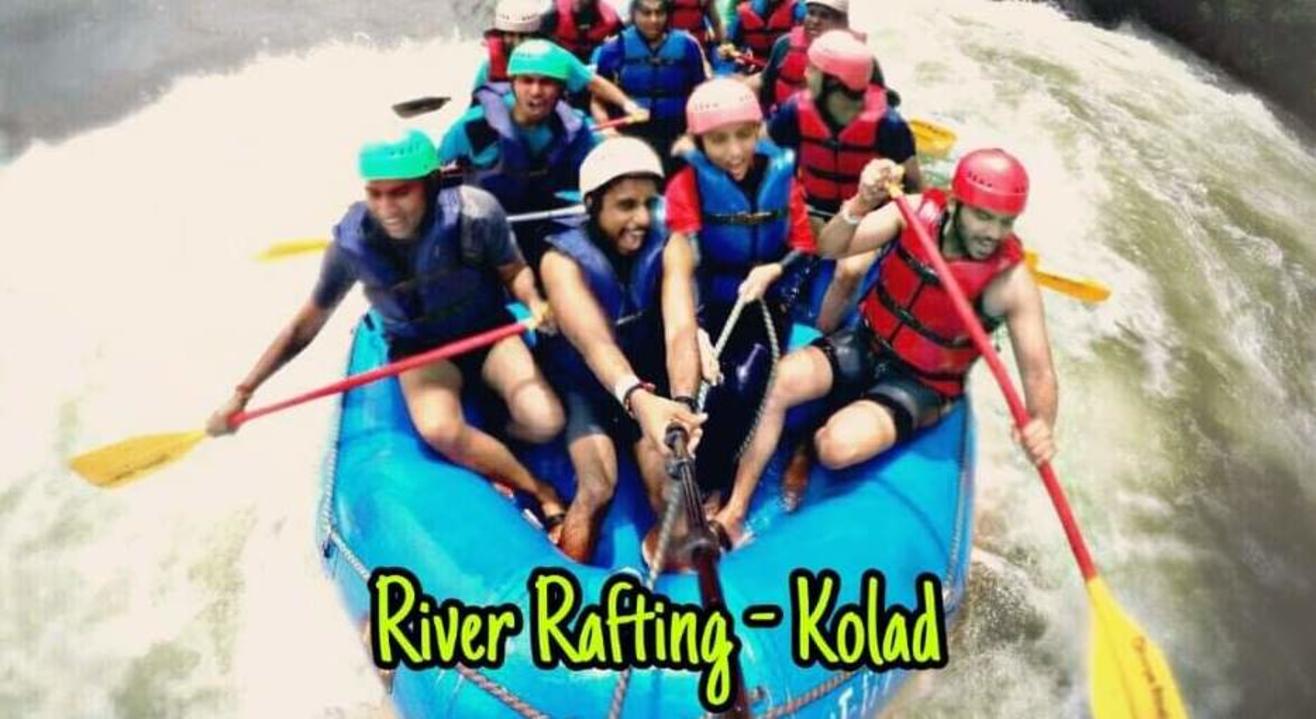 Adventure
Sumeru Trekkers River Rafting Event at Kolad
About
SUMERU TREKKERS (The Adventure out there)
Sumeru Trekkers River Rafting Event at Kolad 25th Aug 2019
Water Rafting is one of the best adventures one can experience, without prior experience. The waters can't get more adventures from here. And what more is needed, if the waters are dam controlled, which just makes sure about the safety of the participant while rafting. The River Kundalika offers you a strech of 14 kms of exciting rapids.
Safety is further taken care with Life jackets and safety helmets. So even non swimmers can join the event.
About the River Rafting in Kolad:
Batch 1: 21st July 2019
Batch 2: 04th Aug 2019
Batch 3: 25th Aug 2019
Batch 4: 15th Aug 2019
Total Distance: 12 to 14 kms
Duration: 2 hrs to 2.5 hrs(Depending on the speed of the water)
Rapids: Total 10 rapids
International Grading : IV + Category
Activity type: Adventurous
Grade: Medium
Participants : 50 Only,(First come first serve)
Cost 2750/- per head
Includes,
Travelling from Dadar to Dadar by Private Bus,
Rafting Charges. (one time)
Breakfast, Lunch (Veg / non-Veg - Buffet style)
First aid , Sumeru Expertise & guide charges.
Itinerary of the event:-
Meeting Point:
Pritam Hotel, Dadar (East) at 5.00 am.
Start from Dadar by Private vehicle at 05:15 am sharp.
Pick up Points:
Chembur, Yogi Hotel at 05:30 am.
Vashi, Vashi Plaza at 05:50 am
Kalamboli, McDonalds at 06:10 am.
Packed Breakfast while Travel.
Travel till Kolad and reach the rafting site by 08.30 am. Briefing at 08:30 am
River rafting session starts at 09:00 am for next 2-3 hrs.
Lunch (Veg / Non-Veg) at a nearby Restaurant.
Rest for a while.
Start our journey back at 02:00 pm.
Reach Dadar tentatively by 07:00 pm.
THINGS TO CARRY:-
ID Proof,
A bottle of water,
Towel, Napkin, Extra Pair of clothes (Prefer Wearing proper fitting clothes with shorts of quick-dry material),
Footwear (preferably floaters while rafting),
Camera (Optional),
Cap, Sunscreen Lotion etc,.
Medicines & Personal care those if u require usually (Optional).
Please avoid wearing Gold and other ornaments.
Sumeru trekkers Rules :
1. Smoking and drinking alcohol is strictly prohibited.
2. Trek leader's decision will be final and binding. ***Participation confirmation only via confirmed bank transfer. ***
3. Sumeru Trekkers reserves all the right to change/deviate/cancel the plans without prior notice.
4. Telephonic confirmation is mandatory, if unable to contact send us a text message.
5. Sleeveless, low neck, figure hugging shirts/tops, short pants, hot pants not allowed.
6. Payment made is nonrefundable and non-transferable.
7. Please do not carry handbags or Jolas or Sling bags. Morning breakfast for Sunday
For more details and Registration, Please contact on the nos. given below:
Vijay Vanker : 97734 83465 / 86919 02227
Tushar Kedar : 97736 78366 / 90295 87600
Onkar Joshi : 9773412472 / 8433953614
Priyanka shelar : 9156572238
Web site : www.sumerutrekkers.com
Facebook Page : https://web.facebook.com/sumeru.trekkers
Facebook Group : https://web.facebook.com/groups/sumerutrekkers/
Email id : contactus@sumerutrekkers.com / sumerutrek@gmail.com
Payment options:
1) Bank Name: ICICI Bank
Name: Sumerian Trekkers Private Limited
Type: Current Acc
Account no.:001805013413
IFSC code: ICIC0000018
Branch: Borivali
Cancellation Policy :
After Booking - 30% of total cost
30-15 Days - 60% of total cost
15-07 Days - 80% of total cost
07 Days or less - 100% of total cost
1) Once the payment is done, please message your UTR number and your name on above contact numbers).
2) Cash payment - Please feel free to call on above numbers and we will arrange for collection of cash.