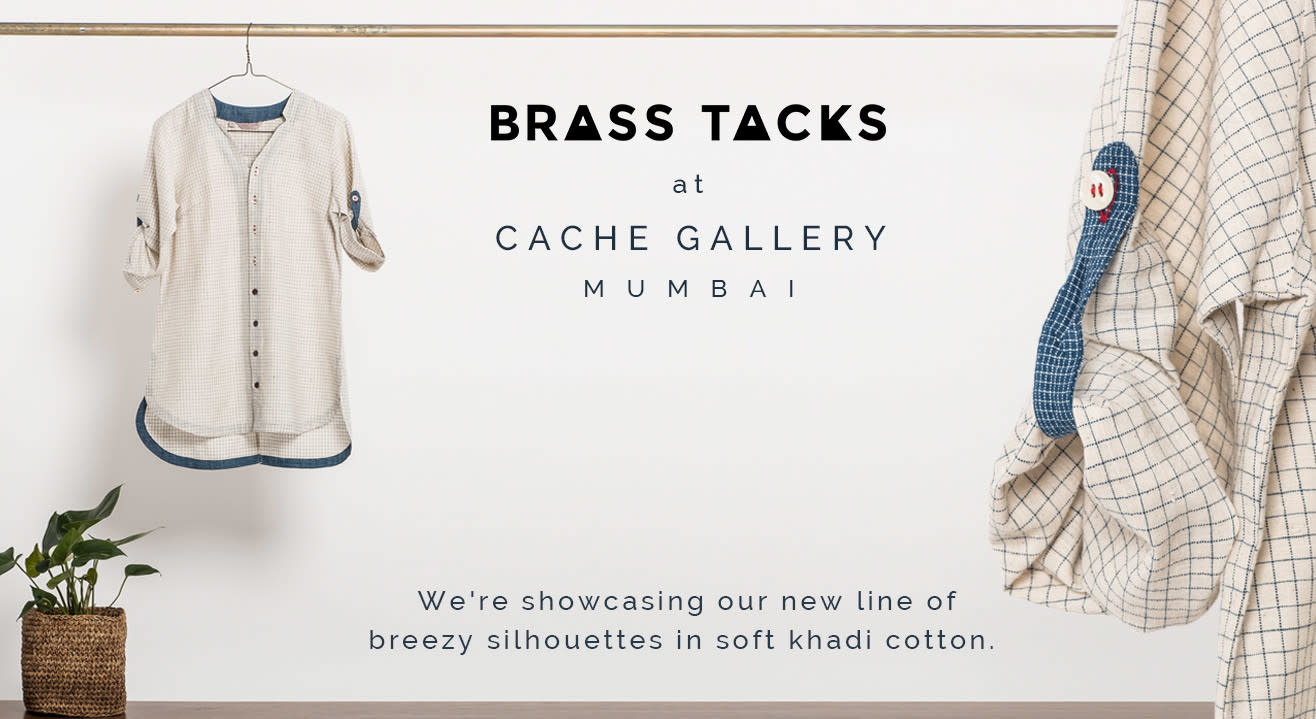 Fashion
Brass Tacks presents their Summer 2017 Collection at Cache Gallery, Bandra
May 26 - 27 | 10:30AM - 7:30PM
About
Founded in 2007 Brass Tacks is a fashion label committed to working closely with hand-crafted, sustainable textiles and translating them into modern silhouettes for an urban audience. The Summer 2017 line is made up entirely from handloom cotton textiles, largely khadi cotton in natural dyes. "Khadi has a beautiful texture that gives it depth, and it has a personality that is soft and yielding, yet sturdy and dependable", says the designer, Anaka Narayanan, while explaining why this textile appeals to her. The design team worked with closely with an artisan development organization in Andhra and Telangana to create the textiles for the collection. The colour palette is mostly off-white (or Kora, the word for unbleached cotton) with hints of indigo, black and grey. There are a few pieces in rich indigo and madder-red as well.
The silhouettes in this collection are airy, with a relaxed, resort vibe to them. There are loose jumpsuits, dhoti-inspired pants, wrap-waist slacks, boxy tunics and dresses, and a Kashmiri Phiran- inspired dress that is boxy, flattering and stylish. This collection marks a departure from Brass Tacks' typical aesthetic of fitted silhouettes. The prices in this collection range from INR 1500 – 5000.
Brass Tacks is a women's fashion label that translates hand crafted and natural fabrics into modern, fashion-forward silhouettes. The pieces are cosmopolitan and stylish, with a certain timeless appeal that gives them life beyond the current moment. Brass Tacks gets its name from the expression, getting down to brass tacks, which means getting down to the basics. In keeping with that ethos, the clothes have clean lines and strong silhouettes, with focus on the quality of the fabric and the tailoring. Brass Tacks was started in 2007 by Anaka Narayanan, as a result of her own quest for well-designed, well-made clothes tailored from Indian textiles. In early 2017 Vega Chauhan came on board as a Marketing and Sales partner. Design and production are done in-house by a strong, dedicated team of 15 people.
Venue
Cache Gallery
No. 187, Opposite Moti Mahal, Zainab Villa, Turner Rd, Bandra West, Mumbai, Maharashtra 400050, India