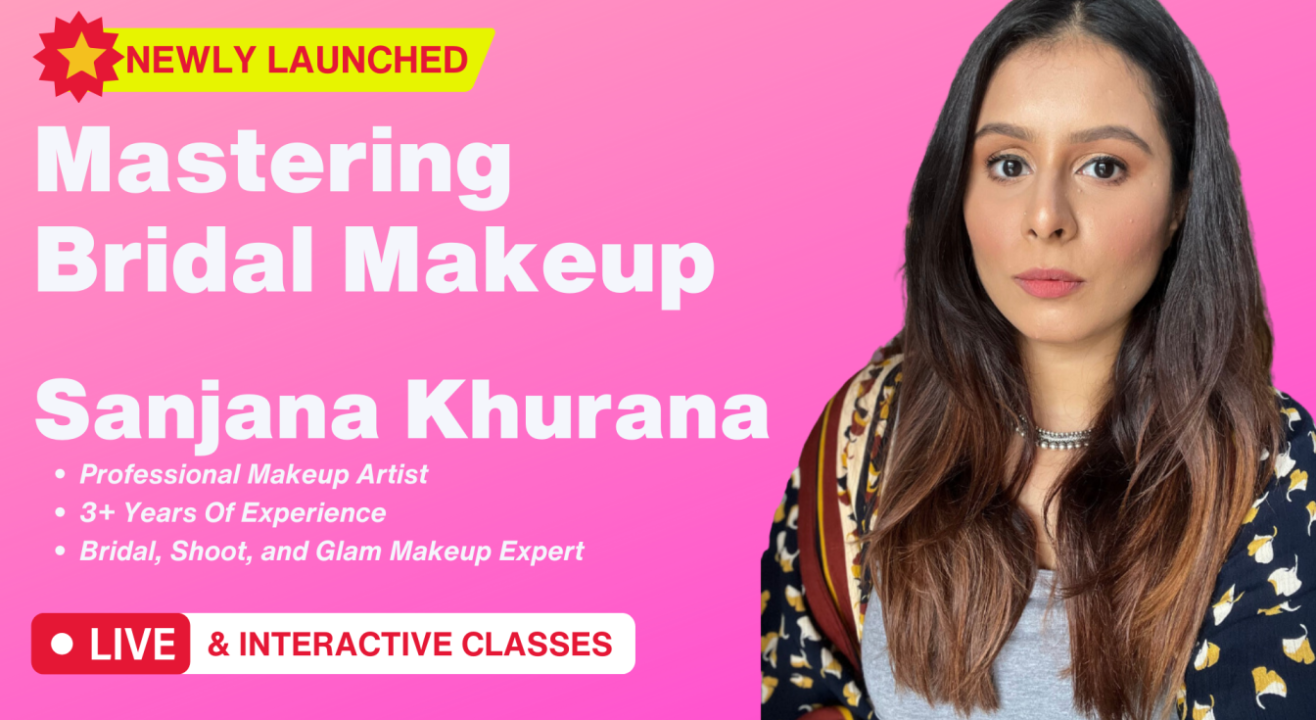 MakeUp Masterclass with Sanjana Khurana
December 5 | 4PM - December 24 | 2PM
Event Guide
Language
English, Hinglish, Hindi
Masterclass
Learn from an expert
Invite your friends
and enjoy a shared experience
MakeUp Masterclass with Sanjana Khurana
December 5 | 4PM - December 24 | 2PM
Event Guide
Language
English, Hinglish, Hindi
Masterclass
Learn from an expert
Invite your friends
and enjoy a shared experience
Event Guide
Language
English, Hinglish, Hindi
Masterclass
Learn from an expert
Invite your friends
and enjoy a shared experience
Makeup Masterclass with Sanjana Khurana:
Master the art of makeup with the "Basic To Advance Makeup Course With Sanjana Khurana." From color theory to bridal techniques, this comprehensive course covers it all. Learn from industry expert Sanjana Khurana and unleash your creativity in the world of makeup. Enroll now and level up your skills!
What will you learn from this course?
Understand the color wheel, color theory, and color contrast to create harmonious and visually appealing makeup looks.
Acquire in-depth knowledge about skin tones, product selection, and skin preparation techniques tailored to different skin types.
Master everyday office makeup looks, glam party makeup, and specialized techniques like color correction and creating an ombre lip.
Learn about makeup artistry health and hygiene practices, industry etiquette, and the importance of building a professional portfolio.
Learn bridal makeup techniques, including knowledge of jewelry and hairstyling, client consultations, and important skills for professional makeup artists.
Gain essential knowledge about makeup artist contracts, portfolio-building strategies, initial client interaction, and effective tips and tricks for building a successful Instagram profile for your makeup business.
About Instructor:
Sanjana Khurana is a highly skilled professional makeup artist based in Chandigarh. With over three years of experience in the field, she has established herself as a sought-after artist known for her natural and flawless makeup style. Sanjana's expertise lies in bridal, shoot, and glam makeup, where she excels in creating stunning looks that enhance her clients' beauty. She takes pride in providing an exceptional bridal experience, ensuring her clients feel not only satisfied with their makeup but also enjoy a seamless and memorable journey. With her dedication to personalized support, Sanjana is committed to guiding her students every step of the way, providing individualized guidance and assistance. Her passion for teaching shines through in her commitment to student growth, fostering a positive learning environment, and inspiring her students to excel. Sanjana's teaching achievements can be seen in the successful outcomes of her students, who have gone on to make a mark in the beauty industry.
MakeUp Masterclass with Sanjana Khurana
December 5 | 4PM - December 24 | 2PM
Event Guide
Language
English, Hinglish, Hindi
Masterclass
Learn from an expert
Invite your friends
and enjoy a shared experience