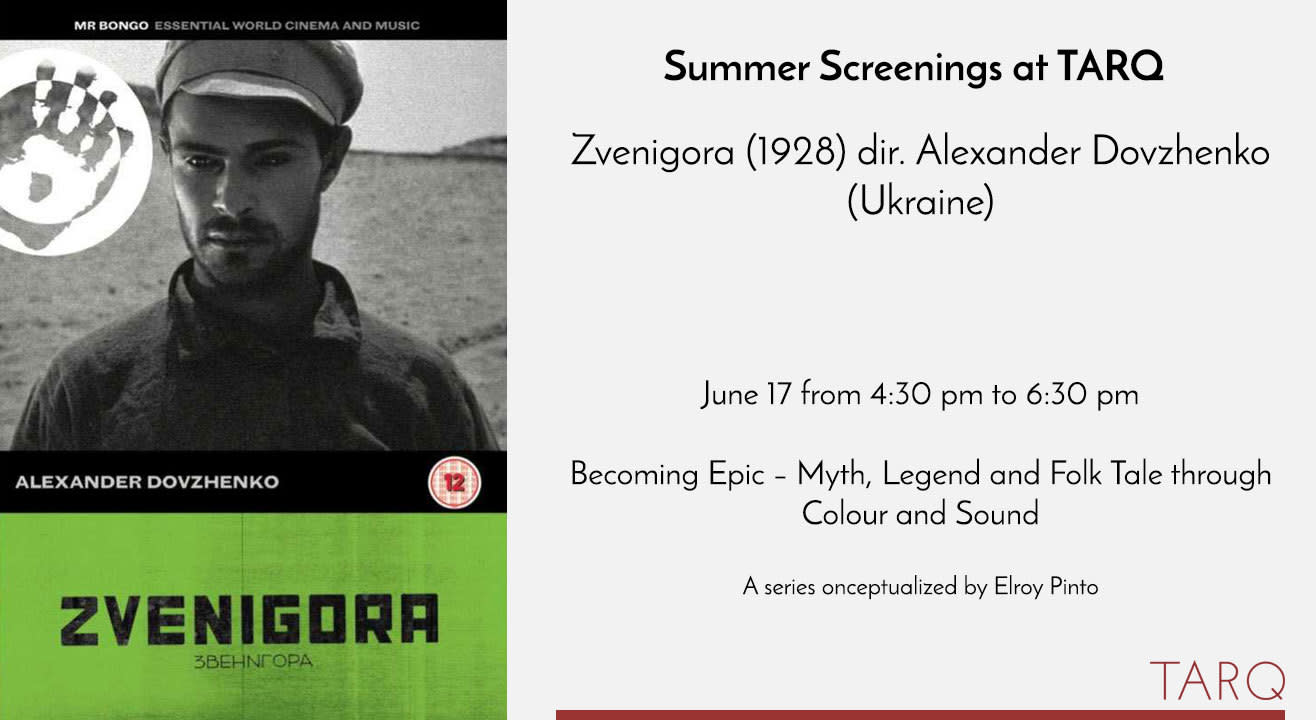 Summer Screenings at TARQ: Zvenigora,1928
Step out and enjoy this event
Invite your friends
and enjoy a shared experience
Summer Screenings at TARQ: Zvenigora,1928
Step out and enjoy this event
Invite your friends
and enjoy a shared experience
Invite your friends
and enjoy a shared experience
Dir. Alexander Dovzhenko (Ukraine)
Part of the series 'Becoming Epic – Myth, Legend and Folk Tale through Colour and Sound'
TARQ will be hosting screenings of five films that are a part of the series 'Becoming Epic – Myth, Legend and Folk Tale through Colour and Sound'. The series has been conceptualized by Mumbai based film scholar Elroy Pinto. The screenings will be accompanied by a series of essays by Pinto under the same title.
Zvenigora is a silent film that was made in 1928 by the Ukrainian film maker Alexander Dovzhenko. The film's narrative draws upon a folk tale of the same name while simultaneously creating an entirely new reality that stretches the boundaries of the folkloric narrative into the realm of the epic. Much like his Soviet contemporaries such as Sergei Eisenstein, Dovzhenko extensively used the montage technique in this film, in a poetic style that was uniquely his own. Zvenigora's power, which sadly remained underrated during Dovzhenko's lifetime, lies in the ingenious use of cosmic sounds and visuals that pushed the boundaries of montage. In the 1970s, a restored version of the film was released with the addition of a musical score.
We are tremendously grateful to Mr. Bongo for granting us the permission to screen this film.
TARQ Gallery
F35/36 Dhanraj Mahal, C.S.M. Marg, Apollo Bunder, Colaba, Mumbai, Maharashtra 400001
GET DIRECTIONS