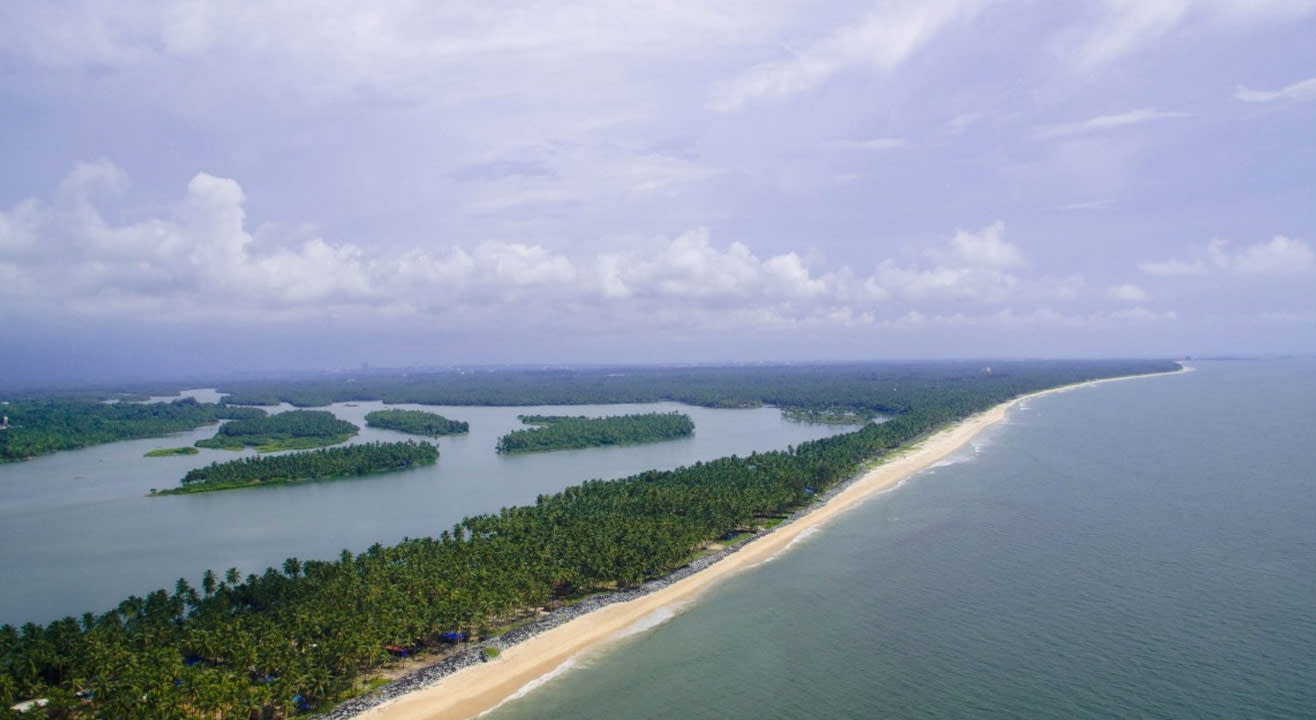 Travel
Hit Up These Beaches From Bangalore For Summer Feels
Soak in the summer from Bangalore at Karnataka's most interesting beach spots!
There's hardly a better feeling than being at the beach in the summer. The sea and sand make up for a harsh sun, and the water heals anything that comes from the rise in temperature!
All these beaches are easily accessible from Udupi, which is best known as a pilgrimage spot. Take buses to park yourself for a relaxed postcard sunset!

Kapu Beach
Located at comfortable distances from Manipal (15 km), Udupi (13 km), and Mangalore (40 km), Kapu beach is a pretty delight. Known best for its lighthouse, the picturesque beach is frequently the location for film shoots. It also boasts three Mariamma temples and a fort built by Tipu Sultan.
You can count on a dip in the sea here, although the waters are more challenging than neighbourhood beaches like Maple. A favourite spots for university students from Manipal, you can also enjoy a drink here with a shack and a bar that are accidentally al fresco.
Definitely drop into the lighthouse, which is open between 5 & 6 PM for visitors. It offers a delightful landscape view from its vantage point of 27 metres. The ticket checker discourages loitering, as there is always a line of people waiting to enjoy the view. The best time to visit the beach are sunrise, early mornings, and sunsets. Remember to prepare to battle the sun for other parts of the day.
Get there: Buses from pilgrimage town Udupi will take you here every half hour. The journey takes 25 minutes.
Mattu Beach
Easily one the most peaceful beaches in the state, Mattu Beach also boasts water on two sides. Its length and isolation make it a delightful spot to find stretching room.
Occasionally, one can even find surfers around these parts.
The beautiful sunlight and sunset are awe-inspiring, and due to minimal visits from people, it's rare to find someone spend over an hour here. It remains a perfectly calm spot to roll out a carpet for, and read a book in any spot where one can find shade.
Get there: 45 mins from Manipal, after changing a bus at Udupi. Cross the bridge and walk for about 15 minutes to this coastal paradise.
Malpe Beach
As a suburb of Udupi, Malpe beach offers a fair few things to do. With water sports like jet ski, banana boat, and paragliding, this one lets you let your hair down by getting involved with the water.
It also features the curious geographical feature of St. Mary's Island. Formed from basalt salt over 88 million years ago, this set of 4 islands may have been a pit stop for Vasco Da Gama in 1498. The largest of these islands is 500 metres in length and 100 metres wide, with most tourist interest coming to Coconut Island.
Marked for geo-tourism, these islands remain uninhabited, and can be accessed exclusively by boat.
Other landmarks around the beach include the prominent Vadabhandeshwara Balaram Temple and Thimmankudru Suspension Bridge.
Get there: St. Mary's Islands are reachable by boat from Malpe beach, a well-connected suburb of Udupi.
Delta Beach
This discreet spot is locally referred to as Kodi Bengre, the name of the sleepy, cosy village next to the beach.
On reaching the beach, one can spot small islands a short distance away, which are called 'Kudru' by the local population, who usually work as fishermen. Delta Beach also features a small port for fishing boats to dock. A unique feature of this beach is river Suvarna meeting the Arabian Sea here, making this a 'sangam', or confluence spot.
The secluded nature of Delta Beach is reflected in its clear water with waves about 3-4 feet high, making it ideal to learn how to surf. Boats offer short trips up and down the river. One also has a chance to sample fresh seafood & toddy as well.
Get there: City buses from Udupi make frequent trips to Kodi Bengre. Delta Beach is just about 10 kilometres from Maple Beach by road.
Sasihithlu Beach
Venue to the 2017 Indian Open Surfing Championships, Sasihithlu is an all round fun beach.
Although swimming is prohibited, you can spend the day soaking in the sun and sand, and watching birds. The crowd on the beach is a scattered mix of friends and family.
You can walk towards the greenery at the end of the beach for a more picnic style atmosphere. You'll also find a restaurant that serves food (vegetarian meals too), and a juice shop. With guards, wash rooms that are maintained, and a balanced mix of people and nature, this is a promising beach for any sort of activity.
Get there: Bus No 2 from State Bank in Mangalore comes here directly.
Subscribe to receive our newsletter!
Find the best experiences happening out there in your city or enjoy handpicked content while sitting comfortably at home. Paytm Insider is your go-to place to figure out what to do today!