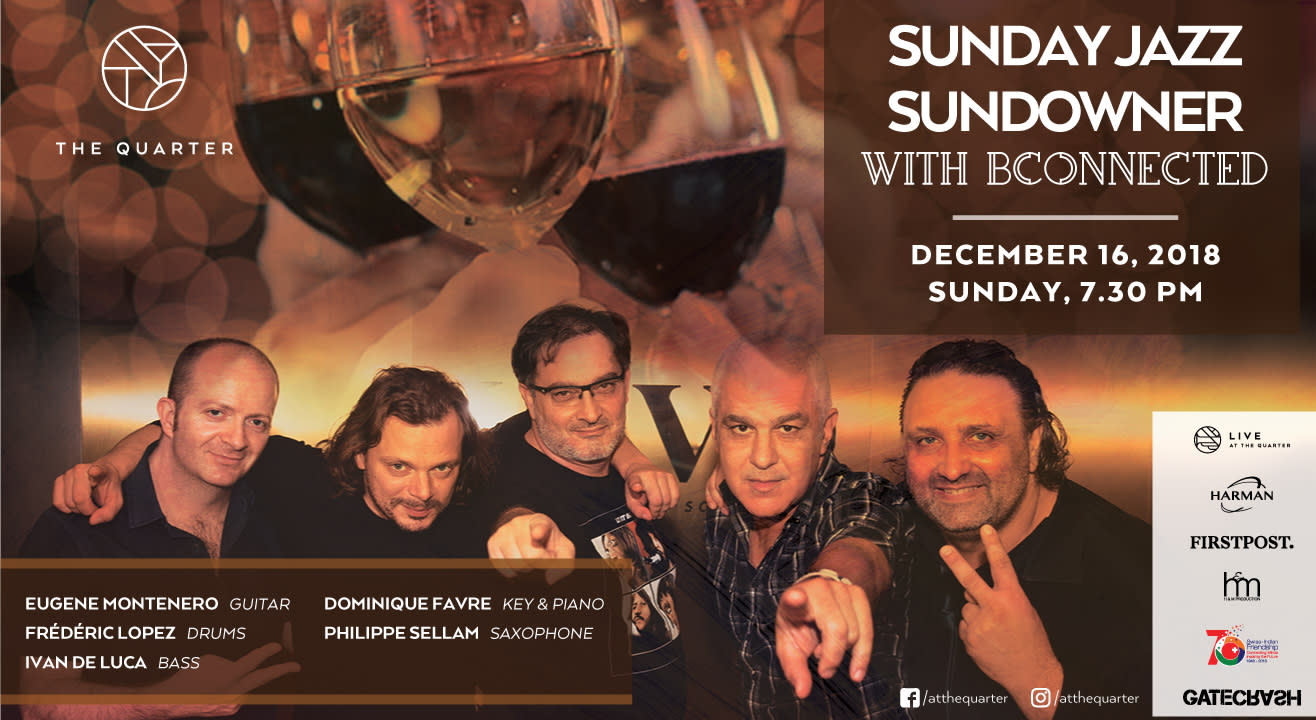 Music
Sunday Jazz Sundowner with Bconnected at The Quarter
Sunday | December 16 | 7:30PM
499 - 1,499 (Prices subject to change)
About
The Quarter in association with Gatecrash presents bconnected on the 16th of December!
"bconnected was founded in 1994 by swiss guitarist Eugene Montenero and has, throughout the years managed to preserve a strong identity with roots in Jazz and an open mind towards the wide world of music.
After 21 years, bconnected remains a perpetually evolving project. The release of the 8th album "Magical Mystery World"(feat. very special guest Billy Cobham and Guillaume Perret) in 2013 confirmed the strong will to move towards new musical horizons.
The 8 albums produced within the past of two decade, demonstrate a beautiful regularity. During the same time the band has toured in Asia (China, Thailand and South Corea), played concerts in the Czech Republic, Austria and France and at prestigious Festivals and venues such as the Montreux Jazz Festival, Tabarka Jazz Festival, Willisau Jazz Festival, Dimajazz of Constantine Algeria, Jazz Parade Fribourg, Pattaya Music Festival, Shanghai Grand Theater, Shanghai Jazz Week Festival, International Festival of the Arts Kunming, Dance & Music Festival Bangkok, Hong-Kong International Jazz Festival, JZ Music Festival Shanghai, Beijing Nine Gates Jazz Festival, Backstage Live Jazz Club Hong-Kong and many more.
Travelling the world nurtured open-mindedness, creativity and musical freedom and helped refining the band's artistic qualities. The musical alchemy occuring when the six musicians reunite is palpable throughout the band's performance. This makes for an unforgettable listening experience!"
Eugene Montenero - Guitar
Yoann Schmid - Drums
Ivan De Luca - Bass
Dominique Favre - Keys, Piano
Philippe Sellam - Saxophone
bconnected live @ LAVO Club Shengzen China 2015
Venue
The Quarter
Royal Opera House, Mathew Rd, Opera House, Girgaon, Opera House, Girgaon, Mumbai, Maharashtra 400004, India