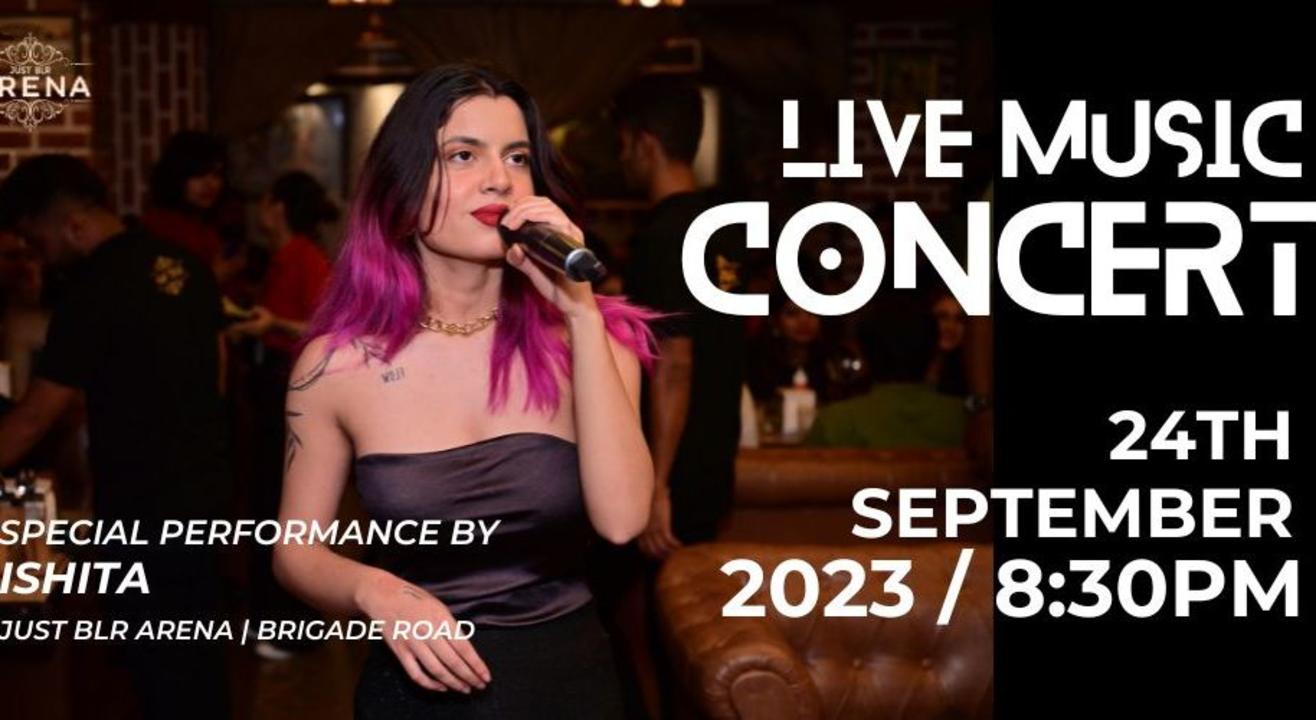 September 24 | 8:30PM - September 25 | 12:40AM
Event Guide
Live Performance
Enjoy a unique experience
Invite your friends
and enjoy a shared experience
September 24 | 8:30PM - September 25 | 12:40AM
Event Guide
Live Performance
Enjoy a unique experience
Invite your friends
and enjoy a shared experience
Event Guide
Live Performance
Enjoy a unique experience
Invite your friends
and enjoy a shared experience
Looking for the perfect way to wrap up your weekend? Look no further than Just BLR Arena's 3rd floor, where an enchanting evening awaits you on Sunday, September 24th, starting at 8 PM. Get ready to immerse yourself in a soulful musical experience as the incredibly talented Ishita takes the stage, singing live just for you!
Ishita's Mesmerizing Performance
Ishita, known for her captivating voice and dynamic stage presence, is all set to serenade you with her melodious tunes. Her soulful renditions of classic and contemporary songs promise to transport you to a world of emotions, leaving you mesmerized and craving for more. Whether you're a fan of romantic ballads, foot-tapping hits, or soothing melodies, Ishita's diverse repertoire has something for everyone.
A Night of Fine Entertainment
The 3rd floor of Just BLR Arena is not just a venue; it's an experience. With its trendy ambiance, state-of-the-art sound system, and cozy seating arrangements, it sets the stage for a night of fine entertainment. Whether you're looking to enjoy Ishita's performance with friends, family, or that special someone, the atmosphere is perfect for creating lasting memories.
Delicious Culinary Delights
Pair Ishita's incredible live performance with a delectable array of culinary delights that Just BLR Arena has to offer. From mouthwatering appetizers to sumptuous main courses and decadent desserts, their menu is designed to cater to every palate. Enjoy a wide range of beverages, including refreshing cocktails, mocktails, and more, as you savor the flavors of a perfect evening.
An Evening of Togetherness
Sundays are a time to relax, unwind, and reconnect with loved ones. What better way to do that than by spending an evening at Just BLR Arena on the 3rd floor, enjoying Ishita's live performance? Share stories, laugh, and create beautiful memories while surrounded by great music and delicious food.
Book Your Tickets Now
Don't miss out on this extraordinary Sunday evening experience! Reserve your tickets in advance to ensure you have a spot at Just BLR Arena, 3rd floor, on September 24th, starting at 8 PM. Whether you're celebrating a special occasion, enjoying a date night, or simply looking for an enjoyable evening, Ishita's live performance promises to make it truly unforgettable.
Mark your calendars, gather your loved ones, and get ready for a night of musical magic at Just BLR Arena on September 24th! Ishita's live performance is sure to leave you with a heart full of melodies and memories that will last a lifetime.
Cover charge Applicable At The counter, Club rules And conditions Applicable, For More Info contact Us Via Google / Zomato
JB Arena
Brigade Rd, Shanthala Nagar, Ashok Nagar, Bengaluru, Karnataka 560001, India
GET DIRECTIONS
September 24 | 8:30PM - September 25 | 12:40AM
Event Guide
Live Performance
Enjoy a unique experience
Invite your friends
and enjoy a shared experience