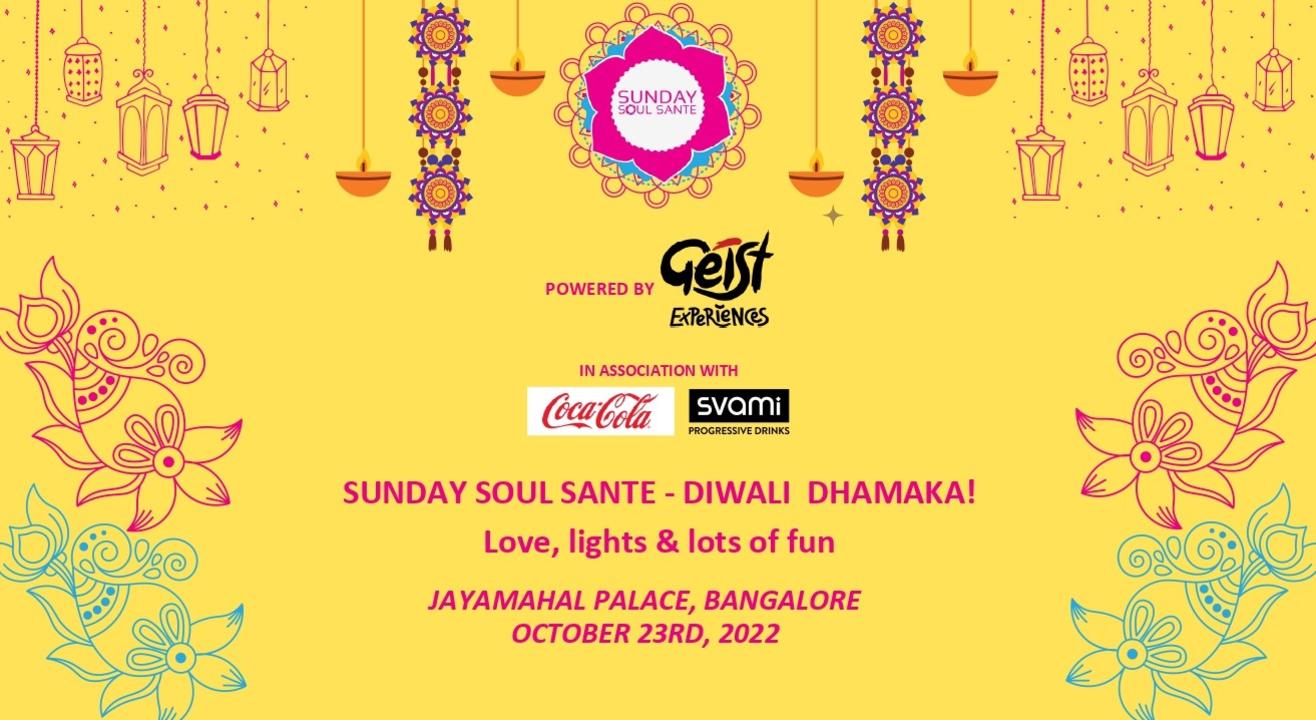 SUNDAY SOUL SANTE - DIWALI DHAMAKA
October 23 | 10AM to 10PM
Jayamahal Palace Hotel, Bengaluru
Event Guide
For Age(s)
Family Friendly
Invite your friends
and enjoy a shared experience
SUNDAY SOUL SANTE - DIWALI DHAMAKA
October 23 | 10AM to 10PM
Jayamahal Palace Hotel, Bengaluru
Event Guide
For Age(s)
Family Friendly
Invite your friends
and enjoy a shared experience
Event Guide
For Age(s)
Family Friendly
Invite your friends
and enjoy a shared experience
Early Bird Closes at 12:00 Pm on 21st October 2022
Here we are again at the start of a bright new season. We're all set after a nice long break to bring in Diwali with a bang.
On this happy note, we're delighted to share with you the details of our Diwali edition of Sunday Soul Sante on the 23rd of October, Jayamahal Palace Hotel, Bangalore.
We look forward to welcoming all of you back to the fold. We certainly missed all of you tremendously and cannot wait to see all the beautiful things that you've been creating through your hiatus.
Remember that life is full of promise and that the universe is always on your side.
Say hello to the one and only Swarathma, a band that needs no introduction. We're stoked to have them kick off our Diwali Dhamaka edition and we promise you a musical night like no other. The band comprising of Jishnu Dasgupta on bass guitar and vocals, Vinay Ramakrishnan on drums, Vasu Dixit on vocals & rhythm guitar, Sanjeev Nayak on violin and vocals, and Varun Murali on guitar & vocals, in their own words are a group of friends getting together to play the music that they love – something that's original in expression & speaking of things that made them feel a certain way, in the language of music.
Next up, we have the uber-talented bunch of individuals – The Jason Zac Band. The "Jason Zac Band" is a quartet from Bangalore which plays "Instrumental Pop Rock". The music is groovy and hook-driven while creating space for improvisation and Carnatic vibes. While the band is rooted in a variety of genres - Celtic, Latin, Gospel, Fusion, and Classical, the music has a unique sound with powerful and inspiring themes. Their catchy melodies are driven by the mesmerising Flute (Arjun MPN) with the bedrock of the Piano (Jason Zachariah)
while the Drums (David Boon) and Bass (Prashanth Gnanamuthu) keep the music rich with Rhythmic and Harmonic flavour. They have released three albums to date and each album has seen their music grow in leaps and bounds.
At a concert, you can expect a mix of original compositions along with popular music from the Indian film industry and the billboard charts played like never before!
Need we remind you, as always we have the most exciting, thoroughly curated brands showing off their amazing products along with some mind-blowing, lip-smacking food and beverage stalls that are sure to get your Diwali celebrations starting off a tad bit early this time! And don't forget to bring your furry friends - we're looking forward to welcoming them with open arms :)
As far as safety goes, we are taking all the concerned measures to keep our Sunday Soul Sante community safe! Please note that this is a Covid-negative event.
Every visitor/vendor will need to be vaccinated to enter the event venue. There will be temperature checks at the entry, masks are mandatory for everyone, social distancing at stalls will be followed, and there will be regular sanitization at every station around the Sante!
P.S. Limited Early Bird Tickets! *Price subject to change*
* A ticket is mandatory for 5+ age kids.
* Free entry for senior citizens with valid id proof.
* The event starts at 10 am and ends at 10 pm
* Customers can enter the event at any time between 10 am and 9 pm, on 23rd October 2022.
* Customers can re-enter the event at any time after getting stamped at the entrance.
Jayamahal Palace Hotel
1, Jayamahal Road, near Cantonment Railway Station Road, Nandi Durga Road Extension, Jayamahal, Bengaluru, Karnataka 560046, India
GET DIRECTIONS
SUNDAY SOUL SANTE - DIWALI DHAMAKA
October 23 | 10AM to 10PM
Jayamahal Palace Hotel, Bengaluru
Event Guide
For Age(s)
Family Friendly
Invite your friends
and enjoy a shared experience