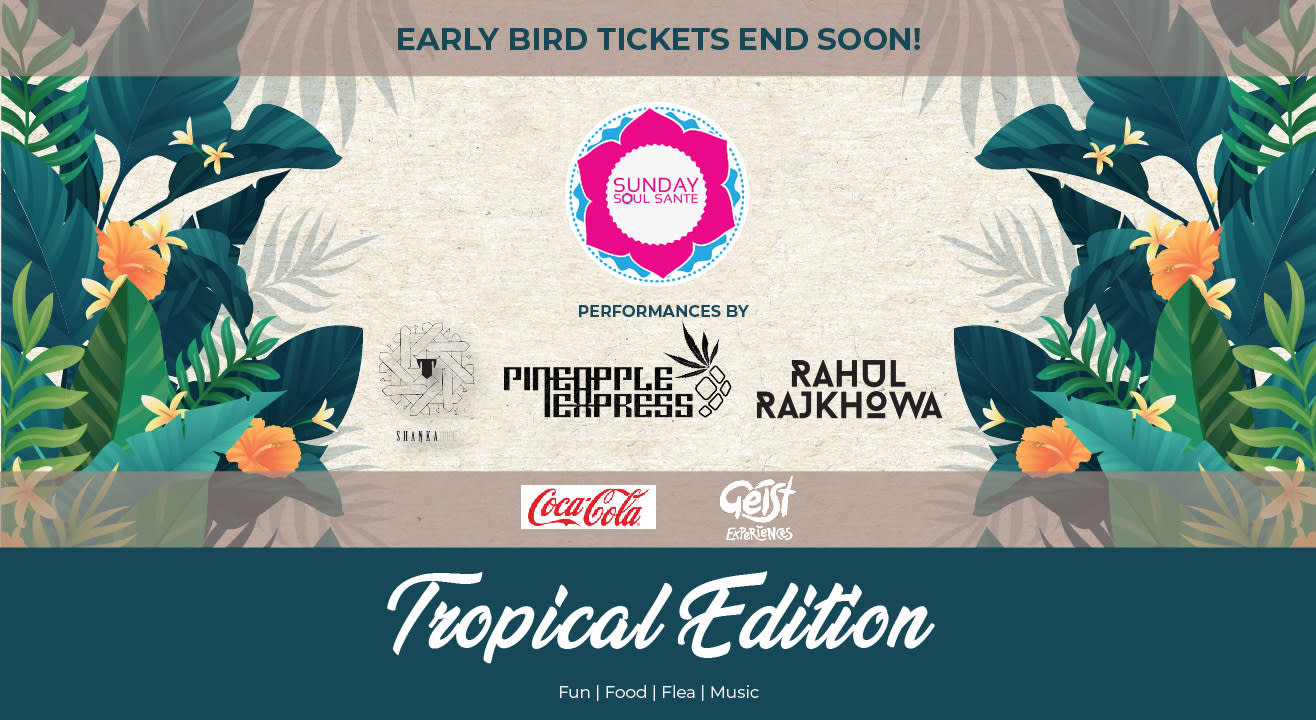 Sunday Soul Sante - Tropical Edition
International Tech Park Bangalore(ITPB), Bengaluru
Event Guide
Pet Friendly
Enjoy the day out with your pet
Invite your friends
and enjoy a shared experience
Sunday Soul Sante - Tropical Edition
International Tech Park Bangalore(ITPB), Bengaluru
Event Guide
Pet Friendly
Enjoy the day out with your pet
Invite your friends
and enjoy a shared experience
Event Guide
Pet Friendly
Enjoy the day out with your pet
Invite your friends
and enjoy a shared experience
RUSH!! LIMITED EARLY BIRD TICKETS RS. 250 PLUS!
We are back in one of our most memorable venues in Bangalore in our Tropical Bloom Edition!
We are excited to bring back memories of some of our best Santes in Bangalore, at ITPB Grounds,
Whitefield. We are set to bring in the summers in our unique style with handpicked summer fashion,
beachwear, quirky accessories, tropical decor, handcrafted summer skincare, and all your basics to
get you prepped for the season!
As always, we're thrilled to announce that we'll be hosting the Pineapple Express as one of our
main performers! One of the most unique bands to be born out of Bangalore, Pineapple Express is a
multi-lingual, multi-genre band, with a unique approach to songwriting and composition. Along with
them, we also plan to have another renowned artist (surprise-surprise), who is sure to get your
feet tapping as you enjoy your shopping!
Next on the line-up is Shanka Tribe! They identify their unique style of music as nature trance. The
seven members band has been performing for over a decade across the country, and also recently
played in Dubai. After the success of their first single When Nature Calls, the band released
Travelling Gypsies. The band consists of Munna P M, Joel Jackson P, Bonny Abraham, Nithin M
Menon, Sreeraj K, Aswin Lal and Libin Noby, with their eclectic instruments like the didgeridoo (a
wind instrument originally from Australia), oud, guitar, keyboard, bongo, conga. They offer an
unprecedented mix of tribal, folk trance music.
Our third artist on the line-up is Rahul Rajkhow! He has toured over 35 cities in India and abroad,
performing genres like Pop, Rnb, Hip Hop, Dance Music, Folk-Fusion, Reggae, Funk, Soft Acoustic
Ballads in English, Hindi, Punjabi and Assamese. Rahul is one of the most versatile artists out there,
having shared the stage with the likes of Akshay Kumar, Diya Mirza, Zubeen Garg and Uday Benegal
of Indus Creed. His latest release with Warner Music has also become a trending song on Instagram
Reels with over 120,000 reels on it and over 5 million views on Youtube.
As you may already know, we are the only market that carefully handpicks each vendor and focuses
on curation. Therefore, you can rest assured to find a wide variety of beautiful handmade crafts and
products from all over INDIA that'll brighten up your wardrobe, home, and your summer! And don't
forget our delicious lip smacking food, snacks and cold beverages to beat the heat as well!
Come join us with your entire family and fur babies on March 12, 2023 at ITPB Grounds, Whitefield
and relive the magic of old Santes with us! Get exclusive early bird tickets at Rs.250! Available
only till stocks last!
A ticket is mandatory for 5+ age kids.
Free entry for senior citizens with valid id proof.
The event starts at 10 am and ends at 10 pm
Customers can enter the event at any time between 10 am and 10 pm, on 12th March 2023.
Customers can re-enter the event at any time after getting stamped at the entrance.
International Tech Park Bangalore(ITPB)
ITPL Main Rd, Whitefield, Pattandur Agrahara, Bengaluru, Karnataka 560066, India
GET DIRECTIONS
Sunday Soul Sante - Tropical Edition
International Tech Park Bangalore(ITPB), Bengaluru
Event Guide
Pet Friendly
Enjoy the day out with your pet
Invite your friends
and enjoy a shared experience