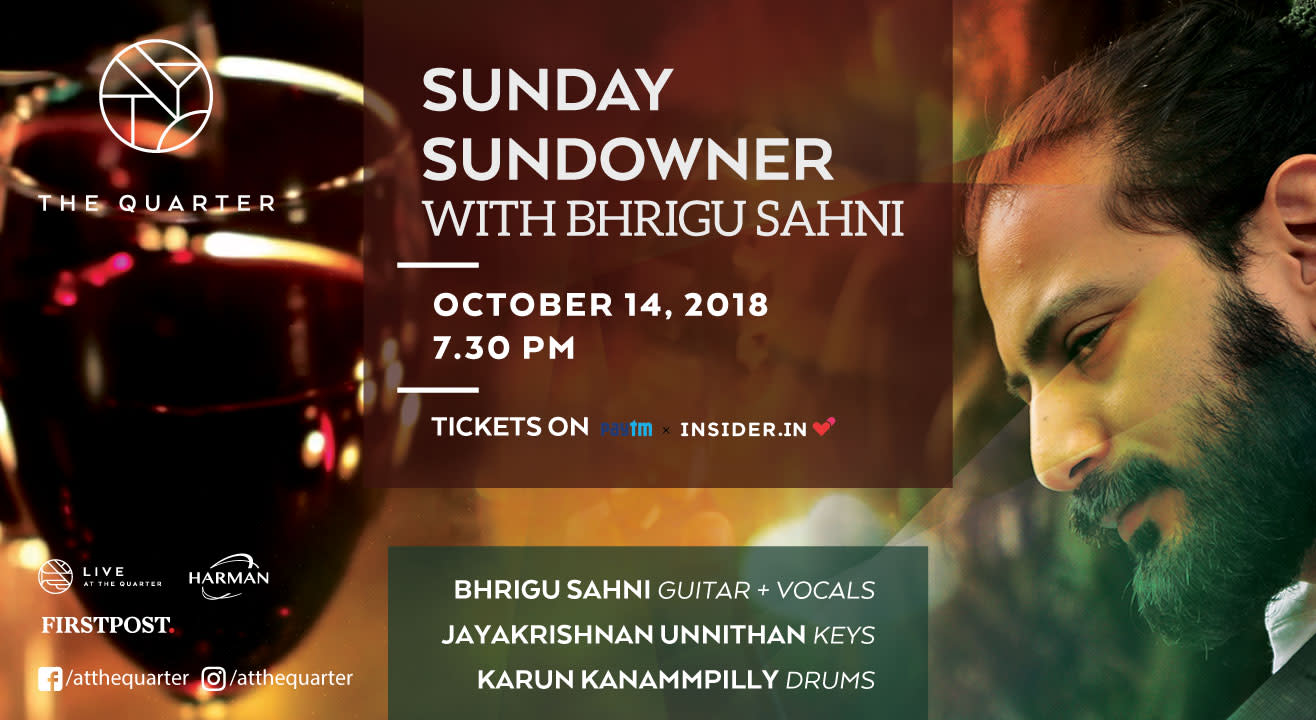 Music
Sunday Sundowner with Bhrigu Sahni at The Quarter
Sunday | October 14 | 7:30PM
749 - 1,499 (Prices subject to change)
About
Come unwind with a drink at sunset and enjoy some sensational music with Bhrigu Sahni!
"Bhrigu Sahni has been a professional musician for 5 years. After graduating from the renowned Berklee College of Music in Boston he now works as a singer songwriter and guitarist based out of New York and India. His unique Acoustic Fingerstyle style of playing the guitar has gathered much attention. His first album, 'What Is Now' was released in New York in 2016 and can be listened to on Apple Music, Bandcamp and Spotify."
This performance will feature Guitarist and Composer Bhrigu Sahni's compositions and his unique style of playing the guitar.
Shuttling between New York City and Mumbai, he has played at venues such as the Blue Note Jazz Club (NYC), Carnegie Hall and more recently at the NH7 Bacardi Weekender.
Track in 5 - Bhrigu Sahni (Studio Sessions)
The Quarter is celebrating world Pizza and Beer Week from the 10th of October to 18th October! Expect some delicious, fresh pizza and lots of beer to go with it 😉🍕🍺 We have a host of exciting packages, so come over, relish and relax! Call on +918329110638 or +919326866986 for bookings!
Venue
The Quarter
Royal Opera House, Mathew Rd, Opera House, Girgaon, Opera House, Girgaon, Mumbai, Maharashtra 400004, India