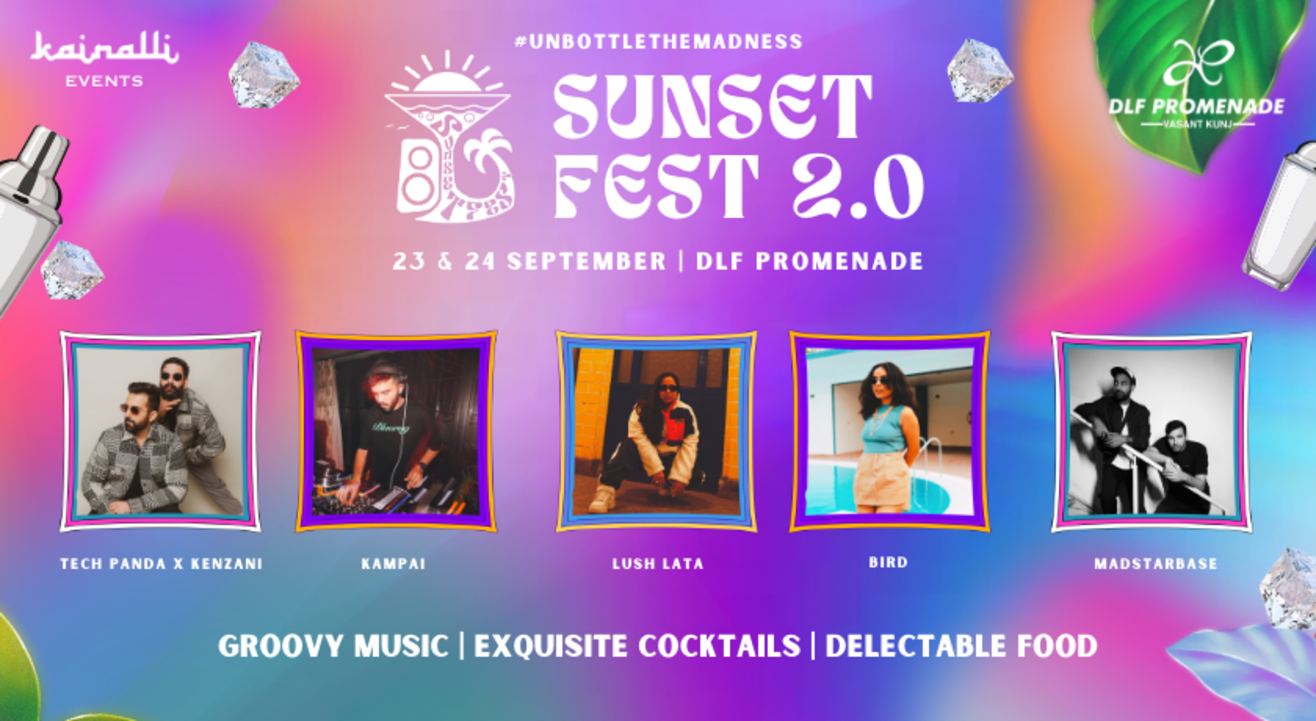 September 23 & 24| 5PM Onwards
Event Guide
Live Performance
Enjoy a unique experience
Invite your friends
and enjoy a shared experience
September 23 & 24| 5PM Onwards
Event Guide
Live Performance
Enjoy a unique experience
Invite your friends
and enjoy a shared experience
Event Guide
Live Performance
Enjoy a unique experience
Invite your friends
and enjoy a shared experience
Delhi, you're in for a treat with the return of Sunset Fest, our highly anticipated second edition!
Mark your calendars for two unforgettable days filled with entertainment, music, and excitement.
Sunset Fest is more than just an event; it's a captivating experience for music lovers, cocktail connoisseurs, gaming enthusiasts, foodies, and fashionistas.
Join us as we create unforgettable memories and celebrate life at the ultimate celebration of music, art, gastronomy, and joy.
Get your shine on to unbottle the madness!
Artists LINEUP to make your groove on the craziest beats of the season!
DAY 1
Tech Panda x Kenzani
Lush Lata
Bird
Reyo
Soul
Akash Kapoor
DAY 2
Madstarbase
Kampai
Ksc b2b soopy
Kreon b2b priyum
Nake
Barnet
- All Mall rules and regulations apply.
- Every child (under 18 years) must be accompanied by a parent / Legal guardian. OR Children below 18 years of age not allowed
- Please be careful while attending the event, the mall doesn't take responsibility for any injuries.
- Please take care of your belongings, the mall and organizers will not be responsible for any losses.
- The Management reserves the right to admission.
- The Management reserves the right to alter the schedule of the event without prior intimation
- Please remember to carry a valid government-issued photo ID Proof (Driver's License/ Aadhar Card/ Passport). You may not be permitted to enter in the absence of a valid ID Proof.
- Security procedures, including frisking, remain the right of the management.
- The management, organizers, or venue will not be held liable for claims that may arise due to the consumption or intake of any food or drink or any other products at the event.
- The organizers hold the free right to use any photographs, video, graphic, or other media form captured, shot, or recorded by visitors at the festival and shared on public platforms including but not limited to Facebook, Twitter, Instagram, Pinterest, Blogs for usage including but not limited to commercial, advertising and branding purposes in perpetuity.
- The organizer, the venue, and the ticketing company shall not be liable for any difficulties caused by an unauthorized copy or reproduction of this ticket and reserves the right to refuse entry to such ticket holders.
- No refund on a purchased ticket is possible, even in case of any rescheduling, unforeseen circumstances or force majeure conditions.
- Duplicate tickets will not be issued for Lost or stolen tickets.
- Each ticket admits only 1 person.
- This is a wristband access festival. In case wristbands are taken off, replacement wristbands will not be issued. Wristband removed or tampered with will be rendered invalid and will not be replaced.
- Rights of admission are reserved, even for valid ticket holders.
- Liquor will be served to guests of Legal Drinking Age (LDA) only and on display of valid age group. LDA bands will be provided at the venue on proof of age
- If an underage individual is found consuming alcohol, the ward's adult guardian will be liable for all resulting actions & consequences.
- Artist line-up and event schedule can change without prior intimation.
· The ticket permits entry to the festival grounds only. Any pre or after parties or specific activities at designated areas at the venue may have other ticketing requirements which may be sold separately.
· Security procedures, including frisking, remain the right of the management.
· Please do not carry dangerous or potentially hazardous objects including but not limited to weapons, knives, lighters, guns, fireworks, laser devices and bottles to the venue. We may have to confiscate and ask you to exit the premises.
· By virtue of purchasing a ticket, you agree and accept that entry to a live festival carries an inherent risk. The organizer/sponsors/performers/management / venue shall not be responsible for any claims, demands, causes of action, injury, losses, liabilities and expenses resulting or arising because of the festival or any part of it.
· Consumption and possession of narcotics is strictly prohibited and those found possessing or consuming narcotics at the event will be immediately handed over to the anti-narcotics police.
· Professional cameras, any form of recording instruments, eatables, bottled water etc. are not allowed from outside the festival. Food and Beverages will be sold inside the festival
· Areas at the festival are built to capacity. Management reserves the right to hold entry of ticket holders into the premises and certain areas of the festival till such time that the capacity opens up to safe limits to ensure a safe festival experience.
· As a holder of a ticket, you agree to follow the rules & regulations of the festival and basic norms of decency. In the event of any damage and/or liability caused by you to the festival and/or its property, you agree to face prosecution that will be subject to the jurisdiction of and settled exclusively in the courts of Delhi.
· Visitors to the festival are requested to acknowledge the personal space of others at the event. Any recordings of other visitors in the form of pictures, video, or audio recordings must not be captured and/or published on public platforms without their consent.
· The management reserves the exclusive right without refund or other recourse, to refuse admission to anyone who is found to be in breach of these terms and conditions including, if necessary, ejecting the holder/s of the ticket from the venue after they have entered the ground.
· By booking tickets for the event, you consent to your data being used for marketing and promotional activities by Insider and the organizer.
· First Aid will be provided. However, the organizers do not take any responsibility for any problems arising.
· - By accepting, holding, or using a ticket, you acknowledge that you have read, understood, accepted, and agreed to the full terms and conditions.
DLF Promenade
3, Vasant Kunj Mall Road, Vasant Kunj II, Vasant Kunj, New Delhi, Delhi 110070, India
GET DIRECTIONS
September 23 & 24| 5PM Onwards
Event Guide
Live Performance
Enjoy a unique experience
Invite your friends
and enjoy a shared experience