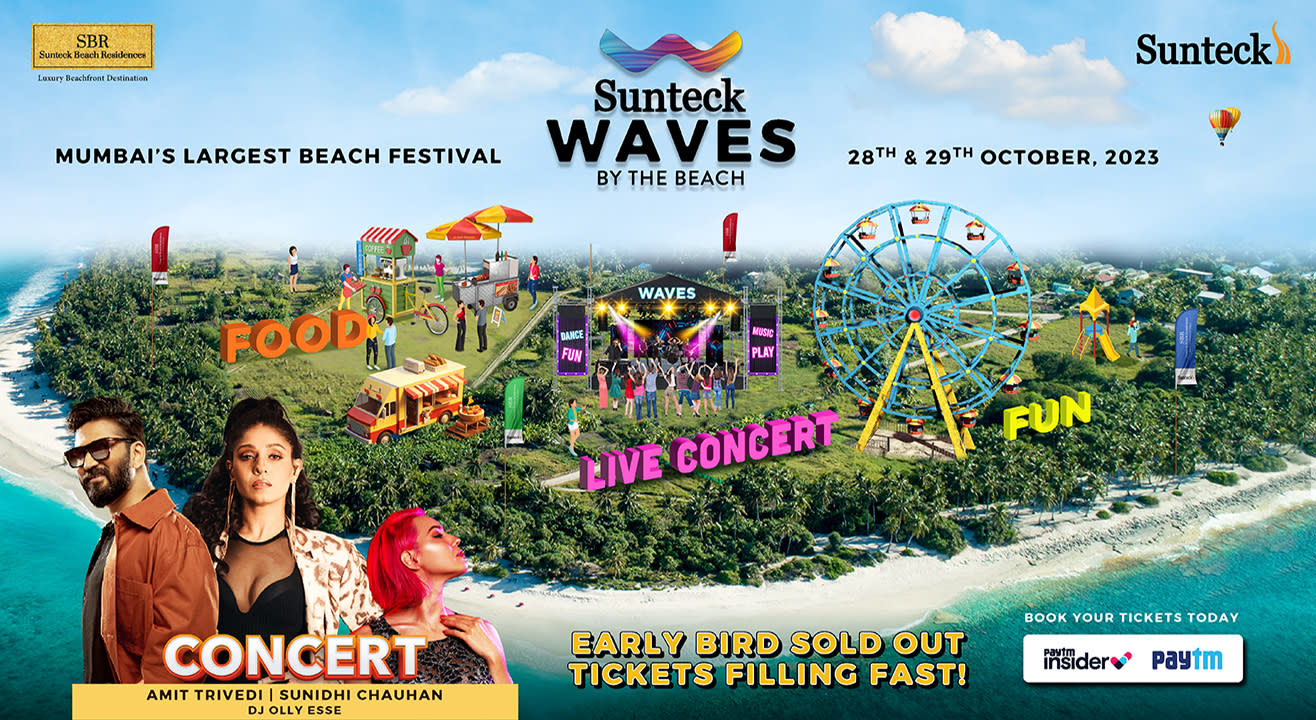 Sunteck Waves Feat. Sunidhi Chauhan & Amit Trivedi
October 28 - 29 | 3PM Onwards
Sunteck Beach Residences, Mumbai
Event Guide
For Age(s)
Family Friendly
Live Performance
Enjoy a unique experience
Invite your friends
and enjoy a shared experience
Sunteck Waves Feat. Sunidhi Chauhan & Amit Trivedi
October 28 - 29 | 3PM Onwards
Sunteck Beach Residences, Mumbai
Event Guide
For Age(s)
Family Friendly
Live Performance
Enjoy a unique experience
Invite your friends
and enjoy a shared experience
Event Guide
For Age(s)
Family Friendly
Live Performance
Enjoy a unique experience
Invite your friends
and enjoy a shared experience
Welcome to Sunteck Waves – Mumbai's Most Spectacular Beach Festival! We are thrilled to invite you to an unforgettable experience, celebrating the best of FUN, FOOD, and LIVE CONCERTS, featuring not one but three exceptional artists:
28th October Evening Headliner Performance: Prepare to be enchanted by the powerhouse of talent, Sunidhi Chauhan. Her mesmerizing voice will sweep you off your feet, harmonizing perfectly with the sea breeze and the festival's exhilarating atmosphere.
29th October Evening Headliner Performance: We're cranking up the volume with the one and only Amit Trivedi, whose musical genius is guaranteed to leave you spellbound.
29th October: Experience a thrilling performance by internationally acclaimed DJ Olly Esse, who previously performed at Sunburn, renowned for her energetic and dynamic electronic music. Get ready to dance the evening away!
But Sunteck Waves is more than just music; it's a whirlpool of emotions, a place to unite with friends and family for a day of pure enjoyment, where laughter flows as freely as the sea breeze.
Unleash your inner artist and express yourself through the magic of music and dance, creating memories that will last a lifetime. Beyond the incredible musical acts, you'll find a treasure trove of additional activities and elements designed to keep you grinning from ear to ear:
- Come in the afternoon and dive into larger-than-life GAMES that will transport you back to your carefree childhood days. Enjoy games like --- FootPool, BallPit with Photo Op, SnakesandLadder, and More
- Immerse yourself in INSTA-FRIENDLY ZONES that will take your Instagram game to a whole new level, providing a visually stunning backdrop for your posts.
- And lots of food and drinks
And that's just the beginning!
Get ready to ride the wave of a lifetime at Sunteck Waves – where the fun knows absolutely no bounds. With music from Sunidhi Chauhan, Amit Trivedi, and the dynamic beats of DJ Olly Esse, your experience is sure to be unforgettable.
Mark the dates on your calendar and prepare for a weekend filled with incredible moments. Gather your friends and family and join us for a celebration like no other. It's an event where every moment is a memory waiting to be made. Don't miss out!
Evening Headliner Artist Lineup -
28th October - Sunidhi Chauhan
29th October - Amit Trivedi
Sundowner Performance-
29th October - DJ Olly Esse
Box Office closes at 7:30 pm
Frequently Asked Questions -
Q. What is the minimum age to buy the tickets?
A. 5 years and above.
Q: What time do the gates open?
A: Gates open at 2:30pm.
Q: Is parking available at the venue?
A: There is limited parking available at the venue. We recommend using public transport to avoid inconvenience.
Q: At what time will the event start?
A: The event will start at 3pm.
Q: At what time will the event end?
A: The event will end at 10pm.
Q: What Can I expect at Sunteck Waves?
A: Get ready for an absolute blast! Sunteck Waves is all about FUN, FOOD, and LIVE CONCERTS. But that's not all – we've taken it up a notch with multiple engaging zones featuring life-size games, an abundance of Instagram-worthy points, thrilling VR games, creative Art and Craft zones, and a whole lot more to keep the excitement going!
Q. Is this a standing or a seated show?
A: The concert is a standing show. There will be zones in the festival area where seating will be available.
Q. Will food, beverages & alcohol be available at the venue?
A: Yes, Premium Food & Beverage stalls will be present in each section. Alcohol will be available for purchase to people of legal drinking age as per state regulations.
Listen to Sunidhi Chauhan!
Sunteck Beach Residences
Sunteck Beach Residences (SBR, Suruchi Beach Rd, Vasai-Virar, Mumbai, Maharashtra 401201
GET DIRECTIONS
Sunteck Waves Feat. Sunidhi Chauhan & Amit Trivedi
October 28 - 29 | 3PM Onwards
Sunteck Beach Residences, Mumbai
Event Guide
For Age(s)
Family Friendly
Live Performance
Enjoy a unique experience
Invite your friends
and enjoy a shared experience