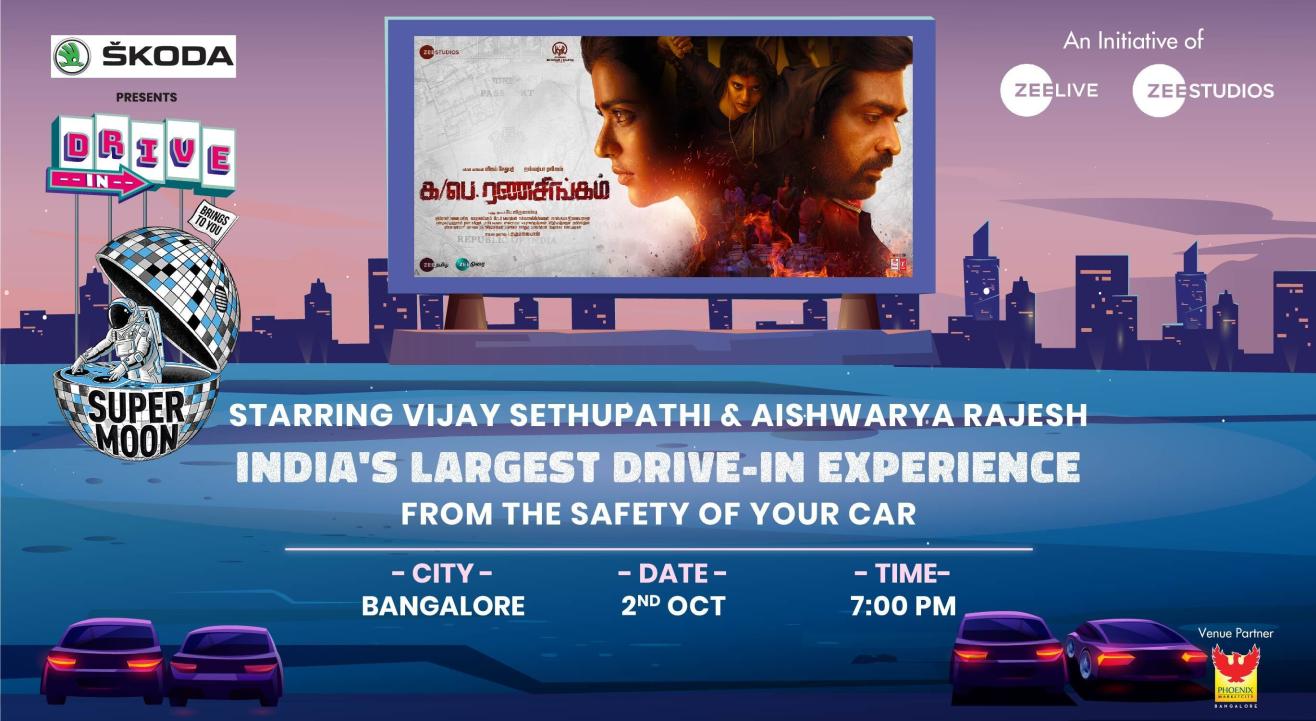 Supermoon Drive In Featuring Ka Pae Ranasingham
Phoenix Marketcity, Whitefield
Invite your friends
and enjoy a shared experience
Invite your friends
and enjoy a shared experience
About the Event
From the snacks you pick to the people you're with, movie night is a tradition we all love and miss. Getting excited for the trailers, to not wanting to miss the end credits, 'Movie Nights' are not restricted to watching a movie.
Over the last 6 months, these big-screen movie experiences are something we've all missed... but with Supermoon, we're bringing that experience back along with adapting to the new normal.
All of this, the latest 'flicks in town and the safety of your car -- what more could you want? You've got a ŠKODA , you are our favourite! Head to the Skoda reserved preferential parking spots for you.
We're presenting Supermoon Drive-In with our new movie... KA PAE RANASINGAM!
With Vijay's signature move of taking on the administration in his movies, you know this new 'flick is going to be a great success at India's largest drive-in experience 🔥
So join us with Vijay Sethupathi and Aishwarya Rajesh on the 2nd of October in Bangalore, 7 pm with the Supermoon Drive-In ft Ka Pae Ranasingam.


About Supermoon
Supermoon is an Intellectual Property of ZEE live, a division of ZEE Entertainment Enterprises Limited (ZEEL), that has been curated with an objective of bringing the leading international entertainment acts from comedy, music, theatre, etc. to India. Supermoon is a phenomenon which aims to give Indian audiences an experience which is enriching and fulfilling to the soul. With Supermoon around, entertainment will never wane.
What are the safety measures taken upon entry?
Sanitization Units will be present at the entry.
Cars will be sanitized at the entry of the event.
Temperature Check of individuals at the entry gate will be mandatory.
Face masks & sanitizers will be mandatory for all users which needs to be carried by the patrons attending.
Is there an intermission in between?
Yes, there will be a 10 mins intermission in between.
How do we access restrooms by maintaining social distancing?
You will have access to the washrooms in the mall.
Portable loos will be present for both Males & Females.
Queue managers along with socially distanced stickers will be present at the venue.
Sanitizing of portable loos will be done regularly through the show.
Can we socialize between groups / and other vehicles?
No, socializing to be allowed only amongst own groups in a vehicle, interaction with another car will be prohibited.
Will food be served in the car / or do we have to step out and get in from the snack bar?
Snacks/food/beverages bought on the day of the event will be delivered to the car.
Patrons will be allowed to leave the car only to use the washroom.
Can we sit on top of the car or do I need to bring chairs?
No, seating to be allowed only inside cars
Do I have to stay for the entire movie?
Cars will can be allowed to move out during interval, with prior consent from the organizer.
In case of emergency the organizer will decide at the time of the event
Can I bring my own food?
No outside food will be allowed in the venue
Can I leave the theatre to get food etc? // Is Re-entry allowed?
Food will be served at in the cars and, patrons will not be allowed to leave the car.
No re-entry allowed
Is alcohol allowed?
No
Is smoking allowed?
No
If I have van or SUV, am I allowed to back in and open my hatch?
No
What time does the gate open?
1 hour prior to the show timings
How many people are allowed in each car?
For better viewing experience, we suggest 2 people per car.
Supermoon Drive in Featuring Ka Pae Ranasingham
Phoenix Marketcity, Whitefield
Whitefield Main Rd, Devasandra Industrial Estate, Mahadevpura, Bengaluru, Karnataka 560048
GET DIRECTIONS