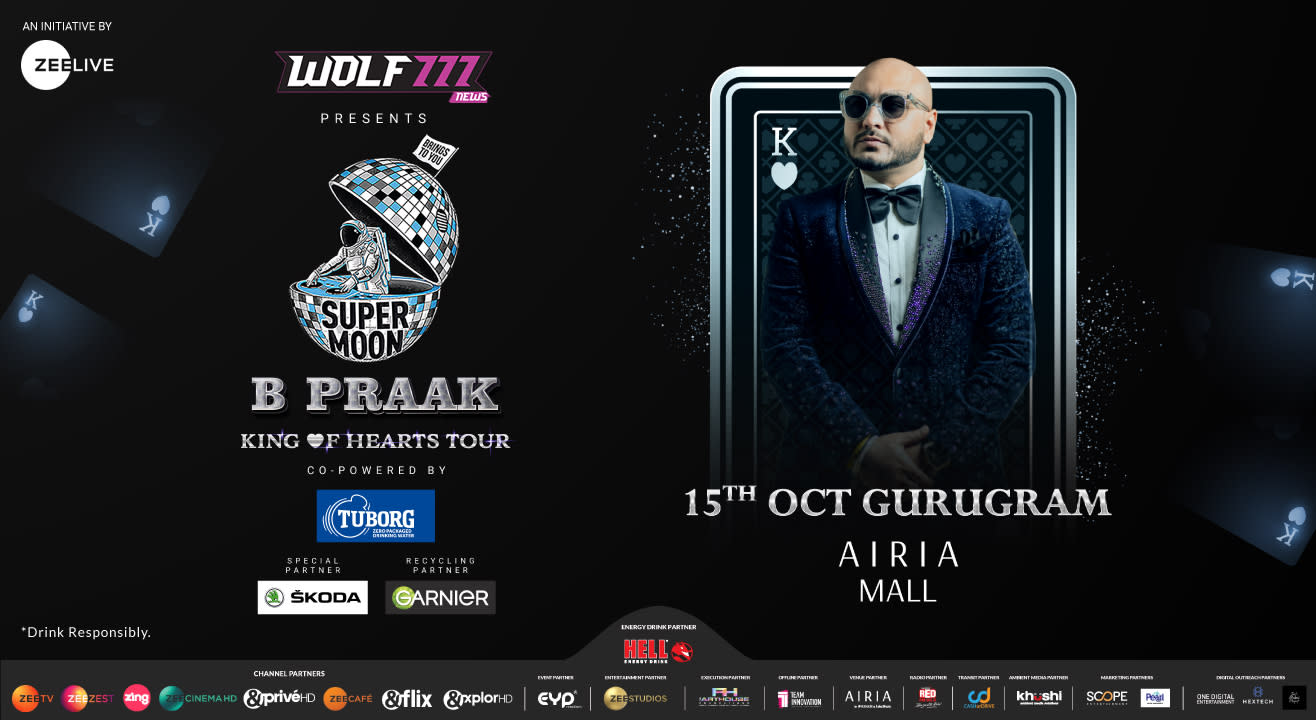 Supermoon ft. B Praak – King of Hearts Tour - Gurugram
Step out and enjoy this event
Invite your friends
and enjoy a shared experience
Supermoon ft. B Praak – King of Hearts Tour - Gurugram
Step out and enjoy this event
Invite your friends
and enjoy a shared experience
Invite your friends
and enjoy a shared experience
The much-awaited, soul-soothing experience is coming to your city for the first time ever with Supermoon ft. B Praak – King of Hearts Tour!
It's time to embrace the soulful voice of B Praak and enter the world of pure magic with a live symphony.
The exceptional B Praak is all set to take you on a heart-warming tour, are you?
Watch B Praak LIVE in Gurugram on October 9th.
An epic night awaits you. Book your tickets for Supermoon ft. B Praak – King of Hearts Tour now!
About B Praak:
B Praak is a Punjabi singer and son of famed Punjabi composer Varinder Bachan. He started his career in music direction before debuting as a singer with the hit song Mann Bharrya.
Recognised as one of India's royal artists, 'His Highness' has churned out megahits like "Do you know", "Horn Blow", "Backbone", "Baarish Ki Jaaye", "Teri Mitti", & "Filhaal" (amongst many other hit songs) that have uplifted the Punjabi and Hindi music industry. A heartthrob and award-winning producer, the famed artist derives inspiration from AR Rahman and Jazzy B.
Don't miss the chance to watch B Praak LIVE for the first time ever in India at Supermoon ft. B Praak – King of Hearts Tour.
FAQs
Is this a standing or a seated show?
Both. The concert has multiple categories of ticket options which grant you entry to either a standing zone or a seated zone.
Ticket price for Supermoon Ft. B Praak- King of Hearts show?
The ticket price for the show depends on which seating area you choose. There are four categories: Gold Standing, Platinum Standing, Silver VIP Seating, and VIP Seating. Head to the booking page to know more about the prices.
Is there an age limit to attending the concert?
Children above the age of 5 will require a ticket. Due to the live band performance event, all parents/guardians are requested to bring their kids at their own discretion. If you are under the age of 16, you will need to be accompanied by an adult guardian.
Will there be a parking facility at the venue?
Yes, there is a limited number of paid parking spaces at the venue. We encourage you to carpool or use public transportation.
Will photography or videography be allowed?
No professional photography/videography will be allowed at the concert. DSLR and SLR cameras will not be allowed.
Will food, beverages & alcohol be available at the venue?
Yes, Food & Beverage stalls will be present in each section. Alcohol will be available for purchase to people of legal drinking age as per state regulations.
Can we meet the artist?
Yes! Win a chance to Meet & Greet with B Praak by participating in the M&G contests. We will be having a contest in each city the show is held, so please follow @supermoonhq for updates!
Supermoon ft. B Praak King Of Hearts Tour | October 2022
Supermoon ft. B Praak – King of Hearts Tour - Gurugram
Step out and enjoy this event
Invite your friends
and enjoy a shared experience