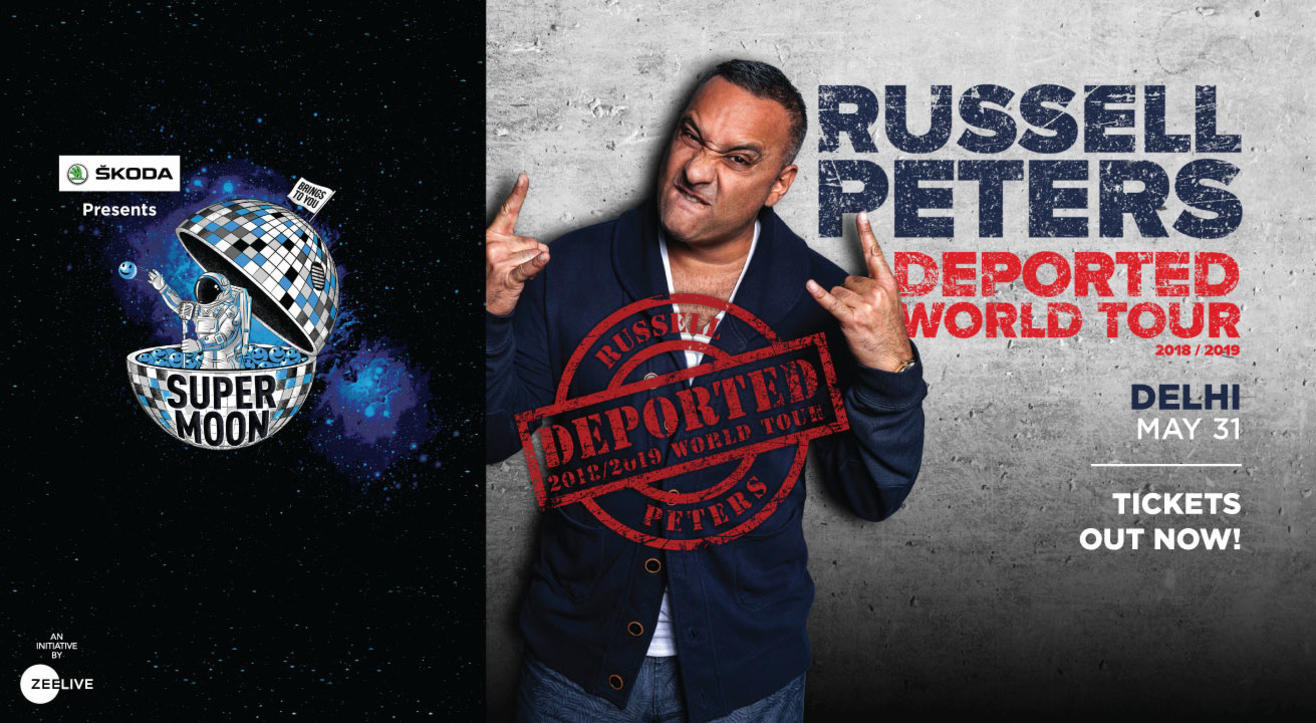 Supermoon ft. Russell Peters Deported World Tour, Delhi
Indira Gandhi Indoor Stadium, Delhi, Delhi
Invite your friends
and enjoy a shared experience
Supermoon ft. Russell Peters Deported World Tour, Delhi
Indira Gandhi Indoor Stadium, Delhi, Delhi
Invite your friends
and enjoy a shared experience
Invite your friends
and enjoy a shared experience
"50 Best Comics of All Time" recently by Rolling Stone, Indo-Canadian superstar Russell Peters is all set return to his home and native land, India as part of his brand-new Deported World Tour at Zee Live's Supermoon. The Emmy®, Gemini® and Peabody® award winning comic will perform his unique brand of humor in the home country at the arenas of Bangalore, Delhi and Mumbai only with Insider.in.
About Supermoon
Supermoon is an Intellectual Property of ZEE LIVE, a division of ZEE Entertainment Enterprises Limited (ZEEL), that has been curated with an objective of bringing the leading international entertainment acts from comedy, music, theatre, etc. to India. Supermoon is a phenomenon which aims to give Indian audiences an experience which is enriching and fulfilling to the soul.
Please note: Box office opens at 1PM | Gates open at 5PM | Show starts at 7PM
About Russell Peters (as if he needs an introduction)
Russell Peters started doing stand-up at the age of nineteen at open mics in his native Toronto in 1989. He spent the next fifteen years honing his craft at clubs across Canada and the UK. In 2004, Peters gained critical and global recognition for his CTV "Comedy Now!" special which wound up on YouTube.
Russell Peters has no shortage of accolades. He maintains a staggering social media presence as his YouTube videos have amassed well over 250 million views and a following of over four million people. Professionally, his DVD's have sold upwards of a million copies, while his Notorious World Tour became the highest attended comedy tour ever in Australia, the United Arab Emirates, Oman, Lebanon, South Africa, Thailand, Indonesia, Singapore, Malaysia, Hong Kong and his home country of Canada.
Currently residing in Los Angeles and Las Vegas, he is an ardent DJ and hip-hop junkie who often gets offers for celebrity DJ gigs when on-tour and off. Though success seems to be at every turn for Peters, there are many more turns to come.
Indira Gandhi Indoor Stadium, Delhi
I.P. Estate, Near Raj Ghat, GT Road, IG Indoor Stadium, ITO, Vikram Nagar, New Delhi, Delhi 110002
GET DIRECTIONS
Supermoon ft. Russell Peters Deported World Tour, Delhi
Indira Gandhi Indoor Stadium, Delhi, Delhi
Invite your friends
and enjoy a shared experience