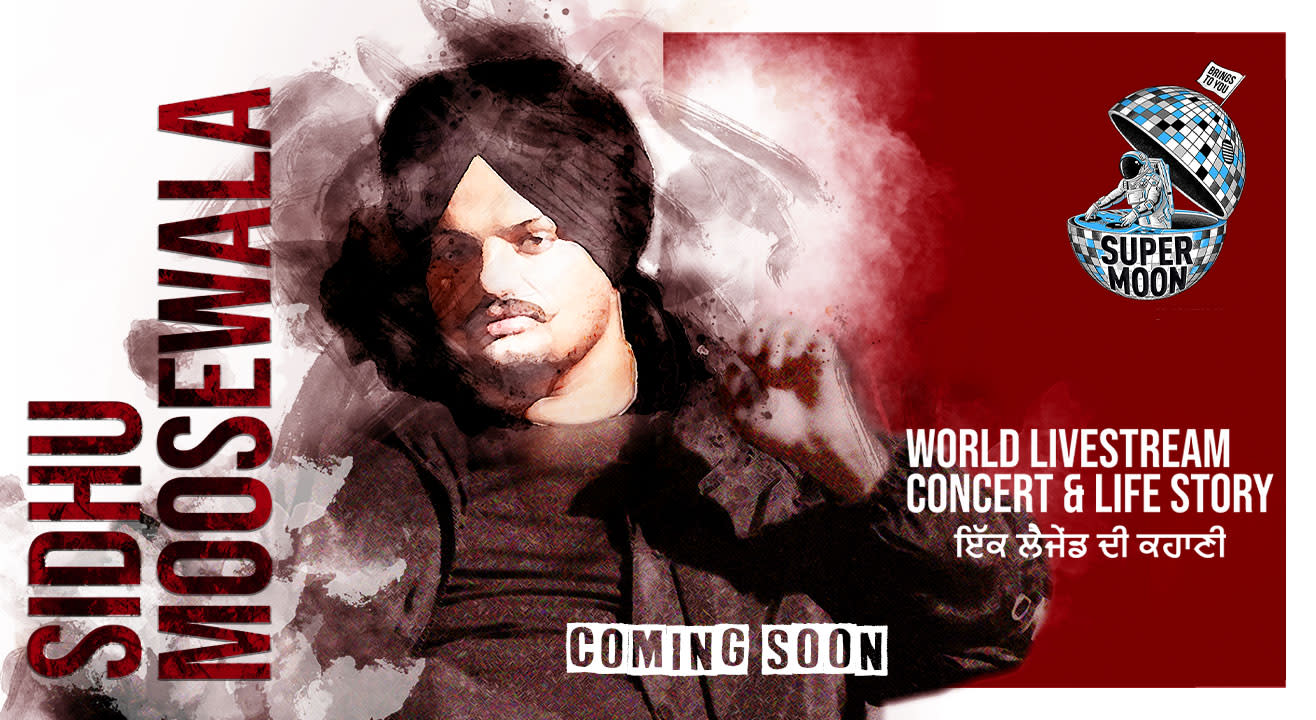 Supermoon Ft Sidhu Moosewala World Livestream Concert & Life Story - Sign up for Early Access
Enjoy this event from your home
Invite your friends
and enjoy a shared experience
Invite your friends
and enjoy a shared experience
About the Event
Punjab da sher. Pind di shaan.
The iconic singer that stole our hearts globally.
Witness the life story and exclusive digital concert of none other than SIDHU MOOSEWALA.
Register NOW for early-bird tickets and discounts for exclusive access to a 3-part, never-seen-before life story of the legendary singer and experience Sidhu in his element outside his iconic Haveli in Moosa Pind during the Supermoon ft. Sidhu Moosewala World Livestream Concert & Life Story.
The toofan is coming your way and this is your chance to experience it.
Please note, this is not your ticket and cannot be redeemed for tickets at the event.
ਪੰਜਾਬ ਦਾ ਸ਼ੇਰ ਤੇ ਪਿੰਡ ਦੀ ਸ਼ਾਨ!
ਆਈਕੋੌਨਿਕ ਸਿੰਗਰ ਜਿਸ ਨੇ ਪੂਰੀ ਦੁਨੀਆਂ ਚ ਲੋਗਾਂ ਦੇ ਹੋਸ਼ ਉੜਾ ਛੱਡੇ ਤੇ ਦਿਲ ਚੁਰਾ ਲਿਆ ।
ਅਸੀਂ ਲੈਕੇ ਆਏ ਹਾਂ ਸਾਡੇ ਆਪਣੇ ਪੰਜਾਬ ਦੇ ਲੇੈਜੇਂਡ ਦੀ ਲਾਈਫ ਦੀ ਕਹਾਣੀ ਜਿਸ ਨੂੰ ਕਿਸੀ ਨੇ ਨਾ ਹੀ ਕਦੀ ਵੇਖਿਆ ਹੈ ਤੇ ਇਸ ਤੋਂ ਪਹਿਲਾਂ ਨਾ ਹੀ ਕਦੀ ਸੁਣਿਆ ਹੈ, ਇੱਕ ਐਕਸਕਲੂਜ਼ਵ ਲਾਈਵ ਕੌਂਸਰਟ ਦੇ ਨਾਲ|
ਹੁਣੇ ਰਜਿਸਟਰ ਕਰੋ ਅਰ੍ਲੀ ਬਰਡ ਟਿਕਟਾਂ ਲਈ ਹੋਰ ਸਿੱਧੂ ਦੀ ਐਕਸਕਲੂਜ਼ਵ ਥ੍ਰੀ-ਪਾਰ੍ਟ ਸਟੋਰੀ ਨੂੰ ਵੇਖਣ ਲਈ ਜਿੱਤੋ ਵੱਡੀਆ ਡਿਸਕਾਉੰਟਸ।
ਵੇਖੋ ਸਾਡੇ ਪੰਜਾਬ ਦੇ ਜੱਟ ਨੂੰ ਮੂਸਾ ਪਿੰਡ ਚੇ ਆਪਣੀ ਹੀ ਹਵੇਲੀ ਦੇ ਬਾਰ ਫੱਟੇ ਚਕਦੇ, ਗਾਹ ਪਾਉਂਦੇ ਤੇ ਆਪਣੇ ਸਟਾਈਲ ਵਿਚ ਸੁੂਪਰਮੂਨ ਦੇ ਨਾਲ ਵਰਲਡਵਾਇਡ ਲਾਈਵਸਟ੍ਰੀਮ ਕੌਂਸਰਟ ਕਰਦੇ ਹੋਏ ਤੇ ਆਪਣੀ ਕਹਾਣੀ ਦੱਸਦੇ ਹੋਏ।
ਮੂਸਾ ਪਿੰਡ ਤੋਂ ਉਠਿਆ ਇਹ ਤੂਫ਼ਾਨ ਤੁਹਾਡੇ ਵੱਲ ਆ ਰਿਹਾ ਹੈ, ਤਿਆਰ ਹੋ ਜਾਓ ਇਹਨੂੰ ਐਕਸਪੀਰੈਂਸ ਕਰਨ ਲਈ।