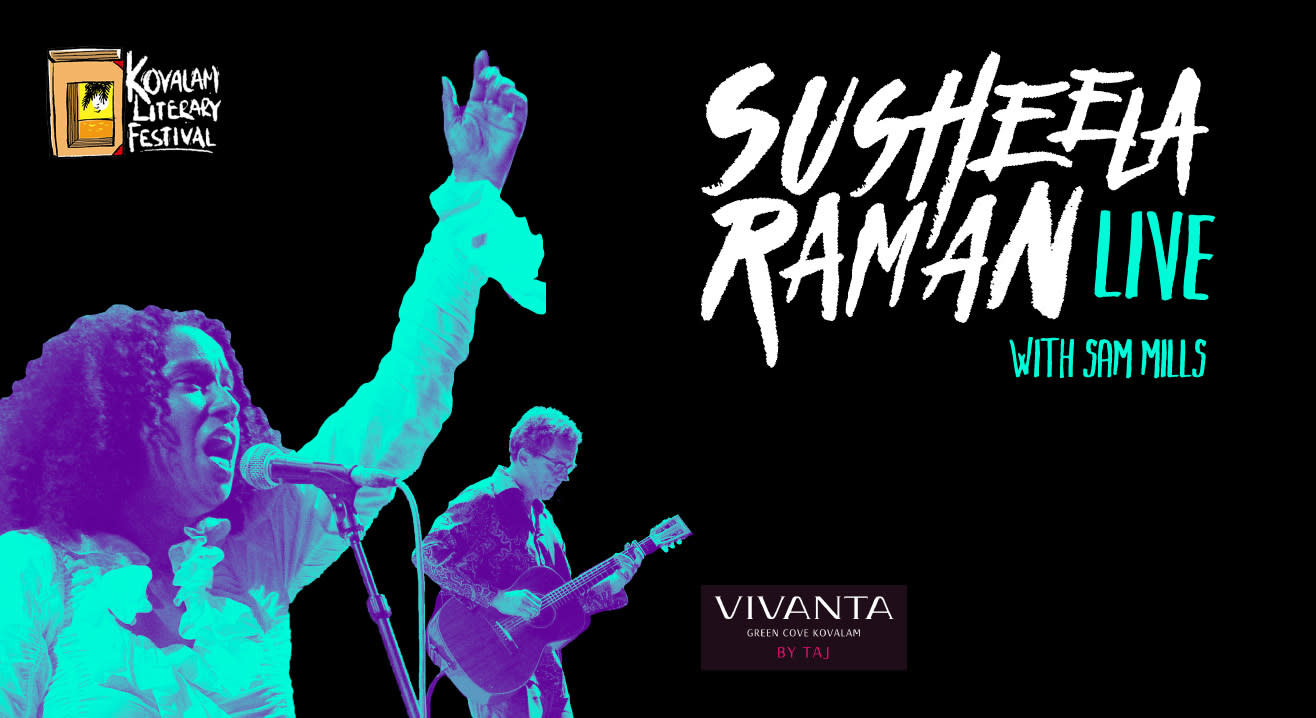 Music
Susheela Raman live at Kovalam Litfest
About
Kovalam Literary Festival has been bringing well known writers and musicians to Trivandrum since 2009. It sparked off the cultural revival in Kerala which now also hosts the globally known Kochi Biennale. The annual literary event is an important part of the national lit fest circuit. Most writers spotted by KLF have gone on to win prestigious awards. Top writers, speakers who have come to the fest include, Gulzar, William Dalrymple, Mohammed Hanif, Anuradha Roy, Jeet Thayil etc. Among the bands which have headlined at Kovalam Lit Fest in Trivandrum are East India Company, Ska Vengers, Indian Ocean, Susheela Raman along with Kutle Khan (2011) and others. This will be Susheela's second coming to KLF , Trivandrum. Please see kovalam-literary-festival Facebook page or www. kovalamlitfest.com for further updates.
About the Artist
Susheela Raman hails from the movement of immigrant and second-generation musicians from the Indian subcontinent based in Britain, who perform a fusion of traditional and classical forms from their homeland with contemporary beats and dancehall tracks from Western Europe. Raman works on the idea of fusing Indian classical forms with more contemporary Western ones. Aided by Sam Mills, who had done similar projects with one of the contemporary Baul singers, Raman worked with a huge number of foreign artists on the Salt Rain project, released in 2001. She was nominated as the first world music artist for the British Mercury Prize, and satisfied with the results of Salt Rain, Raman used the same basic guidelines to create Love Trap, released in mid-2003. Her well-known hits in India are Vadi Vel Muruga, Mamavatu, Bolo Bolo, Ganapati etc.
Following are the members of the band playing inTrivandrum:
Samuel Mills - guitar
Susheela - lead vocals
Lucie - percussion/ tunes percussion/ marimba/ vibraphone
Malcolm - drums
Dudley - bass
Dinner Venue: Taj Kovalam is located about 15 km from the city on the highway to Kovalam beach. Taj kovalam is 30-45 minutes from the airport.
Taj Vivanta is within the city : 10 minutes from the Railway station and bus terminal and 1 hour from the airport.
Venue
Nishagandhi Theater
Sooryakanthi Rd, Kanaka Nagar, Nanthancodu, Thiruvananthapuram, Kerala 695033