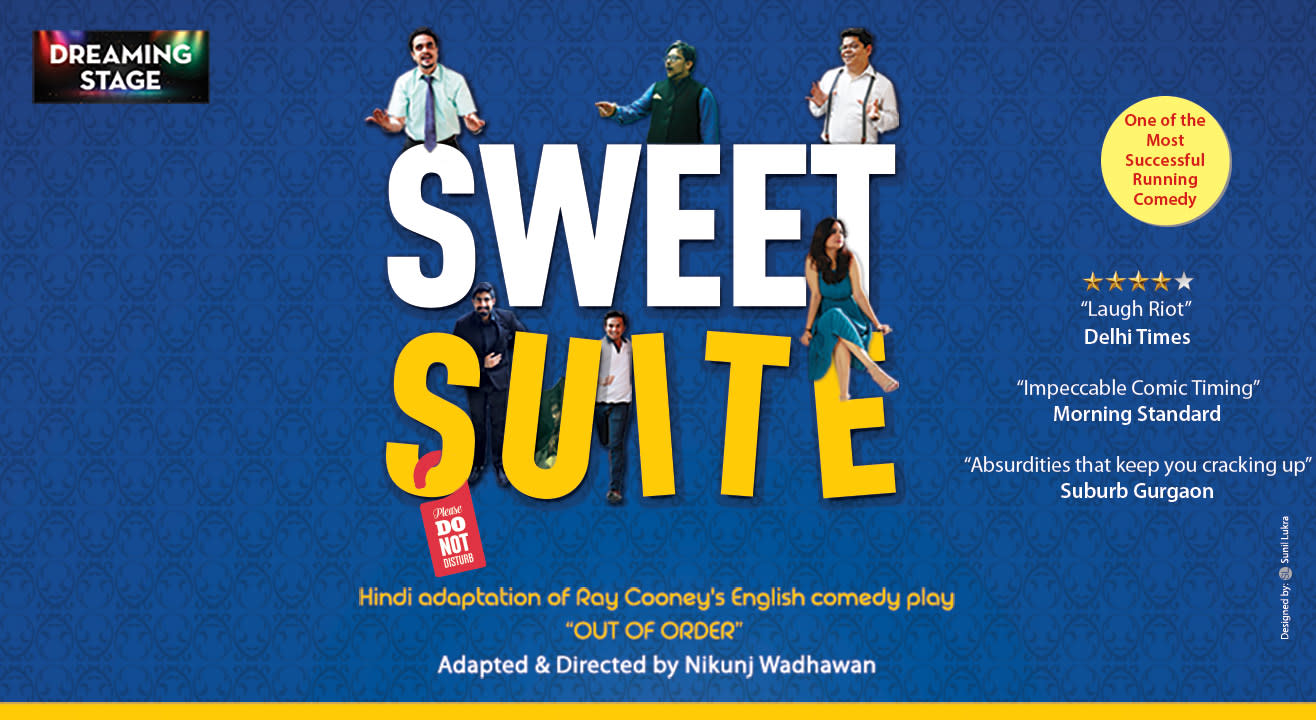 Drama
Sweet Suite - Hindi Comedy Play
About
Sweet Suite is a Hindi Adaptation of celebrated English Comedy Play 'Out Of Order' written by farce king, English playwright Ray Cooney. This play has traveled across the globe since 1990 as it has been adapted to International languages - French, Hungarian, Russian, Chinese & now to Hindi.
The play premiered in Delhi in October, 2018 and has collected accolades from theatre critics, leading newspapers & most importantly the audience in the 5 shows held since then.
The 2-hour long comedy features a government secretary, who lies his way out of situations with the help of his innocent junior secretary, who gets more & more tangled in the improvised tales as the events unfold. Sweet Suite, an inspired machine to cater to one of the civilized society's greatest joys, which is to see someone else in soup.
Shom Gupta
Sporadically active in the theatre circuit for nearly a decade with a belief that it is the purest mode of expression. Writing scripts and acting are what keep him going. There are very few experiences that rival the feeling of being on stage before an enthusiastic audience.

Sumit Bhott
theatre artist who has constantly been working across mediums of entertainment and has acted in plays like Darling Shayar, Patna kidhar hai and many more

Nikunj Wadhawan
Nikunj is a theatre actor & director working with amateur & proficient Delhi theatre groups and runs his own theatre production too. He has acted in plays like August Osage County, Aashaad ka ek din, Jinhe Lahore, The Miser, etc. and has also acted & directed the comedy play Sweet Suite. He has written and been featured in short films like Humara Lunch Time, Girls Night Out and in many brand videos.

Ankur Saxena
A consultant by day and a theatre artist by night!
He is a budding standup comic and wishes to try his hand at theatre as well.
With impeccable comic timing and confidence, he wants to make a mark in theatre.

Dhruv Raaj Bhatia
Certified actor from FTII has been part of various theatre productions with Asmita, Nirantar, Rang Sarathi and has been on wire through short films on digital media & TVCs on television. He has also been comparing a lot of shows on TV & stage on Delhi NCR.

Kritika Bhatia
Has Been doing Theatre for 8 years. Associated with theatre groups like Living Room Theatre, IPTA Delhi, Dramatech and Cacophonee ENT.

Sanat Mehta
Sanat Mehta is a professional dancer, a theatre artist, and a social video producer. A former company member of the Danceworx (Delhi), and is a mass communication graduate who has a strong passion for Dance and Cinema.

Iram Khan
Iram is a creative freelancer and an athlete. Setting up her passion of dancing & acting with different groups in Delhi NCR.

Suvriti Goel
A learner in the field of performing arts.

DIRECTOR
Nikunj Wadhawan

Venue
LTG Auditorium, Delhi
1, Copernicus Marg, Mandi House, Opp. Doordarshan Bhavan, Near Connaught Place, New Delhi, Delhi 110001