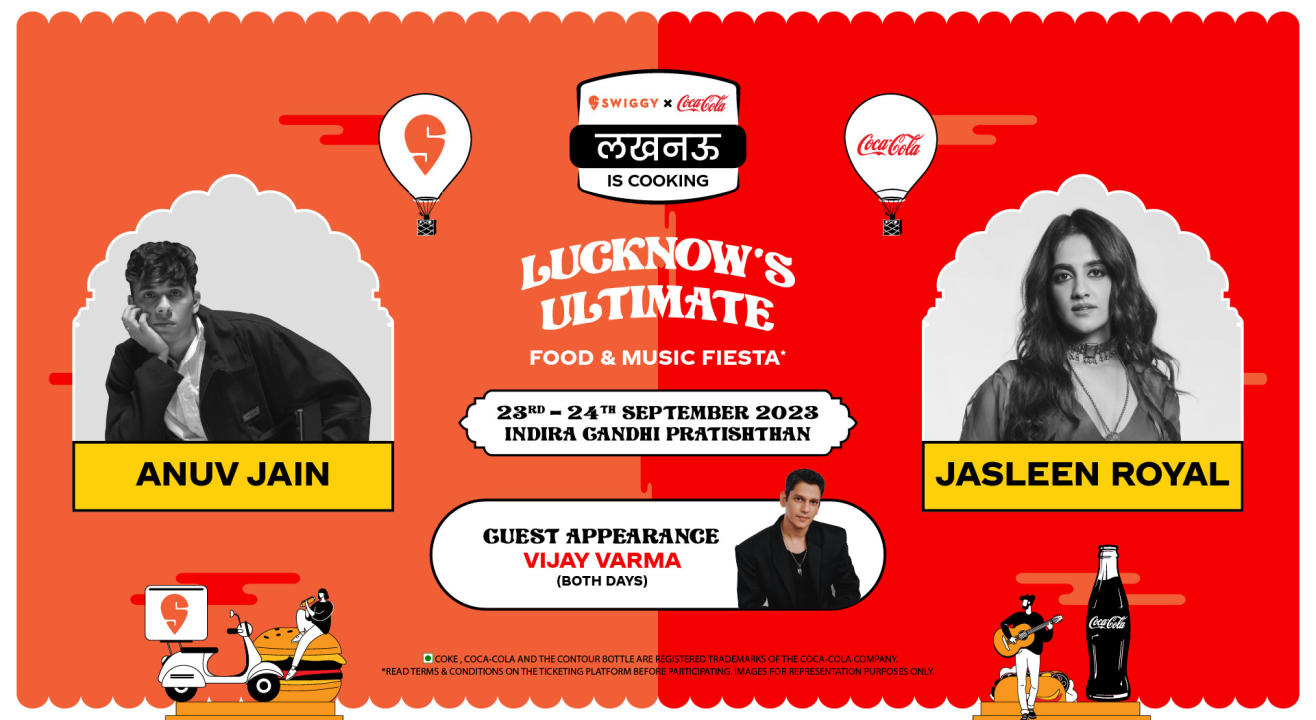 Swiggy X Coca-Cola - Lucknow is Cooking
September 23 | 12PM - September 24 | 10PM
Indira Gandhi Pratishthan, Lucknow
Event Guide
For Age(s)
Family Friendly
Live Performance
Enjoy a unique experience
Invite your friends
and enjoy a shared experience
Swiggy X Coca-Cola - Lucknow is Cooking
September 23 | 12PM - September 24 | 10PM
Indira Gandhi Pratishthan, Lucknow
Event Guide
For Age(s)
Family Friendly
Live Performance
Enjoy a unique experience
Invite your friends
and enjoy a shared experience
Event Guide
For Age(s)
Family Friendly
Live Performance
Enjoy a unique experience
Invite your friends
and enjoy a shared experience
Muskuraiye, hum Lucknow mein hain!
Are you ready to indulge in a feast dipped in royalty?
Swiggy and Coca-Cola bring to you the biggest, the grandest, and the greatest food festival ever- Swiggy x Coca-Cola - Lucknow is Cooking!
Catch Anuv Jain and Jasleen Royal live as you savour the delicacies with a refreshing Coke®
From sinful biryanis to kebabs, from mouth-watering chaats to luscious jalebis, regardless of your food cravings, there's always a refreshing Coke® that completes your recipe for magic!
As the first of the series, Lucknow Is Cooking is all set to have a star-studded launch with ace actor Vijay Varma's presence. He will be experiencing the culinary magic of the event first-hand while interacting with his fans, making it a memorable weekend for the city of Lucknow.
And if you thought we'd leave out the fun part, you couldn't be more wrong. Indulge in a host of fun activities, gorge on authentic flavours of Lucknow served by the city's 50+ hottest eateries, and sway to the mesmerizing performances by the top-rated artists of the country while you sip on some Coke® in between all that munching and grooving.
23rd-24th September at Indira Gandhi Pratishthan, Lucknow.
Grab your tickets now!
1. Tickets once booked cannot be exchanged or refunded
2. An Internet handling fee per ticket may be levied. Please check the total amount before payment
3. We recommend that you arrive at-least 30 minutes prior at the venue for a seamless entry
4. It is mandatory to wear masks at all times and follow social distancing norms
5. Please do not purchase tickets if you feel sick
6. Unlawful resale (or attempted unlawful resale) of a ticket would lead to seizure or cancellation of that ticket without refund or other compensation
7. Rights of admission reserved
8. These terms and conditions are subject to change from time to time at the discretion of the organizer
COVID SAFETY GUIDELINES
Owing to the recent conditions surrounding the COVID – 19 pandemic, as a pre-condition to gaining access to the venue (events and theatres) you are required to be fully vaccinated and may be required to display your COVID – 19 certificate at the venue as per the various norms /regulations prevailing in the said State. The venue provider and governing authorities reserve the right to exclude any user from the venue if there are sufficient grounds to believe so for failure to abide by the protocols. You agree to exit without protest or refund. Users are required to check the restrictions as applicable in their State
Use of masks is mandatory at all times and the visitors are required to maintain social distancing norms. The venue and Bigtree reserve the right to change/modify the terms and conditions.
Bigtree does not assume any responsibility with regards to any injury or complications due to COVID – 19 accrued as a result of your participation.
The above guidelines are currently mandatory for Delhi/NCR, Maharashtra and Karnataka. These terms and conditions may vary depending on the state where the event is held and are subject to changes
Listen to Anuv Jain Songs
Listen to Jasleen Royal Songs
Indira Gandhi Pratishthan
Kathauta Chauraha Rd, Vibhuti Khand, Gomti Nagar, Lucknow, Uttar Pradesh 226010, India
GET DIRECTIONS
Swiggy X Coca-Cola - Lucknow is Cooking
September 23 | 12PM - September 24 | 10PM
Indira Gandhi Pratishthan, Lucknow
Event Guide
For Age(s)
Family Friendly
Live Performance
Enjoy a unique experience
Invite your friends
and enjoy a shared experience