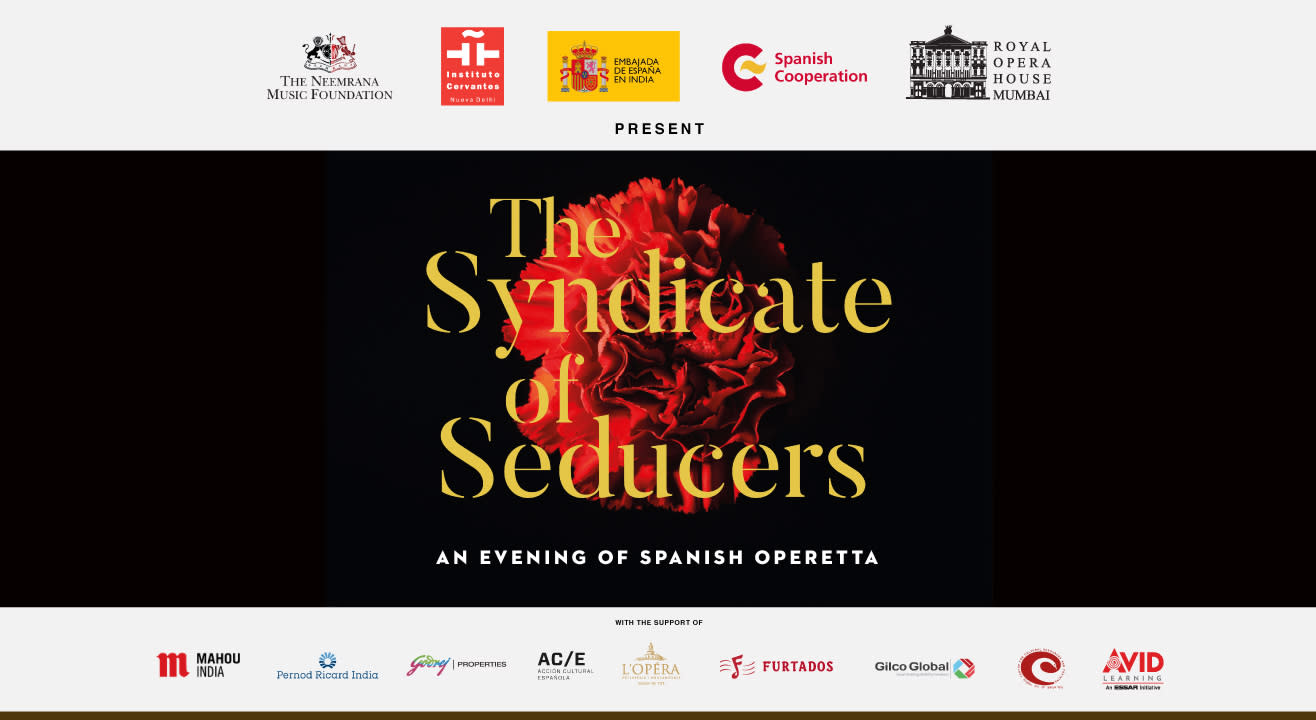 Music
Syndicate of Seducers
The Royal Opera House, Mumbai
About
The Neemrana Music Foundation, The Embassy of Spain in India, Instituto Cervantes, New Delhi and The Royal Opera House, Mumbai present Syndicate of Seducers by legendary Spanish Composer Jose Serrano.
A unique form of Opera, to debut for the first time on our stage, this singular performance, known as Zarzuela, is a popular genre of musical comedy originated in Spain that uses a mix of songs and spoken scenes, very much like an operetta. It is a variety of musical theatre in which dramatic action is carried through a combination of songs interspersed with dialogue.
Much like a Bollywood extravaganza, with comparisons to Broadway and Vaudeville, which also serves as keen social commentary and provides light comedic entertainment as opposed to the traditional drama of the Opera, zarzuela, originating from Madrid, is a unique showcase of the rhythms and traditions of the diverse cultures of Spain.
One of the most recognizable zarzuela compositions, El Trust de los Tenorios ('The Syndicate of Seducers', 1910) comes to life through the talents of Conductor Roc Fargas i Castells with a chamber orchestra of 18 instrumentalists, and Stage director Yashraj Jadhav who will direct young Indian soloists of The Neemrana Music Foundation and 30 choir singers. This operetta, which makes its India debut in Delhi before travelling to the city, will be sung in Spanish with scenes in English.
The production is aiming at a full Indian cast under the supervision of experts from Spain. It presents young Indian talents who have been trained with the help of The Neemrana Music Foundation. The stage director Yashraj Jadhav says "It's an incredible experience to stage an opera, as this art form involves so many ingredients - the drama of course, plus the singing, the costumes of different styles and the sets. This operetta is exciting because we have to recreate Madrid, Paris, Venice and India. It is a fun challenge."
José Serrano Simeón was a Spanish Composer born in Sueca, Valencia in 1873. In 1889 he started studying piano, violin and composition with Salvador Giner. In 1900 after setting famous Alvarez Quintero brothers's El Motete to music, he took his place amongst the most prolific zarzuelas of the day. His musical personality is robust and often taps a rich vein of melodic inspiration. He kept his harmonies and orchestrations simple, and his strongest suit is undoubtedly a powerful theatrical intuition and unfailing power to touch the heart.
Priya Wacziarg, Managing Trustee of The Neemrana Music Foundation says, "The melodious tunes and scenes which will be enacted in English with spectacular costumes and lavish sets will remind the Indian audience of a Bollywood show".
Maharanisaheba Kumud Kumariji of Gondal says, "Our venue was founded as a space to showcase and champion the hauntingly beautiful art form of Opera, and we bear this not only in our name but also our credo."
Opera is an intrinsic part of our heritage at the Royal Opera House and being the only surviving Opera House in the country, we regularly strive to highlight Opera in classical and contemporary avatars by presenting programs that uphold it's lasting legacy. In collaboration with some of our key partners, which include Australian Consulate-General, Mumbai and Italian Embassy Cultural Centre, Mumbai, Opera has been brought to our stage time and again be it in its classical form or through innovative fusions!
From our very first breath as the risen Phoenix on opening night, which reintroduced our venue to the city with operatic arias and songs to two successful opera seasons, from putting on famous classic opera productions featuring all Indian casts to holding robust opera appreciation workshops; from showcasing opera-inspired fashion and costuming to celebrating legendary opera divas and their legacies, we have covered the gamut of the world of opera and it's many facets in the three short years since being revived as India's only surviving Opera House!
Asad Lalljee, SVP, Essar Group, CEO of Avid Learning and Curator, Royal Opera House Mumbai, says, " With this production, we are delighted to collaborate with the Neemrana Music Foundation for a second time and, as always, are grateful to the diplomatic bodies and international cultural organisations involved to make this programme a possibility and which promises to be a visual treat!"
Join us for an Operetta with a distinctive Spanish twist and let the protagonists take you from Madrid to India, via Paris and Venice!

WHERE: Royal Opera House, Mama Parmanand Marg, Mumbai – 400 004
WHEN: Wednesday, March 4th 2020 | 7:00 PM onwards
Situated in New Delhi, The Neemrana Music Foundation is a non-profit organization which focuses on training young musicians and singers from India to acquire professional skills in the field of Western Classical Music. Through the means of this Foundation, Francis Wacziarg took further his commitment to preserving heritage and promoting cultural exchanges between the East and the West through the universal power of music. In light of its mission to teach Western Classical Music, the Foundation has created several vocal groups and choirs. Every year it offers scholarships to young Indian individuals to enable them to study abroad. This training culminates in grand Opera performances that have received many accolades from audiences across India. Priya Wacziarg, Managing Trustee, is trying to carry its mission forward.

The Embassy of Spain in India Spain and India established diplomatic relations in 1956, when the Embassy of Spain opened in New Delhi. Since the appointment of the first Ambassador, H.E. Luis de Olivares y Bruguera, to our present times with H.E. Ambassador José Ramón Barañano, 15 different ambassadors and 6 decades of fruitful cooperation have passed. The Embassy of Spain works ever since to strengthen the ties between Spain and India in many different fields. Our cultural relationship is very important to us, as we acknowledge Spain and India to be two countries full of culture and diversity. We are expanding the ties between the people of India and the people of Spain, as Indo-Spanish relations although short in time, are immensely beneficial for both our societies.

Instituto Cervantes, New Delhi is a public institution founded in 1991 by the Government of Spain, with the aim of promoting Spanish language teaching, and fostering knowledge of Spanish and Hispanic American culture. Currently, the Institute has 78 centers located in 44 countries. Its main headquarters are in Madrid and in Alcalá de Henares, the birthplace of Miguel de Cervantes. The work of the Instituto Cervantes is guided by representatives of the scholarly, cultural and literary communities of Spain and Hispanic America. In New Delhi, the Instituto Cervantes collaborates since 2009 with museums, galleries, theaters, publishers, and other Indian cultural institutions, as well as institutions from Spain and Latin America.

Royal Opera House, Mumbai is widely touted as Mumbai's Cultural Crown Jewel and India's only surviving Opera House. The original idea for the space was conceived of in 1908, inaugurated in 1911 by King George V, and eventually completed in 1916. The design incorporated a blend of European and Indian detailing. The space became a cinema in later years before falling into disrepair and shutting by the 1990s. Fittingly, the space has been owned by the Royal Family of Gondal since 1952 and was eventually restored by conservation architect, Abha Narain Lambah under the leadership of His Highness, Maharaja Shri Jyotendrasinhji of Gondal. The Royal Opera House Mumbai, now one of the last remaining Baroque structures in the city, reopened after 23 years in October 2016. The building was included on the 2012 World Monuments Watch to raise awareness about its history and significance, and support preservation efforts. The building has since been recognized with an Award of Merit in the 2017 UNESCO Asia-Pacific Awards for Cultural Heritage Conservation. The restored facilities feature a 575-seater 3-level auditorium with an orchestra pit and state of the art technological upgradations, including acoustics, stagecraft, lighting and air-conditioning, alongside retaining the old-world charm of the proscenium stage, the royal boxes and the magnificent regal chandeliers. Some more enhancements to the venue include a motorized screen, co-axial ceiling speaker system, Four-zone volume control and all round wifi access. Today, it stands as a key performance and creative hub in the city's cultural landscape, while being a premier heritage landmark. 

Avid Learning, the cultural philanthropy arm of the Essar Group founded in 2009 has, over the past decade, grown into one of Mumbai's leading public programming platforms and is firmly entrenched in the country's wider cultural ecosystem. Over the years, AVID has gained a reputation for curating thought provoking, innovative and path-breaking content that is intellectually and creatively stimulating and engages with a variety of topical subjects and trends. Our thoughtfully curated and diverse events embrace the spirit of collaboration to bring together the best of Indian and international writers, artists, intellectuals, cultural experts, policymakers and industry leaders across Visual Art, Literature, Culture and Heritage, Education, Design & Technology and the Performing Arts through engaging and dynamic formats like panel discussions, workshops & master classes, roundtables, lecture demonstrations, festival platforms, symposiums & conferences, multidisciplinary performances and walkthroughs. We seek to democratize the arts, create new audiences, and deepen engagement by providing a platform that gives equal access and opportunity to new learners, fresh voices and nascent minds in order to nurture future stakeholders for the creative community in India. To date, AVID has conducted over 1150 programs and connected with more than 140,000 individuals, a widely eclectic group of life-long learners including students, patrons, practitioners, influencers, thought leaders and cultural & creative enthusiasts in Mumbai, Delhi, Jaipur, Bangalore, Goa and Gujarat. We have also made our mark internationally, with events and collaborations in Dubai and New York. We regularly collaborate and partner with institutions, organisations and initiatives like the Federation of Indian Chambers of Commerce and Industry (FICCI), one of the apex bodies that impact cultural policy and the creative sector as a whole. We have been at the helm of programming at the Royal Opera House, Mumbai India's only surviving Opera House since its reopening in 2016. We believe in the importance of arts for social change and we regularly offer our support and platforms for Social Advocacy. Thanks to a dedicated and innovative team, as well as a growing and evolving community of learners, AVID continues to give truth to the belief that Learning Never Stops!
Venue
The Royal Opera House, Mumbai
Mathew Rd, Charni Road East, Opera House, Girgaon, Mumbai, Maharashtra 400004
GET DIRECTIONS