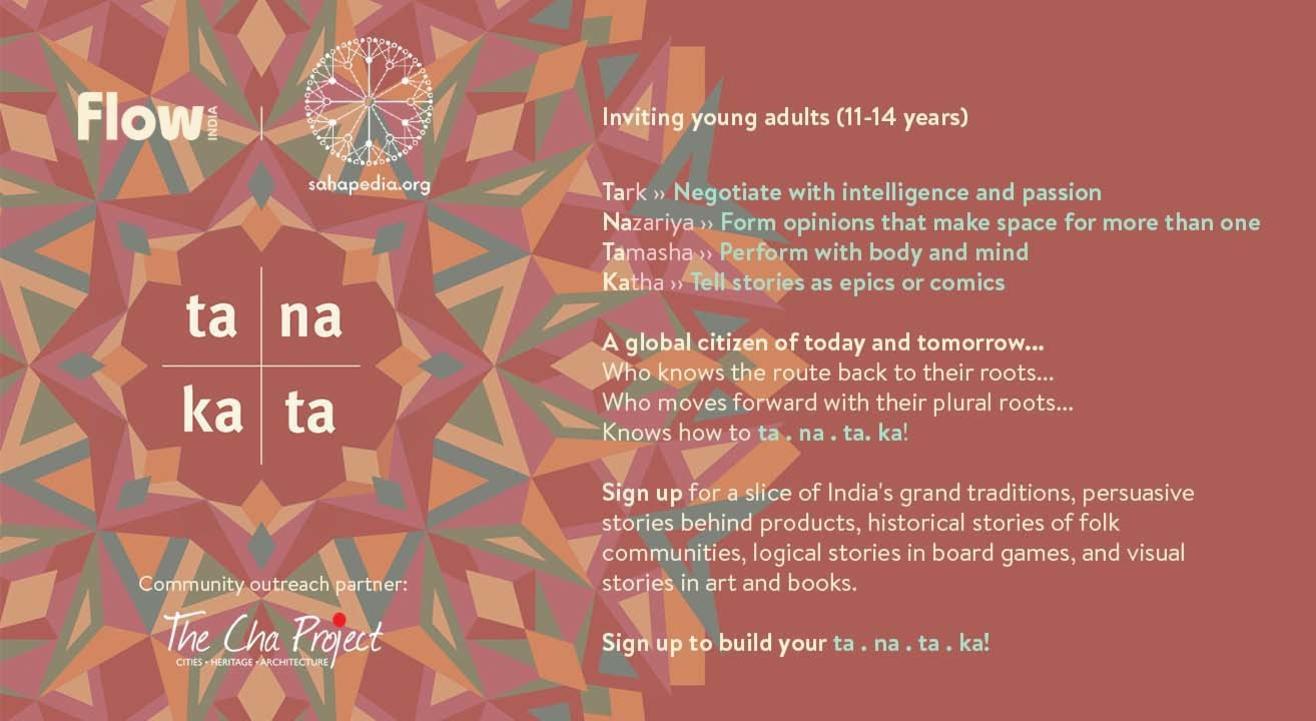 ta . na . ta . ka : Global young citizens encounter India's pluriverse
August 22 | 1:30PM - August 30 | 3:00PM
Event Guide
Digital Event
Watch on Zoom
Masterclass
Learn from an expert
Invite your friends
and enjoy a shared experience
Event Guide
Digital Event
Watch on Zoom
Masterclass
Learn from an expert
Invite your friends
and enjoy a shared experience
About the Event
Flow India in collaboration with Sahapedia invites young adults, ages 11-14, to say - do - think – build their ta . na . ta . ka!
Tark > Negotiate with intelligence and passion
Nazariya > Form opinions that make space for more than one
Tamasha > Perform with body and mind
Katha > Tell stories as epics or comics
A 4-part experience spread over 2 weekends
22nd & 23rd August, 2020
29th & 30th August, 2020
1.30 pm - 3 pm IST (4.00 pm - 5.30 pm SGT) each day for a duration of 90 minutes
Sign up for a slice of India's grand traditions, persuasive stories behind products, historical stories of folk communities, logical stories in board games, and visual stories in art and books!
You will do:
· Object probes
· Games and quizzes
· Intense art-viewing
· Making exercises
· Storytelling
· More & more
You will need:
· A laptop with internet connection and installed zoom application
· A notepad
· Sharpened pencil, eraser and sharpener
· Colour pencils / sketch pens / crayons
· Coloured paper, glue, scissors
· Phone with audio record, camera & WhatsApp application
Ta Na Ta Ka takeaways:
· Discover India's plural stories
· Develop the skills of eloquent logicians, imaginative performers, critical thinkers and story builders
· Comprehend culture in a collaborative environment
· Collect global competency skill badges
Flow India is a human-centred design organization that works at the intersection of education, culture and technology. With a view to mainstream cultural thinking and learning, it develops longitudinal learning solutions for schools, and partners with culture sector institutions for systemic educational outreach programmes. Our clients include schools, NGOs, museums, cultural establishments from across India.
Sahapedia is an open encyclopaedic resource on the arts, cultures and histories of India. It offers digital content in multimedia format—articles and books, photo essays and videos, interviews and oral histories, maps and timelines, authored by scholars and curated by experts. As a knowledge bank, Sahapedia is focused on India and South Asia.
Local community partner:
The Cha Project is a social enterprise based in Singapore, and recognised by the Singapore Centre for Social Enterprises (raiSE). It focuses on creative placemaking and design to build a model for sustainable urban renewal and economic revival for heritage neighbourhoods in south and south-east Asia.