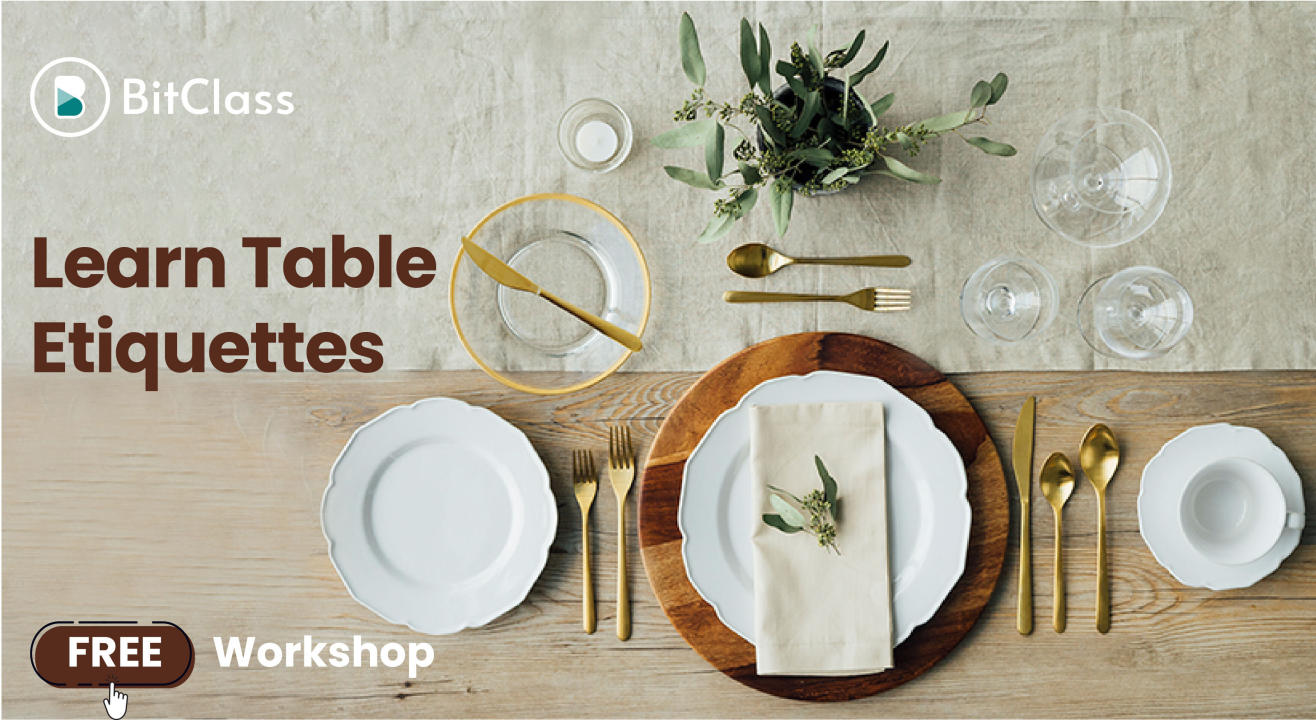 Table Etiquettes 101 | Dining Manners to Impress Others
Enjoy this event from your home
Event Guide
Masterclass
Learn from an expert
Invite your friends
and enjoy a shared experience
Table Etiquettes 101 | Dining Manners to Impress Others
Enjoy this event from your home
Event Guide
Masterclass
Learn from an expert
Invite your friends
and enjoy a shared experience
Event Guide
Masterclass
Learn from an expert
Invite your friends
and enjoy a shared experience
Do you still remember the silly mistake you made at the table at an important dinner meeting and thought of all the ways you could have avoided that?
If you said a little embarrassing yes then this is the right place for you. The core of learning good basic table manners is to ensure that both guests and hosts are comfortable at the table.
This workshop is beneficial for anyone who wants to learn basic table etiquettes, dos and don'ts, and table settings for special occasions. This could also be an interactive and fun learning experience where we can learn from each others' experiences.
This workshop is also helpful for those parents who want to teach their kids good table manners with their food, cutlery and other tools. In this easy to grasp session your child will be knowledgeable of how to dine well with proper mannerisms.
What will you learn from this workshop?
Know what not to do at the dining table
Choose the correct eating utensil and use it properly
Know the differences between American and Continental (European) dining styles
Show confidence as a host, guest, or guest of honor
Read a place setting to determine what comes next and what to expect
Benefits of joining this workshop:
Learn the basics and know the Importance of Table Manners
Be presentable at an important meeting or get-together
Learn table manners especially if you are moving to another city or country
Improve your impulse nature and be patient with your food
Be a great host at all your parties
By the end of this workshop, you will know basic table etiquettes and have a comfortable and modest lunch or dinner session with anyone.
Quit the stereotype that "the table etiquettes are always for the royalty/upper-class" and let's learn this fundamental practice together.
REGISTER NOW!
Table Etiquettes 101 | Dining Manners to Impress Others
Enjoy this event from your home
Event Guide
Masterclass
Learn from an expert
Invite your friends
and enjoy a shared experience