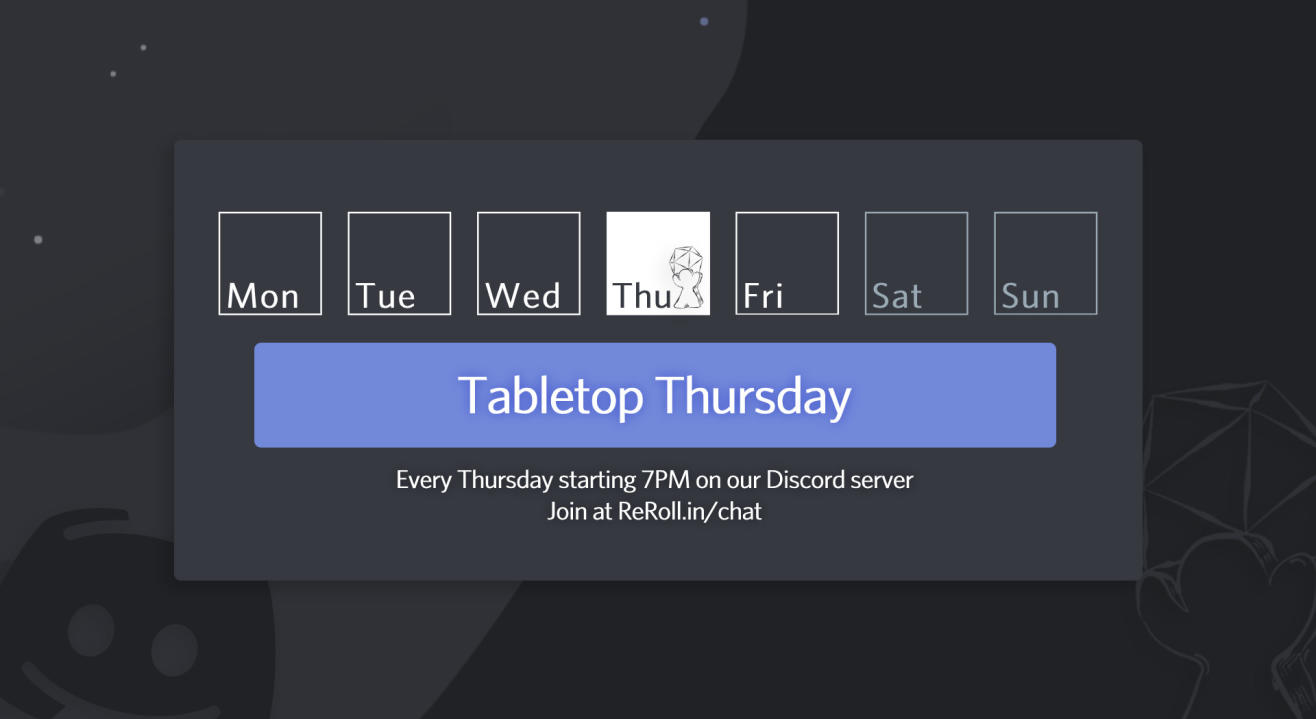 Tabletop Thursday with ReRoll Board Games
Invite your friends
and enjoy a shared experience
Invite your friends
and enjoy a shared experience
About the Event
Unfortunately this lockdown spelled the end of board games for a lot of us. We've been spending the past few weeks trying to replicate a friendly, gaming-centric space online.
Every Thursday evening we've been playing games with a small(ish) group of people, and now we're at a point where we're confident enough to invite everyone!
Tabletop Thursday is now going to be online every Thursday at the same time - 7pm to 10:30pm on the ReRoll Discord!
Discord is a community chat service (with text/audio) that is built specifically to run and manage online communities.
We've got a bunch of games for you'll to play, you just need a laptop/phone with a working internet connection and a microphone to join!
Most games don't need any apps or complicated downloads, you can just play it from your browser or inside Discord directly.
Here's a (partial) list of games:



Jackbox Party



Fake Artist Goes To New York



Codenames



Just One!



Keep Talking and Nobody Explodes



Wavelength



Welcome to…



Railroad Ink



Spyfall



Secret Hitler



Resistance: Avalon



Tabletop Simulator



Carcassonne/Kingdomino/Love Letter (on boardgamearena.com)


It's probably going to be a few months before we can start thinking about hosting physical meetups again, so until then we're experimenting with things online.
Here's some of the stuff we've been doing over the past few weeks:
Who are ReRoll Board Games?
We're a couple of friends who are trying to build a community around board gaming in Bangalore. We've been doing this part time for about 4 years now. You can find us on Twitter, Instagram, and Facebook.