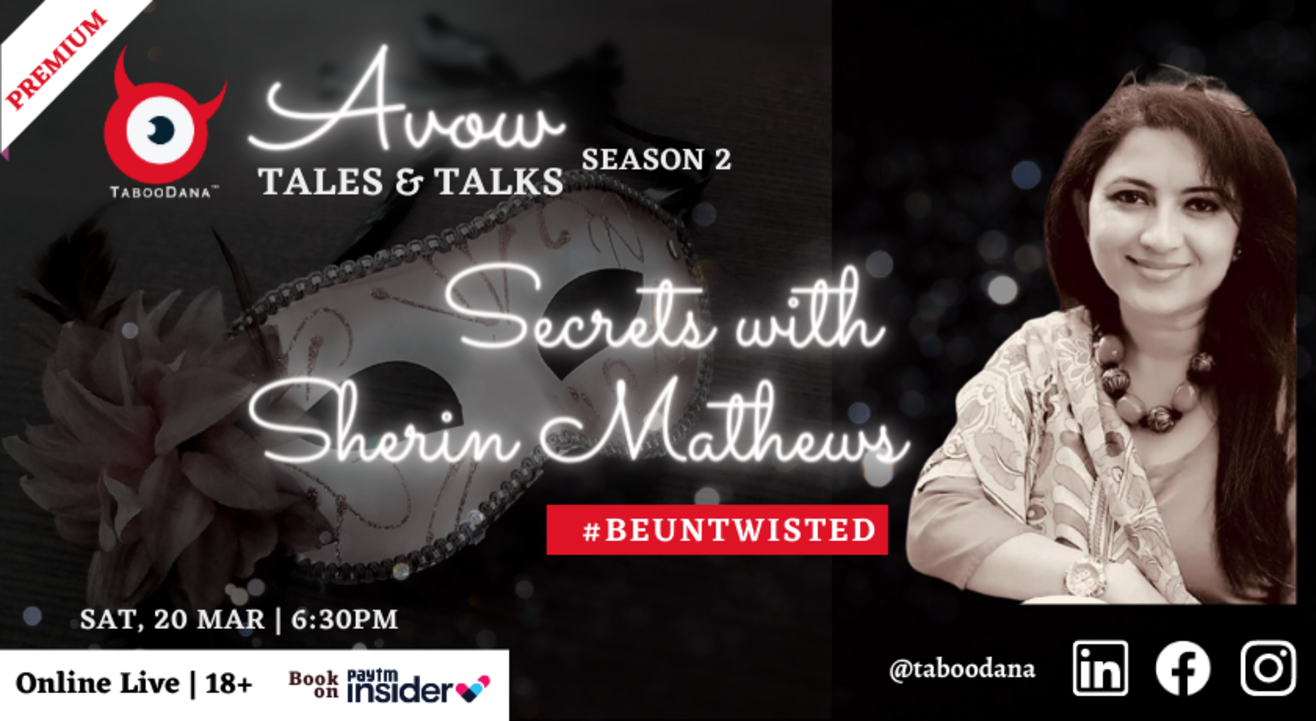 TabooDana Avow Premier | Secrets with Sherin Mathews
Enjoy this event from your home
Event Guide
Live Performance
Enjoy a unique experience
Invite your friends
and enjoy a shared experience
TabooDana Avow Premier | Secrets with Sherin Mathews
Enjoy this event from your home
Event Guide
Live Performance
Enjoy a unique experience
Invite your friends
and enjoy a shared experience
Event Guide
Live Performance
Enjoy a unique experience
Invite your friends
and enjoy a shared experience
TabooDana Avow Tales and Talks Season 2 - Premier
Secrets with Sherin Mathews
Whats your secret? Do you want to know ours?
Join us for an evening of Talks and Tales where Sherin Mathews will delve into SECRETS with her thought provoking, spicy and secret stories
Event Date Saturday 20th March, 6:30 pm
Story teller - Sherin Mathews
Ticket price - Rs. 499
About Sherin - https://www.linkedin.com/in/sherin-mathews-storynest
Sherin Mathews is an International Storyteller and Cognitive Scientist working, with human and organisational potentials for close to two decades. She believes the 'Power of Storytelling', everyone loves a good story and she uses it as the central tool for her transformational interventions
About TabooDana's Avow Tales and Talks -
Society is inept at dealing with the truth unless wrapped up in a story
With this thought we conceived 'Avow Tales and Talks' in the year 2020. We have touch the lives of many by opening up this space for sharing tabooed discussions.
We invite narratives that found resonance, mirrored one's truth, and where people found peace and settlement in them.
TabooDana
https://taboodana.com/
www.linkedin.com/in/taboo-dana
https://www.facebook.com/taboodana/
https://www.instagram.com/taboodana/
TabooDana Avow Premier | Secrets with Sherin Mathews
Enjoy this event from your home
Event Guide
Live Performance
Enjoy a unique experience
Invite your friends
and enjoy a shared experience