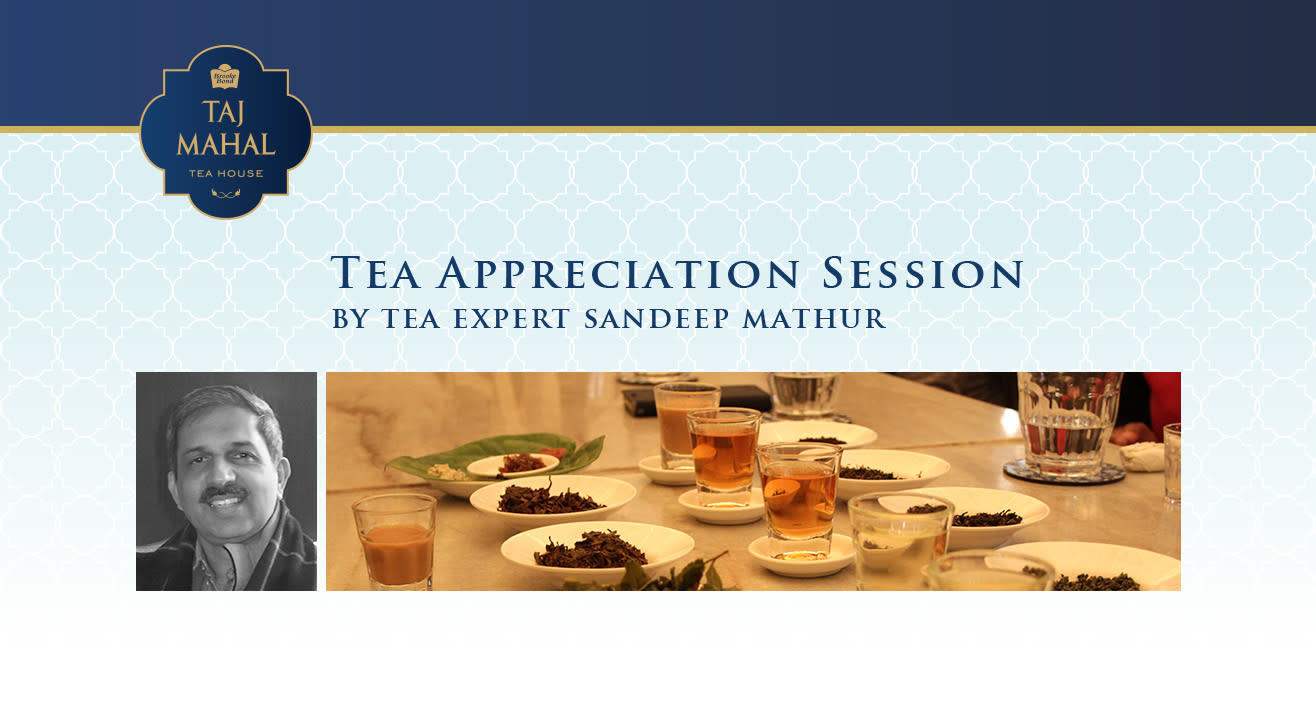 Tea Appreciation Session at Taj Mahal Tea House
Brooke Bond Taj Mahal Tea House, Bandra, Mumbai, Mumbai
Step out and enjoy this event
Invite your friends
and enjoy a shared experience
Tea Appreciation Session at Taj Mahal Tea House
Brooke Bond Taj Mahal Tea House, Bandra, Mumbai, Mumbai
Step out and enjoy this event
Invite your friends
and enjoy a shared experience
Invite your friends
and enjoy a shared experience
Join us for a morning of tea tasting and revel in the flavours of some of India's finest and most rare tea with Sandeep Mathur, tea sommelier and an industry expert from Hindustan Unilever Ltd. with over 25 years of experience.
Learn what goes into crafting the finest tea, right from the estate in which it is grown to ideal climatic conditions and the plucking process to the art of brewing.
As Mathur eloquently says, "The beauty of tea lies in its subtlety: its hidden notes, delicate aromas and rare flavours". And that is exactly what you will experience at our Tea Tasting Ceremony.
Learn how to identify the finest tea through their unique fragrances and leaves, over freshly brewed exquisite blends, prepared just for you.
Brooke Bond Taj Mahal Tea House, Bandra, Mumbai
36/A, Sanatan Pereira Bungalow, St John Baptist Rd, General A.K.Vaidya Marg, Bandra West, Mount Mary, Bandra West, Mumbai, Maharashtra 400050
GET DIRECTIONS
Tea Appreciation Session at Taj Mahal Tea House
Brooke Bond Taj Mahal Tea House, Bandra, Mumbai, Mumbai
Step out and enjoy this event
Invite your friends
and enjoy a shared experience