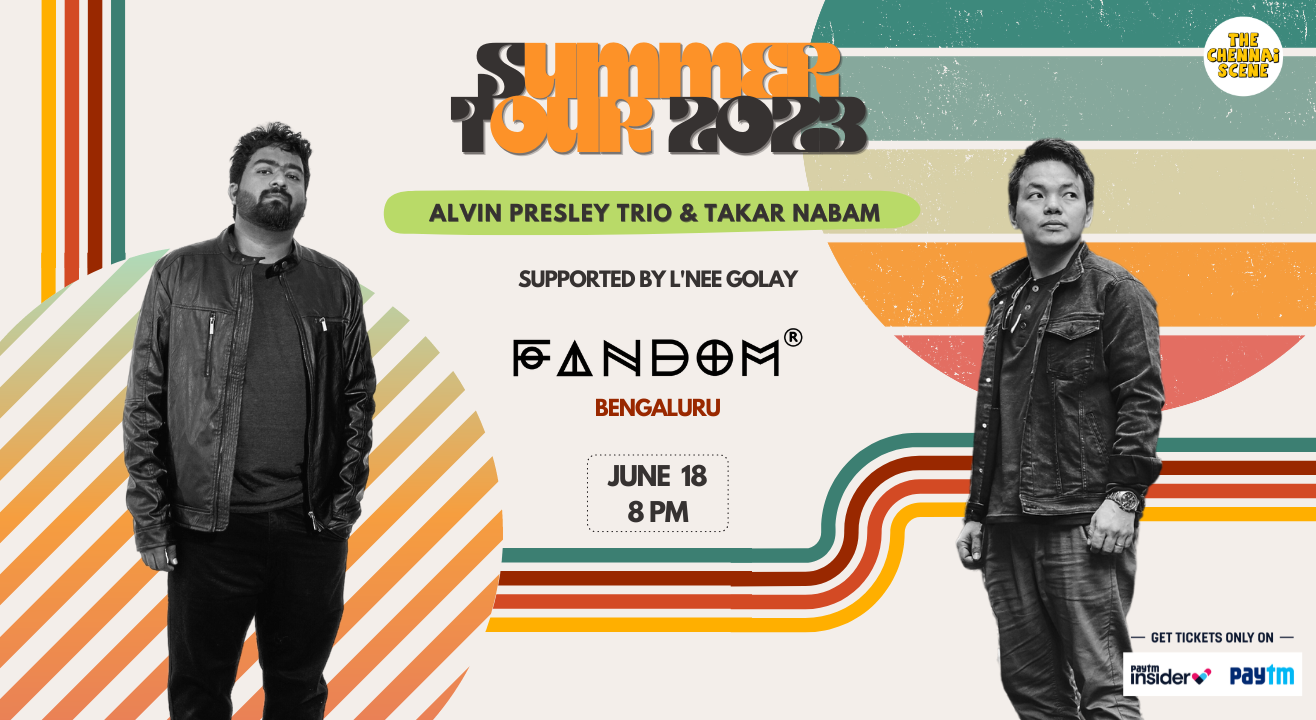 Takar Nabam & Alvin Presley Trio Live at Fandom | World Music Week 2023
Fandom at Gilly's Redefined, Bengaluru
Event Guide
Live Performance
Enjoy a unique experience
Invite your friends
and enjoy a shared experience
Takar Nabam & Alvin Presley Trio Live at Fandom | World Music Week 2023
Fandom at Gilly's Redefined, Bengaluru
Event Guide
Live Performance
Enjoy a unique experience
Invite your friends
and enjoy a shared experience
Event Guide
Live Performance
Enjoy a unique experience
Invite your friends
and enjoy a shared experience
As part of their highly anticipated four-city India tour in June 2023, we are thrilled to present two extraordinary singer-songwriters, Alvin Presley from Chennai and Takar Nabam from Itanagar, along with their sensational bands, performing live at Fandom Bangalore on Sunday, the 18th of June. For the Bangalore leg of their tour, they will be supported by the amazing L'nee Golay, an amazing singer-songwriter in a league of her own.
Alvin Presley Trio
Alvin Presley, hailing from Chennai, India, is an Alternative/Indie Pop singer-songwriter, music producer, and multi-instrumentalist. He continually explores new boundaries within genres, seeking to carve out a unique space of his own. Alvin's sophomore EP, titled 'Pain Geography,' was released on March 1, 2023, showcasing five original tracks that he wrote, composed, and produced.
Takar Nabam
Takar Nabam is an Indian singer songwriter who infuses mellow alt rock references with hints of Himalayan folk and the music of North East India to create a soulful concoction of liberating World Music grooves, ethno-jazz riffs and dreamy vocals. From India's Arunachal Pradesh region bordering Tibet, Takar's music embodies the truth that it's the journey that matters, and not where it should eventually lead to. Takar will be performing with his 4-piece band.
L'nee Golay
A Bangalore-based artist, L'nee took a three-year sabbatical from the Indie music scene in India to study and pursue music in the UK. After graduating from the Leeds Conservatoire, she is now back with a bang, a fresh perspective and a brand new set of music that she has laboured over the course of her time there. Her music is reminiscent of the smooth tones of Lianne La Havas, the minimalist sounds of Maggie Rogers and the story-telling of Taylor Swift, and has combined all these elements to make them her own.
Together, Alvin Presley and Takar Nabam will create an electrifying atmosphere with the night promising to be an ode to the indie music scene, celebrating the immense talent emerging from different corners of India. Join us for an unforgettable evening of powerful performances, and witness the brilliance of Alvin Presley, Takar Nabam, L'nee and their bands as they grace our stage during their four-city India tour.
Fandom at Gilly's Redefined
1st floor of Gillys redefined, # 413, 100 Feet Road, 4th Block, Koramangala, Bengaluru, Karnataka 560034
GET DIRECTIONS
Takar Nabam & Alvin Presley Trio Live at Fandom | World Music Week 2023
Fandom at Gilly's Redefined, Bengaluru
Event Guide
Live Performance
Enjoy a unique experience
Invite your friends
and enjoy a shared experience