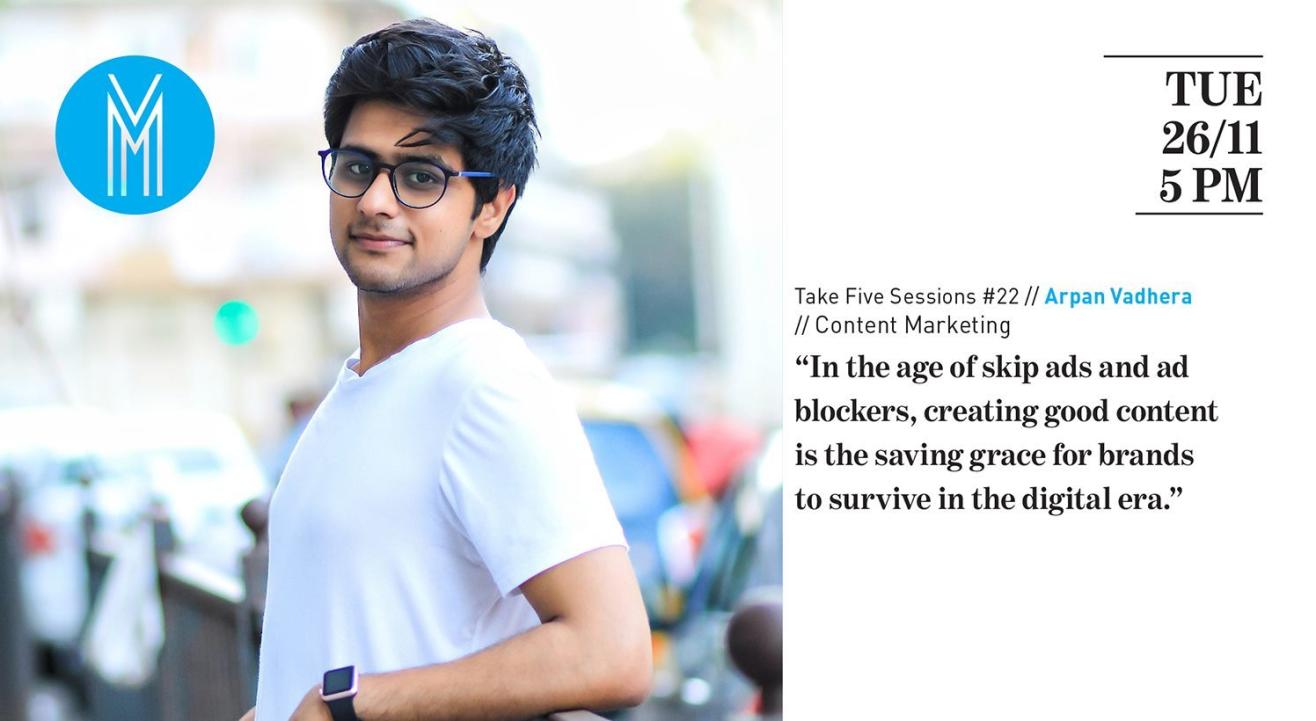 Learn
Take Five #22 // Content Marketing w/ Arpan Vadhera
About
Take Five Session #22
Content Marketing w/ Arpan Vadhera
About the session
Content is the most vital piece of communication when it comes to showcasing and representing your brand. The dynamics of marketing have changed with the value addition of content marketing and social media which now apply to almost every industry. If you are someone who wants to amplify your marketing and content, while understanding the various aspects of content development and strategy then this session is for you!
About the speaker.
About the speaker:
Arpan Vadhera has been working in advertising and content for the past five years. An Ex Lintas creative, he is currently handling operations in India for Vadela, an Orlando based content consultancy that helps brands in content marketing. He has worked in content strategy and development with multiple national and international brands such as Under Armour, Unicef, GE, Godaddy, L&T Axe, Kala hit, Bajaj Avenger, Zespri Kiwi fruit and many more.
Take Five Takeaways
1. Understanding the evolution of content
2. Analyzing the anatomy of what makes content = Ideas + Execution)
3. Insight Hunting activities
4. Understanding different types of content
5. Creative practices to gain stamina for creating content
+ + + Take Five Sessions + + +
Talks & workshops packed with bite-sized business insights
Don't miss this opportunity to learn from the best. And to experience Ministry of New for a day:
For active Ministry of New members* this event is free. If you are not a member, we'd love to welcome you to experience our 'new way of working' at Ministry of New, as your ticket of INR 500/- includes a free 'Day pass'** (Normal value INR 1500/-)
So, work the whole day at our professional oasis, plus have the opportunity to meet Arpan and attend his talk. You're welcome!
* Active member: If you have been using our space on an active (paid) membership in your name in the last 2 months (From 26th of September 2019 onwards)
**Only applicable if you haven't used our free day pass before.
Venue
Ministry of New, Mumbai
Kitab Mahal 3rd floor 192 Dadabhai Naoroji Road, Fort Mumbai, Maharashtra 400001
GET DIRECTIONS